Last update: 20:24 | 10/10/2017
Bac Giang to plan development of industrial parks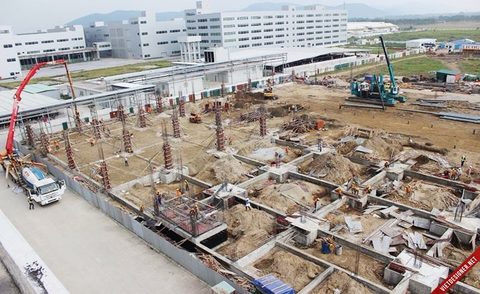 The northern province of Bac Giang plan to build new industrial parks (IPs) in the locality from 2020 to 2030.
This was revealed by Tran Vu Thong, deputy head of the province's industrial parks management board.
The new IPs in the vision include Nham Son, Yen Lu and Xuan Phu – Huong Gian in Yen Dung District, Hop Thinh in Hiep Hoa District, Bac Lung and Kham Lang – Yen Son in Luc Nam District and the Tan Thinh – Quang Thinh – Huong Son in Lang Giang District.
The management board has proposed that the province adds the IPs to the provincial IP development master plan and submits it to the Prime Minister for approval.
Thong also noted the need for specific measures to attract experienced and financially capable investors to develop the infrastructure of the IPs.
At the same time, the province should invest in infrastructure facilities outside the IPs to facilitate investment mobilisation. The People's Committees in districts where the future IPs are located are urged to work harder in land clearance for the IPs.
Located 50km to the northeast of the capital city of Ha Noi, Bac Giang has huge potential for developing electronics, electric appliances, agricultural product processing, mechanical engineering, chemicals and construction materials.
The province is currently home to six IPs, including Dinh Tram, Quang Chau, Song Khe – Noi Hoang and Van Trung, as well as Viet – Han (Vietnam – Republic of Korea) and Hoa Phu. The Dinh Tram IP has 119 investment projects, including 61 domestic ones, worth VND1.73 trillion (US$76.12 million), and 58 foreign ones worth over $325 million, while the Quang Chau IP has 18 investment projects, 16 of which are foreign-invested.
The Van Trung IP houses 54 projects and the Song Khe – Noi Hoang has 33.
Land clearance and infrastructure construction are underway in the Hoa Phu and Viet – Han IPs.
The province's industrial production value in the first nine months of this year was VND78.36 trillion, up 32.8 per cent year on year. 
Naticorp to launch condotel project in Nha Trang     
Nam Tien Lao Cai Corporation (Naticorp) will officially launch the Scenia Bay condotel project in Nha Trang on Sunday at the Lotte Centre in Ha Noi.
The VND2.06 trillion (US$90.5 million) project will comprise apartments, hotels and services and will be located at 25-26 Pham Van Dong Street. This is one of the few remaining projects in the prime coastal location of Nha Trang City.
Being built on an area of 7,666sq.m, the five-star condotel will include 40 floors and two basements, of which the first four floors will be used for common facilities, including a lobby, a spa, restaurants, a shopping centre and meeting rooms.
From the 5th floor, there will be 704 apartments for sale and 274 hotel rooms with separate zones such as an infinity pool and a sky restaurant.
The project is situated on the main road of the city, with the main side, adjacent to Nha Trang beach, offering a sea view to all of the apartments. In addition, it has easy access to the city's beautiful landscapes, such as Hon Mun and Hon Tam islands, Ninh Van bay, Po Nagar Cham Tower and Dam Market.
In mid-August, Thailand's InVision Hospitality signed an agreement to become the project's operator when it becomes operational in 2020.
On the occasion of the project launch, the project's investors will give attractive gifts worth VND800 billion to the customers. Visitors who come to the event will stand the chance to win an iPhone 8 Plus, an iPhone 8 or a Smart TV Sony 43". Customers who sign to purchase Scenia Bay's apartments will have the chance to win a motorcyle SH125i 2017 version, an Apple MacBook or an iPhone 8 Plus.
Headquartered in northern Lao Cai City and with over 20 years of operation, Naticorp has expanded its business from infrastructure construction and hydro-power plants to chemicals and real estate sectors with an annual turnover of VND1.2 trillion ($53 million). 
South Korean fuel imports spike after tax cut
About 97% of imported fuel in the first nine months of 2017 came from South Korea after taxes for the country were dropped to 10% while taxes for other ASEAN countries remained at 20%.
Most of the imported fuel in Vietnam is from Singapore and Thailand in addition to other ASEAN countries.
From January 1, 2016 the petrol import tax on South Korea was lowered to 10% in accordance with the trade agreement between the two countries. As a result, the amount of imported fuel from South Korea increased sharply.
Statistics from the General Department of Customs show that in 2016, Vietnam imported USD1.25bn of fuel of which 75% were from South Korea. In the first nine months of 2017, this number rose to 97%.
The General Department of Customs proposed to lower the taxes for other ASEAN countries to 12% to create more healthy competition and better revenues for the state budget. The 20% tax is largely regarded as meaningless as few companies import from these markets. The revenues from petrol recorded by the General Department of Customs dropped by VND10trn (USD440m) last year.
However, the Department of Tax Policy under the Ministry of Finance disagreed, saying that the state budget revenues would actually decrease. Moreover, they want to maintain a 20% tax rate to encourage firms to buy fuel from Dung Quat and Nghi Son refinery plants.
Several experts worried that Vietnamese firms may be forced to buy fuel at higher than average prices.
Phan The Rue, president of Vietnam Petroleum Association, said thanks to low taxes, import firms would still earn good profits even if they have to buy petrol at higher prices than normal. However, it was not easy to get the certificate of origin from South Korea to enjoy the 10% tax. 
The certificate is issued by South Korean authorities. "Small and new firms who don't know their way around the markets or their partners may have to offer bribes to be given the certificates and enjoy the tax cut," he said.
There is also concern about firms faking the certificate to profit from lower tax payments. Paying high prices for the certificate is still profitable than paying 20% tax over the long term.
"The state budget will suffer greatly," Rue claimed.
Improving efficiency of Vietnam – Indonesia investment promotion
The Vietnam-Indonesia Friendship Association and the Indonesian Embassy in Vietnam co-hosted a seminar on October 10 at the Voice of Vietnam headquarters to examine ways to increase the efficiency of investment promotion between the two nations.
Addressing the seminar,  Chairman of Vietnam-Indonesia Friendship Association Nguyen Dang Tien said Vietnam and Indonesia have witnessed positive developments in trade exchanges over the years. Bilateral trade increased from US$4 billion in 2012 to US$5.6 billion in 2016 with an annual average growth of 5%.
Both countries agreed to boost all-round cooperation, striving to elevate two-way trade to US$8 billion in 2018 aiming for the target of US$10 billion.
Vietnam has run only 7 investment projects totally capitalized at US$107 million in Indonesia while Indonesia poured US$437 million in 59 projects in Vietnam.
In his speech, Indonesian Ambassador to Vietnam Ibnu Hadi affirmed that his nation attached great importance to Vietnam's strategic position in strengthening economic cooperation, adding that Vietnam is likely to become a gateway for Indonesian investors to penetrate the markets of neighbouring countries like Laos and Cambodia, and Vietnam's major trading partners such as the US, the EU and China.
Ambassador Hadi said Indonesia's key exports to Vietnam are coal, automobiles, metal, chemicals, paper, and machinery, noting that Indonesia's investment in Vietnam is still far from matching full potential of both nations.
At the seminar, the Indonesian diplomat also shared information on aviation cooperation between the two nations, revealing that low-cost carrier VietJet Air is set to open new direct air routes between HCM City and Jakarta in December.
Representatives from the Hanoi People's Committee, the Ministry of Industry and Trade and the Vietnam National Administration of Tourism  also delivered reports on investment opportunities between Vietnam and Indonesia and put forth several suggestions to speed up the cooperation process. 
Mekong Capital to lower stake in Mobile World     
Viet Nam-focused private equity firm Mekong Capital has offered three million shares of digital retailer Mobile World Investment Corp (HOSE: MWG) for sale.
The shares will be sold between October 12 and November 10 via put-through transactions on the stock market or the Vietnam Securities Depository.
The deal will help Mekong Capital reduce its ownership in MWG to 1.63 per cent from the current 2.6 per cent.
Mekong Capital on October 5 registered to sell one million shares of Mobile World between October 5 and November 3, however, it failed to complete the deal.
In September, Mekong Capital via its investment fund Mekong Enterprise Fund II successfully offloaded three million shares of Mobile World to complete a partial sale worth US$18 million, reducing its stake in Mobile World from 3.58 per cent to 2.6 per cent.
Shares of Mobile World on the HCM Stock Exchange closed on Monday at VND119,000 ($5.3) per share. The company's shares have gained 9 per cent in the last one month and nearly 54 per cent since the beginning of the year.
In the first eight months of 2017, Mobile World reported VND42.28 trillion ($1.88 billion) in revenue, a yearly increase of 56 per cent, and VND1.45 trillion in post-tax profit, a year-on-year increase of 30 per cent.
The company after eight months completed 67 per cent and 66 per cent of its targeted revenue and post-tax profit for 2017, respectively. 
Brokerage firms benefit from positive economic growth     
The recovery of the Vietnamese economy has made good impact on the local securities market and the business performance of brokerages firms, an official has said.
The State Securities Commission Chairman Tran Van Dung said at the meeting on October 6 that the number of profitable securities firms increased to 60 of the 85 active firms, from 52 in 2016, making a total profit of VND3.06 trillion in the past nine months.
The number of brokerage firms that made accumulated profit in the past nine months was also up, compared with last year, by 41 to 37, he said, adding that the financial status of those brokerage firms also improved with most of them achieving the capital adequacy ratio of more than 180 per cent.
In addition tot his, activating brokerage firms in Viet Nam had improved their quality of corporate governance, risk management and done well in restructuring their business operation, Dung said.
Dung attributed the achievements to supportive factors of the Vietnamese economy in the past nine months such as controlled inflation, stable financial and monetary market and a 6.41 per cent yearly rise in the gross domestic product (GDP).
However, Dung warned brokerage firms that they should improve their business performances further to avoid accumulated losses, as well as the quality of corporate governance, risk management and information disclosure to meet international standards.
In the future, the State Securities Commission will continue to implement its policy reform to support those companies to restructure their businesses, improve their access to capital and develop other products and services for the market.
The benchmark VN Index had reached the nine-year high of 810 points, while the HNX Index had hit 107.66 points — the highest level since February 2011.
PetroVietnam, PVEP sign contract for oil blocks     
Viet Nam National Oil and Gas Group (PetroVietnam) on Monday signed a contract employing PetroVietnam Exploration Production Corporation (PVEP) to operate oil blocks 01 & 02.
PetroVietnam took over blocks 01 & 02 at the Cuu Long basin, offshore Viet Nam, from PC Vietnam Limited, a subsidiary of Malaysia's Petronas, on September 9 after the 26-year Production Sharing Contract (PSC) for the blocks expired.
After the takeover, PVEP quickly set up a management board with the most qualified and experienced personnel to temporarily manage the two oil projects to ensure they run smoothly. In the last one month, the two projects operated safely, with an estimated production of 360,000 barrels of oil and revenues of over US$20.5 million.
This positive result prompted PetroVietnam to choose PVEP to officially operate blocks 01 & 02. After the signing, PetroVietnam will build a suitable mechanism for PVEP to engage deeper in the group's petroleum project management in the future, hoping to take advantage of high-quality human resources and the management experience of PVEP.
Loans to real estate at 16.8% of total     
By September-end, loans to the real estate sector accounted for 16.8 per cent of the total outstanding loans of credit institutions.
This was down from 17.1 per cent at the end of last year, reports from the National Financial Supervisory Commission showed.
According to the report, 10.3 per cent of the loans were given to the construction industry and 6.5 per cent were for real estate trading.
The commission also reported that credit growth of the entire banking system by the end of September was 11.5 per cent. The rise would be 12.9 per cent if loans for bonds were included.
Medium- and long-term loans during the period were on an upward trend, rising 10.7 per cent and accounting for 54 per cent of the total outstanding loans of all credit institutions.
Loans in the Vietnamese dong surged 13 per cent and made up roughly 91.6 per cent of the total loans, unchanged as compared to the same period last year.
However, the proportion of loans in foreign currencies rose up to 12.9 per cent, much higher than the 5.4 per cent in the same period last year.
To better control the lending, the SBV governor Le Minh Hung last month issued a document warning credit institutions and foreign bank branches to strictly implement regulations on foreign currency deposits and loans. 
Hi-end working space created for Vietnamese start-ups
Up Co-working Space and the Vietnam Prosperity Joint Stock Commercial Bank (VPBank) jointly opened a hi-end working space in Hanoi on October 10 to provide maximum support for the Vietnamese start-up community 
Founder of the UP Co-working Space Do Hoai Nam said businesses will have opportunities to experience the A-standard working space at the UP@VPBANK with reasonable expenses.
Furthermore, UP@VPBANK will offer the best assistance for innovative start-ups and potential financial technology (fintech) businesses to promote creativity and competitiveness, he said.
They will get financial, accounting and legal support from investors, and have opportunities to work together, connect and cooperate to realise the goals of "start-up city" and "start-up nation", he added.
A representative from VPBank said the bank hopes to create a strong momentum in the development of the start-up community in Vietnam.
In 2017-2018, VPBank Start Up will spend at least one million USD to directly support Vietnamese start-ups.
The strategic cooperation between UP and VPBank is expected to be an important step for the start-up community.
The two sides plan to host a number of activities, including major contests, to support and promote innovative start-ups in Vietnam.
The UP@VPBANK hi-end working space is located at the 21st floor of VP Tower 89 Lang Ha. 
UP Co-working Space was developed by entrepreneurs pioneering in the start-up movement in Vietnam. It now has six branches in Hanoi and Ho Chi Minh City.-
KB Securities closes acquisition of Maritime Securities Incorporation
Three representatives of KB Securities Co., Ltd. (KB Securities) have been elected to the board of directors of Maritime Securities Corporation (MSI) after completing the purchase of a 99.4 per cent stake in MSI for $33.2 million.
According to information published on MSI's website, three people namely Cho Nam Hoon, Jun Sang Hoon, and Rho Seung Joon will replace Nguyen Duc Hoan, Doan My Binh, and Thai Anh Tuan, respectively. Regarding the board of supervisors, Oh Cheol Wu will replace Bui Thi Bich Thao.
Besides, after being taken over by the South Korean partner, MSI's shareholders approved important proposals to implement the company's new development strategy, change the company's name and its brand identity, and supplement legal representatives. MSI is expected to be renamed KB Securities Vietnam Company.
Previously, on October 4, the State Securities Commission (SSC) approved MSI to altogether remove the foreign ownership limit.
Accordingly, KB Securities holds 29.82 million shares, equivalent to 99.4 per cent of MSI's outstanding shares, since October 6.
The deal to acquire MSI is part of the group's plan to expand its operation network in Southeast Asia, including Vietnam and Indonesia.
"Following the vision of "Global Investment Bank," after careful consideration, we decided to acquire MSI, thereby officially entering the financial market of Vietnam. With our abundant experience as well as strong financial support, we aim to build and develop a strong securities company in Vietnam, providing the best products for our clients and connecting Korean investors with the Vietnamese financial market," said Cho Nam Hoon, MSI's member of the board of directors cum managing director and head of Global Business Department of KB Securities.
KBC Securities is a wholly-owned subsidiary of KB Financial Group (KBFG), Korea's leading financial institution with the largest customer base and the most extensive branch network. The group wields a solid capital prowess and enjoys a strong brand loyalty.
At present, KBFG, along with its key members including KB Kookmin Bank, KB Securities, KB Insurance, KB Card, and KB Capital, operates 33 overseas networks in 13 countries across Asia, Europe, Oceania, and North America.
KB Securities was born through the merger of KB Investment & Securities and Hyundai Securities in mid-2016. The company has equity of $3.7 billion and enjoys strong support and synergies from KB Group to enable stable and sustainable growth.
Polish businesses seek trade opportunities in Vietnam
Vietnamese and Polish agricultural businesses have reached a mutually beneficial agreement for the trade of fruit and dairy products. The deal was struck during a recent Vietnamese research trip to Poland to conduct a market survey.
Spokesmen for Vietnamese business said that throughout the trip, a keen interest was expressed by their Polish counterparts to do more business in Vietnam.
A representative from VIP Vietnam (Da Nang) Co, Ltd said the company have signed an agreement with Atibac International Trade of Poland on importing apple juice products into Vietnam. 
Both sides settled on the terms relating to the quantity, price, quality and delivery of produce. After checking the quality of products sent from Poland, Atibac's apple juice will hit the shelves of Vietnamese supermarkets in the near future.
With the exception of apple juice, VIP Co, Ltd has also reached a consensus with Mlekovita and Bumex on importing fresh and condensed milk products. The final cooperative agreement reached between the two sides is contingent on the successful passing of quality inspection from Vietnamese assessors.
Mr Pham DinhThanh, the Marketing and Business Development Director of VIP Co, Ltd said there are further huge opportunities for cooperation between Vietnamese and Polish businesses, citing the success of Polish goods in having secured a firm foothold in many European nations as proof of the possibilities.
According to statistics from National Support Centre for Agriculture (KOWR), Poland accounted for 30% of the market share of apples in the whole of the EU. 
They have seen further success in their exports, with Polish raspberry making up 61% of the EU's supply, strawberry 16% and cherry 33%. Poland is the world leader in blueberry production in terms of output, making up 73% of the EU market.
A report by the General Department of Customs revealed that Poland earned US$143.2 million from exporting their products to Vietnam in the first eight months of the year alone. 
Poland exported to Vietnam US$26.5 million of milk and dairy products and US$33.1 million of pharmaceutical products. Poland's key farm produce exports such as apple, strawberry, poultry, and cattle remain modest.
However, Tomasz Parxybut, general director of the Association of Polish Butchers and Meat Processors (SRW RP) said this trend would continue to develop as the demands of high quality meat products and other processed food have rapidly increased in Vietnam.
This rapid increase looks set to continue as the EU has endevoured to speed up ratification of the Europe-Vietnam Free Trade Agreement (EVFTA), making it take effect in 2018. The move will be a boost to bilateral trade between the two countries, Mr Parxybut noted.
According to the EVFTA, frozen pork from EU to Vietnam will be duty free after 7 years, beef after 3 years and chicken after 10 years, further simplifying trade.
However, Mr Parxybut said despite the substantial reduction in tariffs, the export of these products to Vietnam cannot increase sharply due to high prices out pricing Vietnamese customers. But, with a population of 92 million in Vietnam, there remain huge opportunities for frozen pork from Poland.
A representative from Royal Apple brand name said Royal Apple have partnered  with Vietnamese businesses to build a sales distribution network. Although its products are sold in small quantity, the company has received positive feedback.
The representative emphasized that the company will continue to promote these products in Vietnam to seize opportunities from the EVFTA.
Along with Royal Apple, several Polish businesses are seeking to open sales channels in Vietnam. Mr Kazimierz Pietrek from the Export Department of the Celiko Company said after five months, the company has not received any response from customers on the design. However, he affirmed that Vietnam is still an attractive market for Polish businesses and many will continue to seek Vietnamese partners.
Shinhan Bank launches Global Trading Center in Vietnam
Shinhan Bank Vietnam announced on October 9 that it has officially launched its Global Trading Center in Vietnam.
This is the second global trading center put into operation by the bank, joining the first in India.
Playing an essential role in its global financial market chain, the focus of Shinhan Bank's Global Trading Centers is on products and services associated with foreign exchange. The Vietnam center will be operated by two leading foreign exchange experts from South Korea and supported by a highly experienced Vietnamese foreign exchange team.
"With our advances in term of network and personnel and our thorough understanding of local markets and clients, our Global Trading Center in Vietnam will be a reliable option for both South Korean and Vietnamese clients for their transactions and investment in global financial markets," said Mr. Shin Dong Min, CEO of Shinhan Bank Vietnam.
The center will provide such services as foreign exchange consultancy and transactions, foreign exchange market reports and forecasts, conduct derivative transaction in order to provide currency hedging solutions against foreign rate risks, investment support solutions, and foreign currency trading, among others.
With a network of over 1,000 representative offices located in over 20 countries worldwide, The Global Trading Center is expanding the most in South Korea's banking sector.
In Vietnam, Shinhan Bank also owns the leading network among foreign-invested banks, with a total of 18 branches and transaction offices nationwide. The strong network makes the Global Trading Center a reliable and significant partner of clients and offers them investment opportunities.
CBRE Vietnam to manage Gelex Tower
CBRE Vietnam has been officially selected by the Gelex Group to be the property manager of its Gelex Tower project.
Located at 52 Le Dai Hanh in Hanoi's Hai Ba Trung district, Gelex Tower has 22 floors of office space and three basement levels for parking. It was completed in late 2013 and has enjoyed high occupancy since opening.
With easy access to nearby shopping and leisure facilities as well as the city, Gelex Tower provides tenants with a pleasant environment for their office.
CBRE commits to delivering quality management services to all tenants, helping to create a comfortable and efficient office environment.
Ms. Nguyen Bich Trang, Director of CBRE Vietnam, Hanoi Branch, said it is honored to be selected to help take Gelex Tower forward. "We believe that by applying careful asset management that combines our management and leasing teams, we can make a more positive impact that will help Gelex Tower become a more desirable address for companies seeking a convenient workspace with modern facilities in the growing center of Hanoi," she said.
CBRE Vietnam recently signed an agreement with the Urban Infrastructure Development Investment Corporation (UDIC Thang Long) to manage its commercial and condominium project, Sun Square, on the corner of Le Duc Tho and Nguyen Hoang in the My Dinh area in the capital.
Sun Square features two 17-story office blocks, two 34-story residential towers, and a two-story podium that will boast well-known brands such as Highlands Coffee, ApaxEnglish, O'leary Restaurant, BIDV, Vinmart, and Dingtea.
APEC Financial Minsters to meet in Hoi An
The 2017 APEC Finance Ministers' Meeting and related meetings are set to take place October 19-21 in the UNESCO-recognized town of Hoi An in central Vietnam.
Vu Nhu Thang, Head of the Finance Ministry's International Cooperation Department, told a press briefing on October 9 in Hanoi that the ministers and the APEC Business Advisory Council will examine ways to enhance the link between policy makers and the private sector.
This will give a good opportunity to share information on globalization and investment in infrastructure development, he said. 
The outcome of the meeting will be included in preparations for the APEC Economic Leaders' Week set to take place in Da Nang city next month.     
The event will include the APEC Finance and Central Bank Deputies' Meeting (FCBDM) and the 24th APEC Finance Ministers' Meeting (FMM), the most significant meeting of APEC Finance Ministers during the year.
As planned, there will be three related meetings in Hoi An as part of the APEC Finance Ministerial Meeting 2017, including the Senior Officials' Meeting Vice-Ministerial Meeting, and Ministerial Meeting.
Businesses' activities in APEC Economic Leaders' Week 2017
The Vietnam Chamber of Commerce and Industry (VCCI) on Monday (October 9) held a conference to introduce Vietnamese businesses' activities during the APEC Economic Leaders' Week 2017.
VCCI ChairmanVu Tien Loc said the Meeting of the APEC Business Advisory Council (ABAC), the APEC Vietnam Business Summit, the APEC Business Summit, and a dialogue between ABAC and APEC leaders will be held during the week.
Under the theme "Creating new dynamism, fostering shared future", the APEC Business Summit, slated for November 8-10, will focus on the future of APEC economies.
The APEC Business Summit and Dialogue between ABAC and APEC leaders are two annual activities of APEC. The APEC Vietnam Summit and the APEC Startup Forum, initiated by Vietnam, will also be organized on this occasion, Loc said.
The Vietnam Business Summit is set to open in the central city of Da Nang on November 7 within the framework of the APEC Economic Leaders' Week.
Established in 1989, APEC encompasses 21 economies, including Australia, Brunei, Canada, Chile, China, Hong Kong, Indonesia, Japan, the Republic of Korea, Malaysia, Mexico, New Zealand, Papua New Guinea, Peru, the Philippines, Russia, Singapore, Chinese Taipei, Thailand, the US, and Vietnam.
Ca Mau's shrimp exports hit more than US$750 million
The southernmost province of Ca Mau earned more than US$750 million from shrimp exports in nine months up to October, up 12% over the same period last year and reaching 70% of this year's plan, according to the provincial Department of Industry and Trade (DoIT).
Major importers include the US, Japan, the Republic of Korea (ROK) and Canada.
Phan Thanh Sang from the DoIT said shrimp exports show positive signs this year.  Shrimp exports in the fourth quarter of this year is likely to hit US$300-350 million as key markets like the US, EU and the ROK increase their imports to prepare for upcoming Christmas and New Year Festivals.
The target for US$1.1 billion shrimp export revenue may be within reach, said Mr Sang.
Ben Tre targets 5,000 firms by 2020     
Southern Ben Tre Province has targeted to open 500 new firms each year, bringing the total number of enterprises to 5,000 by 2020.
The number of newly-established companies in the province has increased this year, thanks to the launch of a startup programme.
In the first nine months of the year, the province had 400 newly-established businesses, posting an increase of 55 per cent year-on-year. Registered capital in the January-September period rose 2.3 times in comparison with the same period last year. Average registered capital for each business was VND6.42 billion (US$283,000), which was higher than the VND5.3 billion in the corresponding period last year.
The number of small and micro firms has gradually reduced in the province.
Le Xuan Vinh, director of Ben Tre's centre for promotion and startups, said the province has 2,952 operating businesses. This number was modest in comparison with other localities in the Cuu Long (Mekong) Delta region.
Ben Tre has promulgated legal documents, policies and mechanism to facilitate businesses' development, attracting investors. It has implemented a startup programme – a key solution to improve its business environment.
The provincial People's Committee has asked the centre to support firms in completing administrative procedures for startups. The province has established a team to provide support for free to firms in administrative procedures relating to investment and relevant sectors.
Startups and household businesses will be granted a business registration licence in one day. The province will also give VND3.5 million to each startup and household business to be used for fees of establishment and developing the brand name.
In addition, it has promulgated a regulation to shorten time to resolve administrative procedures in investment for projects that are not funded by the State budget.
Nguyen Huu Lap, vice chairman of the provincial People's Committee, said the province adjusted the target to develop 500 new firms per year instead of 300 in the next five years.
"Ben Tre has focused on developing its economy, building infrastructure and appealing for investment for its higher growth," Lap said. 
Vietnam Airlines to move operations to T4 at Changi Airport
National flag carrier Vietnam Airlines has announced that it will switch operations to Terminal T4 at Changi International Airport in Singapore from November 7.
At the terminal, Vietnam Airlines will deploy 10 check-in counters from 1 to 10. It will open more counters from number 11 to 14 in case of increasing demand for passenger services.
The firm also applies the advanced technology of entry and exit and boarding at the terminal (parallel to the traditional form of these services) to speed up the time of making procedures and increasing convenience for passengers.
Terminal T4 is a newly-built terminal, scheduled to open on October 31, 2017. It covers an area of more than 225,000sq.m and has capacity of 16 million visitors per year.
Located on the second floor of the station, the firm's Business Class room with an area of more than 1,000sq.m will serve its Golden Lotus, Gold Platinum members and Business Class passengers.
Other airlines will also operate at the T4 Terminal, including Cathay Pacific Airways, Korean Air, Cebu Pacific Air, Spring Airlines and AirAsia Group.
Vietjet's hot air balloon and bikini girls land in America
Vietnam's low cost airline Vietjet has brought its hot air balloon and beautiful and young flight attendants in bikini to the Albuquerque International Balloon Fiesta 2017 in the United States, the largest balloon festival in the world. 
The 46th fiesta, held in Albuquerque, New Mexico from October 7 to October 15, 2017 attracts more than 550 balloons and nearly 1,000 pilots worldwide. This year's event also features more than 94 unique balloon designs from 22 countries, including the United States, Britain, the Netherlands, Belgium, Brazil, the Czech Republic and Japan.
Vietjet's balloon sports the colors of the Vietnamese national flag — namely, red and yellow —and is 25 metres high and 18 metres wide. The balloon can cover a large distance and reach a maximum height of nearly 1,000 metres. It was showcased to visitors from October 7-9.
Festival visitors will have the opportunity to watch the Vietjet balloon lift into the panoramic sky view of Albuquerque while meeting the airline's friendly bikini clad models.
Launched in 2016, Vietjet balloon has participated in a series of major festivals in Vietnam and around the world. At the 2016 Hue Festival, the Vietjet balloon was the only representative of Vietnam to participate in the 2016 International Hot Air Balloon Festival with balloons from eight other countries, including UK, Netherlands, India, Japan, the Republic of Korea, Thailand, Malaysia and the Philippines.
In August of the same year, the balloon made its first overseas appearance at Taiwan's largest hot air balloon festival, Luye Gaotai, in Taitung City. The company continued to be the only representative from Vietnam to participate in the ninth My Balloon Fiesta in Kuala Lumpur, Malaysia with 18 participants from 11 different countries in March this year. After the United States, the Vietjet balloon will travel to its next destination in Japan in November.
First held in 1972, the Albuquerque International Balloon Fiesta is an annual festival of hot air balloons that takes place every October in Albuquerque, New Mexico, USA. This year's theme is Inflate your imagination through countless colors and shapes and endless possibilities of fun and exploration.
Vietjet is the first airline in Vietnam to operate as a new-age airline with low-cost and diversified services to meet customers' demands. It is a member of the International Air Transport Association (IATA) with the IATA Operational Safety Audit (IOSA) certificate.
Currently, the airline boasts a fleet of 45 aircraft, including A320s and A321s, and operates 350 flights each day. It has already opened 73 routes in Vietnam and across the region to international destinations such as Thailand, Singapore, the RoK, Taiwan, Hong Kong, Mainland China, Malaysia, Indonesia, Myanmar and Cambodia.
RoK liquor maker opens Korean-style soju bar in Vietnam
Hite Jinro Co., the leading liquor maker in the Republic of Korea (RoK), said on October 9 it has opened its first overseas soju pub in Vietnam, setting a goal to open over 20 such bars in the emerging market by 2020, RoK news agency Yonhap reported. 
According to Yonhap, the Korean-style street bar, called pojangmacha, opened in the capital city of Hanoi with a localized concept and design, after running a pop-up store in late 2016. 
The liquor maker said it will open the second street bar next year and increase the number of stores to over 20 by 2020. 
"We will localize the street bar to raise brand awareness among locals and introduce Korean drinking culture to take the lead in Vietnam's soju market," Ahn Ju-hyun, the chief of Hite Jinro Vietnam was cited as saying. 
Its Vietnamese branch logged 2.93 million USD of sales in the first half of this year, already surpassing last year's 2.42 million USD sales.
EVN reports fewer power cuts in 2017
State-owned Electricity of Vietnam (EVN) Group has reported fewer blackouts in the first nine months of the year as part of improvements across power supplying indexes.
According to the group, there was a 43 percent reduction in its System Average Interruption Duration Index (SAIDI) in the first eight months of the year compared to the same period in 2016. 
SAIDI is the average outage duration for each customer served, measured in units of time, often minutes or hour. Specifically, the group's total SAIDI in the period was 624 minutes.
The Momentary Average Interruption Frequency Index (MAIFI) was 0.64 times per client, down 36.2 percent, and the System Average Interruption Frequency Index (SAIFI) was 4.56 times per client, decreasing 36.2 percent year on year.
Electricity supply is ensured as water levels in northern reservoirs are higher than expectation.
The group generated and purchased a total of 147.92 billion kWh of electricity in the past nine months, a year-on-year surge of 8.17 percent. It sold 129.6 billion kWh of electricity during January-September, rising 9.07 percent from the same time last year.
The rate of power loss over transmission was 7.26 percent, lower than the yearly target of 7.47 percent.
In October, EVN plans to produce and import 49.8 billion kWh in total with commercial power output standing at 45 billion kWh.
Along with ensuring sufficient supply for significant socio-economic events like the APEC Economic Leaders' Week 2017 and the 14th National Assembly's 4th session, the group will continue safe and stable operation of power system and keep close watch on weather conditions in order to make timely response to any unexpected situation.
Efforts to stabilise market in year's end
The Departments of Industry and Trade have been urged to actively launch trade promotion and market stabilisation programmes and connect supply-demand in peak times. 
Due to rising political tension in the Korean peninsula and financial fluctuations in September, metal prices tumbled while farm produce and energy prices kept rising due to high demand in year-end. 
Statistics showed that the total retail value rose 1.75 percent monthly to 336.585 trillion VND (14.63 billion USD) in September. Tourism, lodging and dining sectors grew 4.5 percent and 8.8 percent, respectively due to high demand on September 2 holiday. 
On the nine-month calculation, the figure hit 2,917,545 trillion VND, up 10.5 percent year-on-year. 
Trade experts forecast that goods market will be busy due to high demand. 
Deputy Minister of Industry and Trade Do Thang Hai underscored the need to stabilise the market and generate abundant supply to meet public demand during year's end. He asked for considering adjustment of value-added tax on goods and services to prevent price hike and falling purchasing power. 
Ministries, agencies and localities were required to provide support for pig farmers and work closely together to control market and prices.
Eased restrictions on labour migration can boost welfare, integration: WB
The World Bank (WB) released the "Migrating to Opportunity" report via a teleconference with Vietnam on October 9, saying that easing restrictions on labour migration can boost workers' welfare and deepen regional economic integration.
Introducing the report, Sudhir Shetty, WB Chief Economist for the East Asia and Pacific region, said: "With the right policy choices, sending countries can reap the economic benefits of out-migration while protecting their citizens who choose to migrate for work. In receiving countries, foreign workers can fill labour shortages and promote sustained economic growth, if migration policies are aligned with their economic needs."
According to the report, Vietnam will need to evaluate its current policies for incentivizing out-migration to determine whether they are meeting the country's needs. While the intention of these policies is laudable, other reforms are also necessary, including review of recruitment agencies' frequent and at least tacitly sanctioned practice of requiring migrant workers to pay a security deposit to guarantee their return, which is frequently not repaid. 
A national migration strategy could help to guide reforms, the WB says in the report.
It notes that lowering the barriers to mobility in ASEAN would increase the welfare gains workers receive from economic integration.
Intraregional migration in ASEAN increased between 1995 and 2015, turning Malaysia, Singapore, and Thailand into regional migration hubs. These three countries are now home to 6.5 million ASEAN migrants, 96 percent of the total.
Low-skilled, and often undocumented, ASEAN migrants move in search of economic opportunity, mainly in the construction, plantation, and domestic services sectors. Higher-salary jobs are available, yet workers are not always able to take advantage of these opportunities, the report says. 
It added the ASEAN Economic Community has taken steps to facilitate mobility, but these regulations only cover certain skilled professions – doctors, dentists, nurses, engineers, architects, accountants, and tourism professionals – or just 5 percent of jobs in the region.
Overall, migration procedures across ASEAN remain restrictive, the report says, adding that barriers such as costly and lengthy recruitment processes, restrictive quotas on the number of foreign workers allowed in a country, and rigid employment policies constrain workers' employment options and impact their welfare. These restrictive policies are partly influenced by the perception that an influx of migrants would have negative impacts on receiving economies. 
However, there is evidence to the contrary. In Malaysia, simulations find that a 10 percent net increase in low-skilled immigrant workers increases real GDP by 1.1 percent. In Thailand, recent analysis finds that, without migrants in the labour force, GDP would fall by 0.75 percent, according to the report.
Canon Expo to open in Ho Chi Minh City
Canon Marketing Vietnam has announced that imaging products, solutions and technologies will be showcased at its biggest show, Canon Expo 2017, in Ho Chi Minh City from October 26-28.
Many of them, including EOS sensors of up to 120 MP and 250 MP resolution, 3D product printers and 4K colour monitors will be showcased for the first time in Vietnam.
Visitors will be free to explore the Canon world, with discounts of up to 49 percent on offer for products on display. In addition, they will have the opportunity to have Canon cameras and lenses checked free of charge and attend workshops with professional photographers.
In addition to Canon Expo, the 12th Canon PhotoMarathon will be back.
With a record total prize pool of 1.4 billion VND (61,700 USD) the contest annually attracts close to 10,000 participants.
Besides prizes such as cameras and printers, this year the winner will receive sponsorship to compete at the Canon PhotoMarathon Asia Championship 2018 with 16 competitors from around the region, vying to win more prizes worth up to 5,000 USD.
The expo and the photo contest will be held at Hoa Lu Stadium in District 1 in HCM City.
Reference exchange rate revised down further
The State Bank of Vietnam revised the daily reference exchange rate for VND/USD down by another 2 VND to 22,467 VND on October 10. 
With the current trading band of +/-3 percent, the ceiling rate applied to commercial banks during the day is 23,141 VND and the floor rate 21,793 VND per USD. 
The opening hour rates at major commercial banks showed little changes from October 9. 
Vietcombank kept both rates unchanged from the previous day, at 22,690 VND (buying) and 22,760 VND (selling) per USD. 
Vietinbank cut both rates by 5 VND to 22,690 VND (buying) and 22,760 (selling) per USD. 
Meanwhile, BIDV is buying the greenback at 22,690 VND, the same as on October 9, and selling at 22,775 VND, up 15 VND.
Vietnamese, Malaysian firms share experience in regional integration     
Vietnamese and Malaysian businesses shared experience in regional integration at a conference and a forum in Kuala Lumpur, Malaysia, on Sunday.
The conference on ASEAN business connectivity and the forum themed "ASEAN Economic Community: Opportunities and Challenges to Vietnamese businesses" were attended by more than 300 Vietnamese enterprises and a number of Malaysian counterparts.
Speaking at the event, Doan Duy Khuong, vice chairman of the Viet Nam Chamber of Commerce and Industry (VCCI), talked about changes in the business environment in ASEAN and the world at large.
Such changes have generated both challenges and opportunities for the business circle, including those from Viet Nam, he said, expressing his hope that Vietnamese firms would learn experience to overcome the obstacles and make the best use of the opportunities at the event.
Vietnamese Ambassador to Malaysia Le Quy Quynh described the ASEAN member countries, including Malaysia, as promising markets for Vietnamese enterprises.
The diplomat promised to do his utmost in order to support and connect Vietnamese and Malaysian enterprises together, contributing to enhancing the bilateral economic and trade ties.
On this occasion, representatives from state management agencies, scholars and scientists cleared up questions raised by the participating firms, helping them gain an insight into economic integration.
The event, held by the Asian Management and Development Institute under the Viet Nam Ministry of Science and Technology, is expected to come to Indonesia and Singapore in the next few days. 
Viet Nam Textile and Apparel Association (VITAS) has petitioned the Ministry of Finance and the Ministry of Industry and Trade to not increase import tariffs on polyester fibre from zero to 2 per cent.
VITAS's move aims to remove difficulties for textile and garment enterprises, following feedback and recommendations of enterprises.
According to VITAS, enterprises still have to import materials and produce goods domestically. However, many are being forced to close operation as they cannot bear the high cost and expense, such as the Dinh Vu Polyester Fibre Plant in the northern province of Hai Phong.
VITAS has also proposed that the Government consider not raising regional minimum wage in 2018 and consider adjusting the insurance premium rates paid by firms to a more reasonable level, so that enterprises can mobilise resources aand improve their competitiveness to expand production and create jobs in rural and mountainous areas.
VITAS also recommended that the Ministry of Information and Communications (MIC) advise the Government on the amendment of Decree 60/2014/ND-CP on the conditions for licensing the import of printers for textile products.
According to this decree, the owner of a business will be allowed to import printers if they have a college diploma or higher in the printing industry or they must be granted a certificate of professional training by the MIC. 
More organisations to import equipment for printing banknotes     
The State Bank of Viet Nam has issued a circular to replace Circular 18/21014/TT-NHNN, regarding the import of equipment and materials for printing money.
This was stated by the central bank in a press release on its website.
Accordingly, organisations which are allowed to import equipment and materials for printing banknotes will be expanded, in order to meet the central bank's demand for printing money.
Currently, only the National Banknote Printing Plant is allowed to import equipment and materials.
The new circular will allow the State Bank of Viet Nam to appoint an organisation in the banking sector with an eligible legal status and capacity to participate in importing materials and equipment for printing banknotes.
In addition, the central bank will have documents to confirm equipment and materials imported with the aim of printing banknotes.
This aims to create favourable conditions for customs clearance because equipment and materials for printing banknotes are no longer exempted for customs clearance under the Law on Customs No 54/2014/QH13.
The new circular will take effect on November 20. 
VNA/VNS/VOV/SGT/SGGP/TT/TN/Dantri/VNEVET