HCMC says no to apartments smaller than 25sq.m
Last update: 00:52 | 14/09/2017
The HCMC government has just announced a decision disallowing construction of apartments smaller than 25 square meters, saying such small-sized condos will put pressure on the city's infrastructure and give rise to slums in the sky.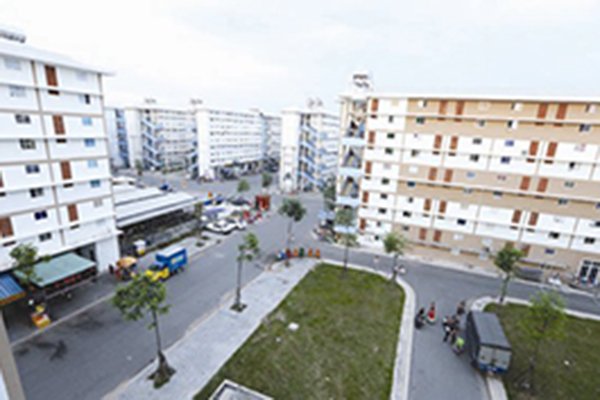 A residential area with apartments of 20-30 square meters for poor people in Binh Duong Province 
The municipal People's Committee has issued Document 5657/UBND-DT stipulating the minimum areas of apartment units, with a minimum of 45 square meters for commercial condos and 25 square meters for social homes.
The city government stressed that construction of small-sized apartments would speed up urbanization and increase population, this placing more pressure on the city's already-strained infrastructure.
According to the city government, design and construction of condos must comply with National Standards TCVN 4451:2012 which stipulate that the minimum floor area of a commercial condo unit is 45 square meters.
In addition, Government Decree 100/2015 rules that the minimum and maximum floor area of a social home is 25 and 70 square meters respectively.
In general, according to the current regulations, the minimum floor area of a social home is 25 square meters and a commercial one 45 square meters. Social housing refers to those apartments partially subsidized by the State and developed for the poor, especially policy people.
According to the HCMC government, the city has seen rapid population growth and urbanization. Small commercial apartments with a floor area of less than 45 square meters each will further strain the city's infrastructure and affect urban planning.
Therefore, the city suggested condo projects comply with the above regulations until the new National Standards for condos are issued.
Given a proposal by Dat Lanh Real Estate Company Limited to build condo units with a floor area of 20-30 square meters each, the Ministry of Construction said the 2014 Housing Law which replaces the 2005 version left out a requirement that commercial condo units must have a minimum floor area of 45 square meters. "Therefore, commercial condo units can have a floor area of at least 25 square meters until the National Standards for condos come out," the ministry added.
Many localities and investors have asked the ministry for permission to build commercial apartments measuring 30-40 square meters each. At present, there is a huge demand for small apartments that are affordable for low-income people.
Nguyen Van Duc, deputy director of Dat Lanh Real Estate Company Limited, said the HCMC government has been too inflexible in setting the high minimum area of commercial apartments.
Low-income people cannot afford large commercial apartments, while most cheap social homes are not available for them. Therefore, HCMC government's decision will make it harder for the poor to own a home, Duc said.
SGT