Abundant attractive deals make huge contribution to M&A market
Last update: 11:42 | 10/08/2017
About $15-20 billion of state divestment, the strongly rising private sector, and at the same time, a number of investment funds planning to divest, all of these promise to significantly contribute to the development of the sizable mergers and acquisitions (M&A) market in Vietnam.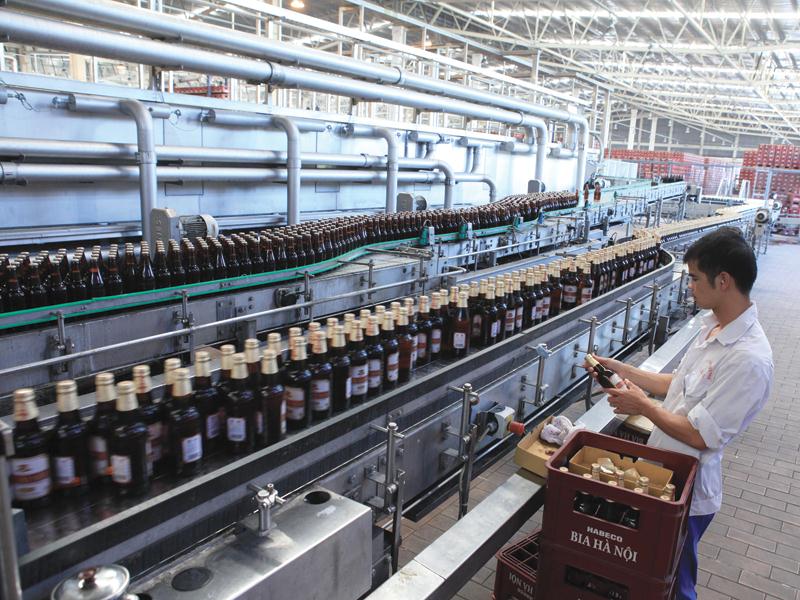 Inside Habeco's factory in Me Linh, Vinh Phuc province 
The M&A market in Vietnam reported a record value of $5.8 billion in 2016. In the first half of 2017, there have been concerns that the market may not exceed $5 billion. However, KPMG Vietnam forecasted that the second half of 2017 will witness more sizable M&A deals.
Le Viet Anh Phong, head of Financial Advisory Services of Deloitte Vietnam, said that although the first half of 2017 did not see any breakthrough M&A deals, there were numerous small- and medium-sized ones. If huge transactions involving Hanoi Beer Alcohol and Beverage Joint Stock Corporation (Habeco), Saigon Beer, Alcohol and Beverage Corporation (Sabeco), and a number of other firms are implemented as scheduled, the value of the M&A market in 2017 could easily exceed the 2016 record.
Vietnam M&A Forum 2017's research team was optimistic, saying if there were a breakthrough in state divestment, the M&A market could reach the value of $6.2-6.5 billion or even higher.
$15 billion - $20 billion from state divestment and equitisation
It is estimated that speeding up state divestment can generate an income of $15-20 billion in the 2016-2020 period. During this period, investors expect that state divestment and equitisation would be implemented as stipulated in Decision No.28/2016/QD-TTg issued on December 28, 2016, which lists out 106 enterprises with more than 50 per cent of state holdings and 31 enterprises with less than 50 per cent of state holdings.
The government is speeding up equitisation of Vietnam Rubber Group (VRG), Vietnam Southern Food Corporation (Vinafood 2), Power Generation Corporation 1, 2, 3 (under Vietnam Electricity Corporation), PetroVietnam Power Corporation, PetroVietnam Oil Corporation, Vietnam Urban and Industrial Development Investment Corporation, and Song Da Corporation, among others. All of these promise to be noticeable M&A deals in the near future.
Recently, Decision No.1001/QD-TTg approved by the prime minister in July released divestment plans for 137 state-owned enterprises in 2017. The list reveals some noticeable enterprises, specifying the amount of stake they aim to sell, such as Vietnam Dairy Products Joint Stock Company (Vinamilk) (39 per cent), Traphaco JSC (Traphaco) (36 per cent), DHG Pharmaceutical JSC (43 per cent), Sa Giang Import Export Corporation (50 per cent), and Tien Phong Plastic JSC (37 per cent).
Pham Duc Trung, head of the Enterprises' Reform and Development Department at Central Institute for Economic Management, was of the view that if the state sells 35 per cent stake in four enterprises in which it holds more than 65 per cent of the chartered capital, 49.1 per cent in 27 enterprises in which it holds more than 50 per cent of the chartered capital, and completely divests 106 enterprises in which it hold less than 50 per cent, the total book value would be over VND296 trillion ($13 billion).
A boom in private sector M&A
The private sector in Vietnam is considering M&A an important strategy to ensure sustainable development and expansion. This was illustrated through the M&A deals of Masan Group, Kido Corporation, Hung Vuong Seafood Corporation, and Vingroup JSC.
A wide range of famous real estate enterprises, such as Vingroup, Sun Group, FLC, Bitexco, Novaland, and Phu duc House, has implemented numerous M&A deals. In the past five years, the real estate sector has seen hundreds of private sector M&A deals, acquiring and developing plenty of real estate projects worth billions of dollars.
For example, during the period of 2014-2015, Vingroup spent $1 billion purchasing stakes in existing enterprises and projects in the market. Vingroup and other big enterprises also expended their businesses to the retail sector, agriculture, education, and construction materials via M&A deals.
In the field of consumer goods, numerous private firms, such as Masan Group, Kido Corporation, and Hung Vuong Seafood Corporation, have included M&A deals in their development strategy. For instance, Masan has created its owned empire with various subsidiaries like Vinacaffe, Proconco, Anco, and Vinh Hao. Its goods chain now covered almost all segments in the consumer goods market.
In the air industry, Vietjet is a prime example of the success of the Vietnamese private sector. The private sector is becoming a strong force in the economy, and it is also flourishing day by day.
Similarly, the milk industry has an outstanding firm, Vinamilk. The information and technology industry has FPT Corporation, VNG Corporation, Mobile World Investment Corporation, VCCorp Corporation, and CMC Corporation. The manufacturing industry has HPG Group, the automobile industry has Thaco Group, finance and banking has Saigon Commercial Joint Stock Bank (Sacombank), and so on.
All these enterprises play both in the role of buyers and sellers. In the past and at present, they have competed with foreign firms to purchase stakes in state-owned enterprises whenever the state decided to divest.
Investment funds to divest
According to Tran Vinh Du, deputy director in charge of M&A counselling at EY Vietnam, 2017-2018 will be the time for foreign enterprises and funds to divest. These units have been present in Vietnam before 2010, when they purchased huge stakes at a low price due to the 2010 crisis in Vietnam.
Normally, 5-7 years after investing in Vietnam, foreign investment funds will divest to earn profit and other private funds may take this chance to become their replacements.
Recently, in early August, Mekong Capital announced that its Vietnam Azalea Fund (VAF) had sold 75 per cent of its stakes in Loc Troi Group JSC. The reason behind the sale was that the fund was established in 2007 and its operating period of 10 years is coming to its end.
Than Trong Phuc, general director of DFJ VinaCapital, one of the first venture capital funds in Vietnam, said that the fund is withdrawing its investments.
"Many investors are showing interest in some companies like Yeah1 Group, Chicilon Media Co., Ltd., GAPIT Communication JSC, so we may benefit from divesting these firms," Phuc said.
It is likely that more M&A deals will come in the second half of 2017 and the early 2018. This promises a vibrant M&A market with huge M&A deals.
VIR