Last update: 20:26 | 17/07/2017
Fruit, vegetable prices in Vietnam pressured from strong supplies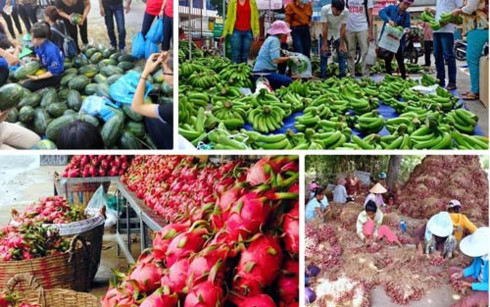 As consumers enjoy fresh, local fruit and vegetables this summer, farmers and producers can expect lower earnings from the fruits of their labour, say leading industry analysts.
In the early months of 2017, growers increased their production, but didn't see a corresponding rise in demand to match, leading to an oversupply and lower prices across many fruit and vegetable segments.
As a result, economists at the Ministry of Agriculture and Rural Development are predicting a bleak outlook for farmers throughout the remainder of the growing season for many produce items, said Minister Nguyen Xuan Cuong.
It's an open market balancing act to produce enough to meet demand, but not so much as to cause an oversupply that puts downward pressure on prices. And one that local farmers and producers have yet to master.
Mr Cuong noted the real benefit of the excess supplies is to the ultimate local and foreign consumer, who obtain lower prices for produce – such as peppers – at the grocery store.
The local segment needs to get a better grasp of how open market forces work and learn how to farm smarter, said Do Ha Nam, chair of the Vietnam Pepper Association. The more pepper that they grow and sell, the more pressure they put on sales prices to decline.
Domestic pepper prices have been falling steadily throughout the past two months, and consequently the VPA is urging local farmers to hold on to their inventories and wait for prices to recover— to the extent they can.
For those that can hold back, prices should turnaround over the next one to two months.
Mr Nam attributed the low pepper prices to a 15% jump in pepper output by local farmers in the early months of the year and import of an estimated 20,000 metric tons from Cambodia.
Over the long term, the forecast looks grim for pepper farmers as they continue to expand without first seeking additional outlets to sell the higher levels of product, which does little more than lower sales and earnings for the segment as a whole.
It simply isn't smart farming as growers and producers need to stop, think through and layout a long-term strategy to achieve sustainability.
They need to map out plans to fund the construction of factories to process and can or convert the peppers into spice and sell in local and foreign retail markets, he underscored.
Most notably, they need to cultivate alternative export markets for fresh peppers.
Additionally, there is an untapped growing demand around the globe for specialized markets segmentation in the pepper industry, such as organic, that needs to be fully explored.
Lastly, farmers must stop growing low quality peppers with poor yields in unsuitable soil and alternatively find better crops more accommodating to the soil conditions that offer greater prospects for sales and earnings.
This is where the government should step in and develop guidelines to regulate and prevent cultivation in these lower grade soils.
If farmers and producers continue down the path they are on, concluded Mr Nam, there is very little prospect for the segment to sustainably benefit and they are essentially accomplishing little more than working for nothing in return.
Central Highlands approves US$4 billion of potential investment
Signalling a positive momentum in the Central Highlands region, local authorities have approved approximately US$4 billion of future investment in the region during the first half of 2016.
The proposed investment is made up of approximately 25 separate ventures, for which most will likely never materialize, said Senior Lieutenant General To Lam, head of the Central Highlands Steering Committee.
The largest share of these projects are tentative and preliminary and contingent upon a host of factors, said Mr Lam, adding that hopefully a few will come to fruition and bring new commerce and jobs to the region.
The local economy has not fared well in the first six months of the year, added Mr Lam, noting the struggling pepper industry as a prime example of the problems agriculture is experiencing.
To the extent that some of this investment might improve transport infrastructure, it could greatly boost the local economy.
ROK companies tap into emerging clean energy market
There are exciting opportunities for companies from the Republic of Korea to get in on the ground floor in the cutting edge emerging renewable energy supply segment in Vietnam, say experts.
Speaking at a workshop in Ho Chi Minh City on July 17, Yeo Sungku, an expert from the ROK, said he commends the Vietnam government for creating a welcoming climate for green energy investment.
Since there's plenty of corporate demand for renewables (including solar, wind, hydropower and biomass), he noted, the problem is supply, which in turn depends on adequate infrastructure to deliver it.
That's where ROK companies come in because they have the leading global project developers and service providers needed to break down barriers to lower-carbon energy.
We know that corporate demand for more renewables is coming to Vietnam, added Mr. Sungku. It's the way to prosper while cutting down on greenhouse gas emissions and other harmful air pollution.
It's time to listen to the demand side and let companies from the ROK lead the way in making the shift— for profit now and continued profitability down the line.
Vietjet to pay dividend worth $28.3 million
Vietjet Aviation Joint Stock Company will pay 2017's first-phrase dividend at the rate of 20 per cent in cash, following its management board's resolution.
The registration deadline is July 31, and dividend will be paid on August 15.
"With Vietjet's (VJC on the HOSE) charter capital at around VNĐ3.22 trillion ($142 million), the total dividend to be paid is equivalent to VNĐ645 billion ($28.3 million)," the company said in its statement released after the resolution was issued last week.
Besides this dividend payment, Vietjet will also confirm the bonus share dividend at the rate of 40 per cent soon, following the allocation of 2016's profits, which was approved at the company's 2017 annual shareholders' meeting and is now under consideration for approval by the States Securities Committee.
In 2017, Vietjet plans to pay a dividend of up to 50 per cent.
At the end of 2017's first quarter, Vietjet's audited redundancy capital was VNĐ1.53 trillion ($67.5 million) and unallocated after-tax profit was VNĐ2 trillion ($91.5 million).
Vietjet is the first airline in Viet Nam to operate as a new-age airline with low-cost and diversified services to meet customers' demands. Currently, the airline boasts a fleet of 48 aircraft, including A320s and A321s, and operates 350 flights each day. 
Tata Power proposes renewable energy plant in Phú Yên
Tata Power Ltd from India proposed to implement a renewable energy project in the central province of Phú Yên, during a meeting with provincial leaders last week.
This was reported on the province's website, phuyen.gov.vn.
At the meeting, Trần Hữu Thế, vice-chairman of the provincial People's Committee, spoke highly of Tata Power's desire to invest in the region. Phú Yên is committed towards facilitating foreign investment, Thế said, expressing his confidence that the Indian firm would develop the renewable energy project successfully.
Tata Power Ltd, an affiliate of the Tata Group, is one of the leading businesses in India in the power sector. Earlier, the company was granted permission by the Government to build the Long Phú 2 thermal power plant, expected to cost US$2 billion, in the Cửu Long (Mekong) Delta province of Sóc Trăng. With a capacity of 1,320 MW, the Long Phú 2 plant is expected to become operational in December 2020.
Over 8,000 construction firms set up in H1
As many as 8,200 construction enterprises were established in the first six months of this year, according to statistics of the Ministry of Construction (MoC).
This number accounted for 13.4 per cent of newly-established enterprises nationwide, up 10.7 per cent over the same period in 2016, of which 2,300 firms operated in the real estate sector.
MoC is currently focusing on speeding up the restructuring and renovation of State-owned enterprises in the 2016-2020 period. The equitisation of four corporations -- Housing and Urban Development Corporation (HUD), Sông Đà Group, Việt Nam Cement Industry Corporation (VICEM) and Việt Nam Urban and Industrial Zone Development Investment Corporation (IDICO) -- will continue.
The real estate sector in the first half of 2017 continued to maintain stable growth, reflected through the stability in price, transaction quantity, liquidity and declined inventory, MoC said, adding that the structure of goods was adjusted to better fit the diverse needs of the market.
According to statistics from the Ministry of Planning and Investment, in H1, the real estate sector ranked fifth in terms of FDI attraction, with 39 newly-registered projects worth US$461.7 million.
Tourism project shut down because of deforestation violations
Lu Van Trung, director of the Dak Nong Provincial Department of Planning and Investment has said that they had shut down and revoked the investment licence of a tourism project in the area due to it deliberately enabling illegal loggers to destroy the forest.    
The Luu Ly Waterfall eco-tourism project of Lao Dai Trade Service Company based in HCM City will be shut down for violating the Investment Law, Trung said on July 13.
The VND11bn project was planned to include restaurants, entertainment area and the beach. Dak Nong provincial authorities allocated over 88 hectares of land to Lau Dai Trade Service Company with the waterfall and forest land.
But construction was slow to be carried out and the company didn't have any measure to protect the land. As the result of lax management, illegal loggers destroyed the forest. It is suspected that the loggers received help from company employees.
Dak Song District Forest Ranger Unit admitted that this was a deforestation hotspot.
Luu Ly Waterfall was listed as Dak Nong's key tourism site since 2007. The waterfall is located in the north-east of Nam N'Jang Commune, 10km away from the Ho Chi Minh Highway. Despite the beautiful scenery, the authorities haven't been able to make full use of the waterfall as a tourist site.
Airport corporation invests more in infrastructure upgrade
The Aviation Airport Corporation of Vietnam (ACV)said it will continue pouring investment in upgrading airport infrastructure and improving service quality to meet the sector's growth requirements.
Accordingly, the firm will spend about 2 trillion VND (88 million USD) on expanding international terminal (phase 2) and an airplane parking area at Tan Son Nhat Airport in Ho Chi Minh City.
ACV will also disburse 1.2 trillion VND (52.8 million USD) to repair T1 Terminal and expand a parking area at Hanoi-based Noi Bai International Airport.
A VIP lounge will be built at Da Nang International Airport, while its airplane parking area will be upgraded with a total investment of about 150 billion VND (6.6 million USD) to serve the APEC Economic Leaders Week in November. 
In addition, ACV will also expand a terminal and a plane parking area at Phu Quoc International Airport with an estimated cost of about 2 trillion VND (88 million USD), in order to raise the airport's capacity to 5 million passengers per year.
Trade deficit for 2017 forecast at US$5 billion
Trade deficit for the whole of 2017 is forecast at US$5 billion, equal to 2.5% of export turnover, lower than the level permitted by the National Assembly, said the Ministry of Industry and Trade (MOIT).
At a MOIT regular press conference on Friday morning, Deputy Minister of Industry and Trade Do Thang Hai gave a forecast that exports in the last six months of 2017 would increase for some industrial goods with large export turnover that would enter their growth cycles, such as textiles, footwear and furniture.
He also said that imports of machinery and equipment, which have increased significantly in the first months of the year due to disbursement of a range of projects, should gradual reduce in the last months of 2017.
Export turnover in 2017 is estimated at about US$200 billion, an increase of over 13% against 2016, exceeding the set target. Imports were predicted at US$205 billion, an increase of over 17% over 2016, resulting in a trade deficit for the whole year of about US$5 billion, equalling only 2.5% of export turnover.
Domestic trade is expected to continue its upward trend, especially at the end of the year with high consumer demand; total retail sales and services in 2017 expected at over VND3.8 quadrillion, up more than 10% compared to 2016.
Regarding results in the first half of 2017, MOIT said that industrial production index during the first six months continued its upward trend with an increase of 6.2%. However, this is still lower than the increase in the same period in 2016, as the mining sector was down and the electricity sector recorded low increases.
According to Deputy Minister Hai, export turnover in the January-June period reached US$97.7 billion, up 18.8% and was the highest increase over the same period last year, due to high prices, mainly in the group of fuel and agricultural products, and increased volume, mainly in manufacturing and processing industries.
The highlights were the high growth rates of vegetables and fruits (recording increases of 43.5%) and fishery (up 16.7%), with US$1 billion higher than the turnover in the same period of 2016. Rice, a key export item has recorded an upward trend again thanks to a surge in traditional markets such as Malaysia, Bangladesh and China after a long period of hardship.
Contributing to the success of agro-forestry-fishery product growth were activities on export market development, especially efforts from Vietnam's high-level diplomatic delegations. For example, Vietnamese fruits have penetrated into many markets with high quality requirements, such as the US has allowed the import of Vietnamese dragon fruit, rambutan, longan and litchi; Japan, the Republic of Korea and New Zealand also open their markets to Vietnam's dragon fruit and mango; while Australia has licenced the import of Vietnamese litchi and mango.
However, in the first six months of the year, Vietnam also witnessed an increase in imports of fruits due to Vietnam's fruits suffering from climate change impacts and tariff reductions from free trade agreements, as well as simplified procedures, leading to a reduce in the prices of imported fruits.
For the second half of the year, the MOIT will focus on removing difficulties for domestic production and for projects producing export products, creating sources for exports to achieve targets on import and export for the whole year.
Together with that, the ministry will also enhance market information and tackle obstacles to market barriers. In particular, the MOIT will organise the dissemination of free trade agreements to the business community, as well as supporting enterprises to respond to trade remedies.
Deputy Minister Hai stressed that his ministry would implement measures to support enterprises to meet the barriers of quality standards in importing countries and raise the value of export products, particularly agro, forestry and fishery products. On the other hand, the ministry is also focusing on removing barriers and creating conditions for export products, especially agricultural products and seafood penetrating into new markets.
Notably, in the last months of the year, the MOIT will strengthen management of imports and exports through application of trade remedies for imported goods with high volume in accordance with current laws and international commitments.
In addition, the ministry will continue to submit proposals in July to deal with 12 sluggish and ineffective projects. Even with projects whose remedial approaches are still underdeveloped, the ministry will not rule out a plan for bankruptcy. However, the final decision is still awaiting approval from the Government.
Pig price accelerates after seven months plunge
Pig prices in the southern province of Dong Nai, one of the largest breeding provinces in Vietnam, has suddenly increased by VND15,000-20,000 a kilogram over ten days back to VND38,000-45,000 for the last couple of days.
Dong Nai Breeding Association yesterday said that the price accelerated because the Chinese market has started importing pork again. In addition, supply from foreign direct investment (FDI) companies has nearly run out as they had sped up consumption for the last past.
Deputy chairman of the association Nguyen Kim Doan said that the price rocket up was due to shortage of pig supply.
Pig inventory had been sold out after seven months of price crisis exhausting small breeding households and they have been unable to start new breeding crop, he added.
The province Department of Industry and Trade said that the province now has 1.6 million pigs, down 500,000 pigs compared to three months ago. Of the total, there are 170,000 finishing pigs weighed 80-110 kilograms each.
At present, nearly 9,000 pigs are sold everyday, 80 percent of that are transported to other provinces.
According to the department, the pig market has been stable, inventory has been sold out and the volume of finishing pigs is equal to market demand. The price rocket is normal because supply and demand has balanced.
Vietnam to grow 1.26 mln ha of corn
The Plant Protection Department under Ministry of Agriculture & Rural Development held yesterday a conference of sustainable development and expanding corn growing in Vietnam
It is aimed to ensure food safety and create fresh material for breeding industry, not depending on import.
The department said in 2016, the total area of corn growing in the country reached over 1.15 million hectares, accounting for 0.65 percent total land area in the world and 1.94 percent in the Asia, 11.6 percent in the Southeast Asia and Vietnam ranked 24 out of 166 countries in the world.
The country targets by 2020, nationwide will plant around 1.16 to 1.26 million ha of all various kinds of corn.
2H tourism growth must match 1H result
Major efforts are required to ensure that tourist numbers in Vietnam increase by at least 30 per cent in the second half of this year, or the same as in the first half, welcoming between 13 million and 15 million international tourists for the year as a whole, Mr. Nguyen Ngoc Thien, Minister of Culture, Sports, and Tourism, said when reviewing the tasks for 2017 on July 13 in Hanoi.
"There is no better time than now for tourism to spread its wings," he added, while acknowledging it is a difficult task for the tourism sector but must be attempted.
He requested the Vietnam National Administration of Tourism focus on key targets, such as creating draft decrees and resolutions for the Law on Tourism, which has recently been passed, preparing forecasts, identifying solutions to attracting more international tourism from now to the end of the year, and attending Vietnamese cultural days overseas to promote the country's image.
In the first half of this year, international tourist arrivals to Vietnam were estimated at 6.2 million, up 30.2 per cent year-on-year. Revenue totaled VND254 trillion ($11.2 billion), a 27.1 per cent increase year-on-year.
Tourists arriving by air totaled 5.2 million, up 33 per cent year-on-year, by sea 170,000, up 26 per cent, and by road 823,000, up 16 per cent. China was the main source of tourists, with 1.8 million arrivals, up 56.7 per cent and representing 23 per cent of the total. The country has accounted for 20 to 25 per cent of international tourists in each of the last five years.
The number of South Korean tourists has seen rapid growth, with 1.1 million arrivals in the first half, up 43 per cent year-on-year. Tourists from the EU have also grown significantly. Those from Russia increased 53 per cent, from Spain 28 per cent, and from Sweden 21 per cent.
Vietnam was recently ranked seventh on a list from the United Nations World Tourism Organization (UNWTO) of the Top 20 fastest-growing travel destinations in the world. It was third in Asia, behind Nepal, which ranked second, with arrivals up 39.7 per cent, and South Korea, which ranked fourth, with arrivals up 30.3 per cent.
Keximbank keen on investing in HCMC urban railway lines
The Export-Import Bank of Korea (Keximbank) is keen to invest in urban railway lines in Ho Chi Minh City, the bank told a meeting with Minister of Transport Truong Quang Nghia on July 12.
Mr. Young Pyo Hong, Acting Chairman of Keximbank, said that with its capital and experience in building urban railway lines in South Korea, the bank is very much interested in investing in the line connecting the city center with Tan Son Nhat International Airport (Metro Line No.4), and Package No.2 of Metro Line No.5.
Mr. Nghia told the meeting that would also like to see Keximbank invest in three other transport projects, including the Tan Van - Nhon Trach Road (Packages 1a and 1b), and the Lo Te - Rach Soi Highway project, where land has been cleared for six lanes but only two lanes constructed. The Ministry of Transport has recently proposed the later be upgraded to four lanes and is waiting for the government's approval.
He also spoke with Keximbank about the Trung Luong - My Thuan and My Thuan - Can Tho Expressway projects. Traffic over My Thuan Bridge in Tien Giang province is high, he said, so he proposed Keximbank be involved in the My Thuan 2 Bridge project with a preliminary investment of about $245 million.
According to Mr. Hong, the Tan Van - Nhon Trach Road is the first public-private partnership (PPP) project in Vietnam to include foreign investors, so he is looking forward to the Ministry's assistance to finish it on schedule.
As for the Lo Te - Rach Soi Highway project, he proposed the Ministry provide detailed planning and noted that in June a bank delegation surveyed the project and is waiting for reports. Regarding the My Thuan 2 Bridge project, he said Keximbank will study the project further.
Military-run Viettel widens gap with VNPT & Mobifone
Telecommunications giants Viettel, VNPT, and MobiFone recorded positive revenue and profit results in the first half of this year, with the military-run mobile carrier continuing to widen the gap between itself and VNPT and MobiFone.
Telecoms revenue (excluding Viettel's businesses abroad) in the first half of the year rose 100 per cent year-on-year to VND213.35 trillion ($9.4 billion), equal to 47.4 per cent of the annual plan, according to a report from the Ministry of Information and Communications (MIC).
As at the end of June, the number of 2G and 3G subscribers were 68.8 million and 54.2 million, respectively. The number of wired broadband internet subscribers continues to surge, with more than 10.11 million in new subscribers. Export turnover from electronics, computers and components in the first half reached $7.59 billion, a 12.36 per cent increase year-on-year.
At an MIC meeting on July 14 to review the business results of communications companies, Mr. Tran Manh Hung, Chairman of VNPT, said the group's profit during first half rose 15.5 per cent year-on-year to VND2.39 trillion ($105.3 million), while revenue rose 6 per cent year-on-year to VND68 trillion ($3 billion), or 47.3 per cent of the annual plan.
Almost all of the group's services are growing, except MyTV and fixed subscriber numbers, which were equal to only 96.2 per cent and 89.8 per cent of the figures in the same period last year, respectively, according to Mr. Hung.
The military-run mobile carrier Viettel recorded revenue of VND117.1 trillion ($5.2 billion) in the first six months, equal to 48.7 per cent of the annual plan, with profit of VND21.47 trillion ($945.6 million). It also contributed nearly VND20 trillion ($881 million) to the State budget.
With more than 61 million domestic and more than 30 million international mobile subscribers, Viettel has built a comprehensive and modern infrastructure network with 350,000 km of fiber optical cable nationwide and five national and six international backbone lines. The first operator to launch 4G services in the country also has 25,000 2G stations, 35,000 3G stations, and 36,000 4G stations.
Viettel is planning to expand its investments to Indonesia and Nigeria, two countries with the largest populations in the world, through its subsidiary Viettel Global. It currently has operations in nine overseas markets: Laos, Cambodia, East Timor, Cameroon, Haiti, Mozambique, Burundi, Peru, and Tanzania, with operations in Myanmar expected to begin in the first quarter of next year.
MobiFone, meanwhile, recorded revenue of VND21.3 trillion ($938.1 million) in the first half, an increase of 18.7 per cent year-on-year, with profit of VND2.6 trillion ($114.5 million). "Despite facing many difficulties, especially rising competition with other communications companies, MobiFone has maintained solid growth," CEO Mr. Cao Duy Hai told the meeting.
An inspection of MobiFone's purchase of AVG shares has been completed but the results not yet released due to certain problems and the need to compare the results with other inspection units, Mr. Ngo Van Khanh, Deputy Chief Inspector, told the Government Inspectorate's regular press conference for the first quarter on April 24.
CBU imports from Thailand & Indonesia soar
Thailand and Indonesia dominated the importation of completely-built-up (CBU) motor vehicles in the first half of this year.
According to the General Department of Vietnam Customs, Vietnam imported a total of 48,354 CBUs worth more than $966 million in the first half.
Thailand and Indonesia led the way among the 12 countries and territories exporting CBUs to Vietnam.
Imports from Thailand reached 19,170 units worth approximately $347 million. After a period of rapid acceleration, Indonesia has narrowed the gap with Thailand, exporting a total of 10,484 CBU motor cars to Vietnam in the first half worth more than $184 million.
Total CBU import from the two countries therefore stood at 29,654 units, worth more than $531 million and accounting for more than half of such imports in both volume and value.
The first and most important advantage the two countries hold is that import tariffs are significantly lower than CBU imports from other countries, including those from with most-favored-nation status from the WTO and ASEAN and ASEAN +, such as as South Korea, Japan, and China.
Other advantages are geographical proximity and procedures for finalizing import and export contracts. Being in Southeast Asia and members of the ASEAN Community as well as members of the ASEAN Trade in Goods Agreement (ATIGA), costs and import time are lower than for many other source countries.
For example, imported motor cars from Europe or the US can take at least three months, while imports from Thailand and Indonesia take only 30 days.
Under the ATIGA tariff reduction schedule, meanwhile, tariffs on imported CBU motor cars from ASEAN countries will be zero per cent from January 1, 2018.
VietFood & Beverage - ProPack exhibition on horizon
The 21st VietFood, Beverage and Professional Packing Machines (VietFood & Beverage - ProPack) exhibition will take place at the Saigon Exhibition and Convention Centre, 799 Nguyen Van Linh Street, District 7, Ho Chi Minh City from August 9 to 12.
The exhibition is being organized by Vinexad Co. in close cooperation with the Ministry of Industry and Trade, the Ministry of Agriculture and Rural Development, and the Food Standards Committee (CODEX Vietnam).
According to Mr. Jaroslaw Olowshi, President of the Agricultural Products Market at Poland's Ministry of Agriculture, given the positive results from previous exhibitions, this will be the third time Polish enterprises have attended Vietfood & Beverage - ProPack in Vietnam.
The organizers said that this year's exhibition will see the continued involvement of enterprises from countries and territories such as South Korea, Thailand, Poland, and Taiwan (China), with those from the Czech Republic, the United Arab Emirates, Brazil, and France attending for the first time
Half of the 500 enterprises attending this year's exhibition are Vietnamese, primarily the fields of tea, coffee, beer, soft drinks, processed agricultural food, fresh fruit, and dried fruit.
Logistics service providers such as the Fuso Limited Company, OneICC, Auphan Software, and Mobiwork will also take part. 
Vietnam's beverage sector has recorded steady growth in both production scale and quality, with well-known brands such as Habeco, Sabeco, Tan Hiep Phat, and A&B being regular participants at Vinexad exhibitions and offering a "Drink Festival", presenting opportunities for businesses to meet with partners and open up more markets.
The exhibition is also an opportunity for international brands such as Sapporo, AbinBev, Vanpur, Vintage, and Masfi to introduce their products to an increasing number of consumers.
Some 180 enterprises have registered to attend, from India, Germany, the Czech Republic, France, Singapore, and South Korea, displaying packing machines, candy making machines, cooling and preservation machines, and plastic box packing machines from well-known producers such as the Rang Dong Plastics Company, the Duy Tan Plastics Company, Solution Pack, and Texyear - Taiwan.
HCMC announces tax collection plan for e-commerce business
The Ho Chi Minh City Department of Taxation has officially announced its tax collection plan for the e-commerce business, including the sale of goods and services via the internet, Facebook, and other social media.
Individuals and organizations selling goods over the internet with annual revenue of more than VND100 million ($4,400) must register and declare tax.
Tax obligations consist of licensing tax, value added tax, personal income tax, excise tax, and environmental protection tax (if any).
The amount of license tax on online businesses with annual revenue above VND500 million ($22,000) is VND1 million ($44) per year, VND500,000 ($22) per year for those with annual revenue of VND300-500 million ($13,200-22,000), and VND300,000 ($13) for those who earn revenue of VND100-300 million ($4,400-13,200).
The Department has collected information on the identity and telephone numbers of 13,422 Facebook account holders and will collect tax arrears and publish a list of all individuals and organizations found to be committing tax evasion on the mass media.
It has also assigned the tax departments in 24 districts to encourage and mobilize businesses on Facebook to voluntarily declare tax.
Many holders of Facebook accounts do not want to declare or pay taxes, however, as online trading is considered to be only a part-time job. Even large account holders are finding ways to evade taxes.
The Binh Thanh District Department of Taxation has invited 172 website owners and Facebook accounts to prepare tax declaration, with 98 having cooperated.
Of the 677 Facebook business in the city invited to work with the tax department, 500 have declined to do so.
Tax officials said that account holders have identified multiple ways to evade taxes. The most common way is to increase cash transactions, set up multiple sales pages, change locations, not accurately declare sales, and not disclose sales prices.
The Department, therefore, will take aggressive measures with business accounts on Facebook that have not provided feedback after receiving an invitation to address their tax obligations.
Tax departments in districts will play a direct role in penalizing Facebook vendors who do not register their business or pay taxes. They will also publish a list of individuals and organizations that commit acts of tax evasion.
The Hanoi Department of Taxation, meanwhile, sent text messages to 13,422 Facebook accounts that use social media network as a retail platform, urging them to go to its website and register their businesses and declare income. Nearly 2,000 have registered to date and been granted a tax code.
Recruitment problematic for South Korean & Chinese companies
South Korean and Chinese companies in Vietnam struggle to find highly-skilled Vietnamese employees, according to the latest report from Navigos Search.
South Korean business saw positive signs in recruitment for middle and senior manager level positions in the second quarter compared to the first quarter but only limited numbers of candidates meet their requirements.
Those in the north of the country find it particularly difficult to identify candidates that can act as Korean-language translators, with many recruiting candidates from the south instead.
Candidates skilled in the Korean language and with post-graduate degrees are much sought after. Such candidates are also offered better salaries and benefits, and their skills allow for employment in research & development (R&D) activities.
Chinese enterprises in Vietnam face similar difficulties, in particular identifying candidates fluent in both Chinese and English to work in technical positions.
Many Chinese-owned companies and Chinese joint ventures are involved in manufacturing, especially textiles and footwear, and have found that skilled employees are hard to come by.
Most manufacturing plants are of small scale in their first year, employing from 100 to 200 workers. They plan for large-scale development from the second year, however, increasing to 400 or 500 workers based on demand in their export markets.
Vietnam expects to export more agri products to Iran
Minister of Agriculture and Rural Development Nguyen Xuan Cuong met with the Iranian Minister of Agriculture Mahmoud Hojjati in Tehran on July 15 within the framework of the 9th Vietnam-Iran meeting, where he told his counterpart that exporting agriculture products to Iran would enable Vietnam to access the Middle East and Central Asia.
The two discussed strengthening cooperation and investment by enterprises from both countries. They wish to coordinate the expansion of export markets for agricultural, forestry and fishery products from both countries in a sustainable manner.
In particular, Vietnam will export agricultural products such as bananas, lemons, pineapples, rice, mangoes, beef, pepper, cashew nuts, and coffee to Iran.
Conversely, Iran will export products such as sturgeon, salmon, other seafood, and dried fruit (dates, olives, and chestnuts) to Vietnam.   
The two Ministers also agreed to further promote cooperation between the two countries' agricultural research and management units.
They also emphasized the strengthening of contacts between the two ministries to develop a comprehensive cooperative program, after which they will select certain products and introduce trade promotion measures.
They also expect to connect enterprises and localities in Vietnam and Iran as soon as possible.
Iran's Deputy Prime Minister, Mr. Eshaq Jahangiri, told the meeting he expects bilateral trade between Vietnam and Iran will reach $2 billion within the next few years.
He added that Iran is willing to meet the oil and gas demand of Vietnam as well as countries in Southeast Asia and will provide technical services in the field.
In March 2016, State President Truong Tan Sang paid an official visited to Iran, during which the two countries signed several agreements and announced plans to increase bilateral trade annually to $2 billion over the next five years.
Post-harvest technologies needed to increase farm produce competitiveness
Using post-harvest technologies is crucial to increase the competitive edge of farm produce, heard a recent workshop in Ho Chi Minh City.
The event was held by the Tropical Agricultural Research and Consultancy Centre in HCM City and the Biotechnology Centre of HCM City on July 15.
Director of the Protective Packaging Solutions company SancoPack Pham Quoc Bao said developing preservation technologies is important to help farmers reduce losses in quantity and to maintain the quality of farm produce.
In Vietnam, post-harvest losses for seed plants were estimated at 10 percent, tubers at 10-20 percent and vegetables and fruits 10-30 percent, according to the UN Food and Agriculture Organisations (FAO).
This is mainly due to incorrect harvesting, packaging, transporting and preserving techniques, the FAO said, adding that packaging technologies in Vietnam are underdeveloped.
To increase the competitiveness of Vietnamese farm produce, post-harvest preservation will receive special attention from farmers and businesses.
Notably, the Chemistry Institute under the Vietnam Academy of Science and Technology has studied a technology called "GreenMAP" which keeps vegetables and fruits fresh three times as long as traditional methods without chemical impacts.
This new technology is simple, cheap and reduces post-harvest losses by 5 percent.
Experts suggested attracting young human resources to the agricultural sector and providing training courses for them.
Arbitration court gains investor trust     
The increasingly important role an arbitration court plays in facilitating trade and investment was highlighted at a seminar jointly held by Vietnamese and South Korean legal entities in Ha Noi on Thursday.
The seminar was titled 'A Strategic Approach to International Arbitration in Viet Nam and Korea: Commerce, Investment and Infrastructure.'
It focused on practical topics of common interest for both countries, including arbitration related to infrastructure projects, and recent developments in both nations' arbitration frameworks.
Participants studied international disputes that both the Republic of Korea (RoK) and Viet Nam have faced, as well as methods for foreign investors to make claims regarding international infrastructure disputes in Viet Nam.
Vu Anh Duong, Secretary General of the Vietnam International Arbitration Centre (VIAC), said that as a stable country with high economic growth, Viet Nam was becoming an attractive investment for foreign investors.
In such a setting, the demand for new methods of dispute settlement in business is rising, given the large sums involved and the complex nature of disagreements.
In fact, there is urgent need for a strong, transparent and accessible set of legal frameworks, including the arbitration court, in order to protect and support the rights of businesses, both local and foreign, he said.
This need has to be met if the country wants to continue win investors' trust and funding, Duong said.
Building on its success last year, the seminar created an opportunity to discuss and learn from current issues on international infrastructure disputes.
The opinions and analyses offered by expert professionals would benefit both Vietnamese and South Korean firms, organisers said.
Ji Sung-Bae, President of the Korean Commercial Arbitration Board (KCAB), said that RoK was the largest foreign investor in Viet Nam with businesses investing a total of US$15 billion in the country, and the prospects of this increasing further were bright.
As business opportunities increase, so do legal disputes, and an arbitration court was one of the most effective means of settlement recommended by experts, he said.
Shin Hi-Teak, Chairman of the Seoul International Dispute Resolution Center (SIDRC), said that his institution hopes to collaborate and help Vietnamese arbitration courts in solving any legal dispute that may arise between businesses of both countries and other countries in the future.
Le Hong Hanh, Chairman of the VIAC's Legal Science Council, said that at present, the legal framework for arbitration in Viet Nam relied on several important documents like the Ordinance on Commercial Arbitration in 2003, the Law on Commercial Arbitration in 2010 and the 22/2017/ND-CP Decree on Commercial Mediation in 2017.
This showed gradual improvement in the legal framework department, with notable changes like the removal of the requirement on arbitrators' nationality and more detailed descriptions of the civil court's role in supporting the arbitration court's decisions.
Hanh also commented that the VIAC has noted the rising number of cases successfully resolved by the arbitration court in Viet Nam.
Right now the country has 18 arbitration centres with the VIAC acting as the most renowned and reliable entity among them.
However, the VIAC has also found that since many business entities in Viet Nam are small and medium sized, they tend to approach the civil court instead of an arbitration court, and this has hindered the growth of this commercial mediation method.
Kim Byoung-Pil, Partner at Bae, Kim and Lee LLC, said that in the next 10 years, Viet Nam will be walking the same development path as the RoK once did.
He said advised businesses trying to have their disputes settled by the arbitration court should provide the court and lawyer with professionally gathered data and hire trained experts to advice and represent them. He hoped that such professionalism would become a rising trend in Viet Nam.
Do Trong Hai, Managing Partner at Bizlink Lawyers, said that the main sources of disputes were mistakes in the contracts, parties' failure to uphold their part of the contract, ineffective project management, and payment failure.
The seminar was jointly organised by the KCAB, the VIAC, and the IDRC. 
Appropriate policies will aid growth: experts     
Financial and monetary policies will play significant roles in supporting economic growth in the rest of this year and the central bank should have policies to direct capital flow into production and business, heard a conference held by the Ministry of Planning and Investment on Friday.
The Vietnamese economy must grow 7.4 per cent in the second half of this year to fulfill 2017's growth target of 6.7 per cent, and this will depend largely on credit growth and interest rates.
According to Nguyen Thac Hoat, Head of the Institute of Policy and Development's Finance and Money Faculty, Viet Nam needs breakthroughs to meet the growth target and to create drivers for growth.
Besides long-term measures such as economic reforms, restructuring State-owned enterprises and developing the private economy, management agencies should focus on monetary policies, Hoat said.
Monetary policies were moving in the right direction but will take time to affect the economy, Hoat said, urging the improvement of management efficiency.
Hoat said that the pressure on exchange rates would be considerable till the year ends as the US Federal Reserve might hike rates. Fluctuations of exchange rates should be kept at 2-3 per cent to ensure stability for the monetary market, he added.
The State Bank of Viet Nam's move to cut rates by 0.25 – 0.5 per cent last weekend was not really loosening monetary policies but aimed to help commercial banks reduce lending rates and boost credit growth, according to Hoat.
Can Van Luc, director of BIDV Training School at the Bank for Investment and Development of Viet Nam, said pursuing a high growth rate in the short term would pose risks to the macro-economy and the financial system, with the economy short of resources for sustainable growth.
"Slow economic reform and bad debt resolving significantly affect the goal of lowering lending rates and cleaning up the financial system. The banking system will continue under pressure for capital and credit packages to support the economy," Luc said.
Luc said credit growth should be kept at a reasonable level (16-18 per cent) this year, adding that 18-20 per cent credit growth would be too much.
Close watch must be placed on credit growth and ensure capital goes into production and business, according to experts. In addition, restructuring credit institutions and resolving bad debt must be hastened.
Luc also proposed reviewing regulations on the capped ratio of short-term financing used for medium and long-term loans which would be cut from the current 50 per cent to 40 per cent from the beginning of next year, adding that a ratio of 45 per cent would be more reasonable to ensure liquidity.
Ha Nam attracts $194 million in investment     
Ha Nam Province has attracted 46 projects, including 10 foreign direct investment (FDI) projects, with total registered capital of nearly US$194 million, so far this year.
Nguyen Van Oang, director of the provincial Department of Planning and Investment, said that the Red River Delta province will continue putting in place more policies to support investors, and diversify investment promotion methods to attract more investments.
The province also plans to improve the quality of investments by prioritising projects in the support industry, and processing and manufacturing sectors that use high-tech and environment-friendly technologies.
To this effect, Ha Nam will also increase checks on the enforcement of law in investments to clear obstacles for investors, Oang said.
Ha Nam is completing infrastructure development in industrial parks to provide support services such as power, water supply and telecommunications, while assisting investors with human resources and legal consultation, he added.
13 Vietnamese banks among Top 1000 World Banks 2017     
Viet Nam has 13 commercial banks listed among the Top 1000 World Banks 2017 released recently by The Banker, the global financial intelligence agency since 1926.
The banks are VietinBank, Agribank, Vietcombank and BIDV, as well as Military Bank, Sacombank, Techcombank and SCB, along with Maritime Bank, VP Bank, Eximbank, ACB and SHB.
Vietinbank holds the highest position among the Vietnamese banks listed among the Top 1000 World Banks 2017. The bank is ranked 376th by The Banker, up six places compared with the previous ranking in 2016.
VietinBank has been named in various world rankings several times, including six consecutive years on the Forbes Global 2000 list, a comprehensive annual ranking of the world's largest public companies.
Brand Finance also estimated Vietinbank's brand value at US$252 million, with the brand's strength given an A+ rating.
The Banker's rating is based on three key criteria -- total assets, pre-tax profits and tier 1 capital.
The Banker's Top 1000 World Banks 2017 did not see much change from 2016. The Top 10 features four Chinese banks and four US banks namely ICBC, China Construction Bank, JP Morgan Chase & Co and Bank of China, as well as Bank of America, Agricultural Bank of China, Citigroup and Wells Fargo & Co, along with HSBC Holdings and Mitsubishi UFJ Financial Group. 
Hau Giang Pharmacy to remove foreign-ownership limitations     
Hau Giang Pharmaceutical Joint Stock Company (DHG) plans to raise its foreign ownership ratio cap from 49 per cent to 100 per cent, DHG leaders on Thursday released in minutes of the company's extraordinary shareholders meeting for 2017.
According to the Board of Directors, the removal of limitation on the foreign ownership cap aims to attract more foreign capital, facilitating the circulation of DHG shares on the stock market and diversifying shareholder structure, contributing to the development of the company.
DHG approved increasing its foreign ownership limit to 49 per cent at the company's annual general meeting on April 18.
In response to questions from shareholders about the State Capital Investment Corporation (SCIC)'s intention to divest capital from DHG, deputy general director Hoang Nguyen Hoc, on behalf of SCIC, said SCIC has no plans to divest capital within the next two or three years.
SCIC is currently DHG's largest shareholder, holding 43.31 per cent of the company's capital, followed by Taisho Pharmaceutical Co with 24.5 per cent.
DHG's share price is showing signs of reducing following a surge at the beginning of this year. Currently, DHG's share price has dropped more than 11 per cent since its peak recorded on June 16.
Foreigners have sold net nearly one million DHG shares since the beginning of the year, equivalent to net sell value of VND111 billion (US$4.8 million). 
KDC, TAC to pay dividends in cash     
Food producer Kido Group has announced it will pay a 16 per cent dividend in cash for 2016.
The company will finalise the shareholders list on July 26 and the payment date will be August 7.
With 205.6 million shares being traded in the market at that moment, the company has to pay out around VND330 billion (US$11.8 million).
This year Kido targets revenues of VND7.7 trillion ($337,000) and profit before tax of VND490 million ($22,000).
The Tuong An Vegetable Oil Stock Company (TAC) meanwhile said it is seeking shareholders' opinions on dividends for 2016.
TAC plans to pay 16 per cent.
The record date will be July 21. 
International conference discusses apparel technologies     
Solutions to help fashion enterprises upgrade technologies to achieve efficiency were discussed at a round table meeting called "Apparel Tech Up" in HCM City this week.
Organised by ThreadSol, a garment technology provider, the conference aimed at assisting companies to cope with challenges and competitive pressures from exporting nations such as China and Bangladesh.
Experts agreed that fashion enterprises now need to upgrade production technologies to improve their efficiency.
Participants also discussed practical technological solutions for the global textile industry.
Saurav Ujjain, sales manager, ThreadSol, Southeast Asia, said: "Manufacturing 4.0, big data, artificial intelligence are concepts that the apparel industry cannot escape now.
"In the context of globalisation, the technology 4.0 revolution plays a very important role for the manufacturing industry in general and the garment industry in particular.
"In addition, the change of retailers, the current consumer trends for fashion products and the accelerated growth of e-commerce have led to significant impacts on garment production.
"The demand of the garment industry is increasing, orders are sent to factories more and more. To meet that demand, in addition to agile, creative, skilled staff, businesses must think about applying technology; it is indispensable."
The round table was held for the first time in Viet Nam and followed the successes of "Apparel Tech Up" in Bangladesh, India and Indonesia.
The event in Viet Nam attracted many Vietnamese companies like Viet Sun Investment Joint Stock Company, Esquel Garment Manufacturing Company, Fashion Garments Limited Company (FGL), You PCC Asia, and Grupo Kaybee.