Nearly 1,000 workers worry about Dung Quat Shipyard bankruptcy
Last update: 17:15 | 17/07/2017
Nearly one thousand employees at the loss-making Dung Quat Shipyard are worried about losing jobs as the business is facing bankruptcy.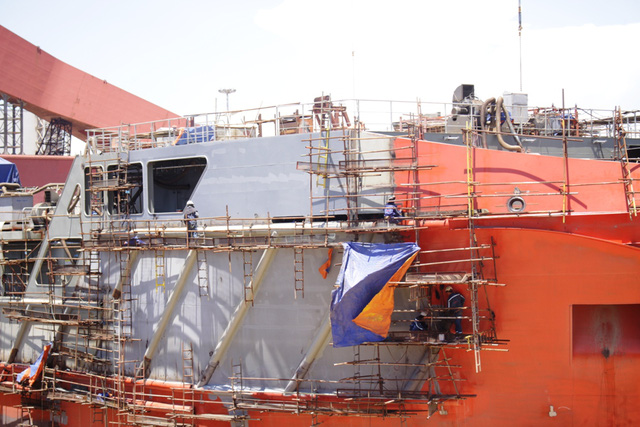 Workers are working at the Dung Quat Shipyard in Binh Son District, Quang Ngai Province.
At present, hundreds of shipyard workers in the central province of Quang Ngai's Binh Son District are still working on three ships which may be their last products as the company may close soon.
The news that the firm may go bankrupt is worrying worker Truong Van Chanh as well as nearly 1,000 other staff of the company. 
Worker Truong Van Chanh said that he had been working at Dung Quat Shipyard for very long and at this age, he didn't know where to go if the company closes.
Chanh, 37, who has been working at the company for the past 13 years said, "I've been here for very long and at this age, I don't know where to go if the company closes."
Chanh said when the company was operating well, his salary was VND10 million (USD441) a month so life was very good.
"But now we don't have much work to do so my salary has slashed to only half of that, between VND4-5 million a month," he said.
The worker said that he and many other workers have been seeking for extra jobs to earn more money.
"Although the situation now is very difficult, we still hope that it will get better some day," he said. "We don't want to lose the job we have been doing for a long time."
Another worker, Nguyen Cong Tinh, 32, said that he has been working for the firm for 11 years and would have difficulties finding other work.
"We have sold our agricultural land for this project," Tinh explained. "Maybe we have to leave our hometown to seek better opportunities."
Speaking to Dtinews, chairman of the company trade union, Vo Tan Thanh, admitted that they were very sad about the proposal by the Ministry of Industry and Trade to close.
"We're still trying to complete three ships before the end of this year and hope that that won't be our last contract," Thanh said. "Most of our workers have been working here for at least seven years and aren't young so they'll face difficulties finding a job at other companies."
The Ministry of Industry and Trade recently proposed to the National Assembly to prioritise bankruptcy for the business which was one of five loss-making projects invested by PetroVietnam.
Originally a wholly-owned subsidiary of the troubled Vietnam Shipbuilding Industry Group, which went bankrupt in 2012 and was renamed the Shipbuilding Industry Corporation in 2013, the shipbuilder came under PetroVietnam's management in July 2010, shortly before being tasked with several shipbuilding projects and eventually descending into extreme debt.
The Vietnam Economic Times cited financial statements as at June 30, 2010, the shipbuilder had charter capital of VND3.76 trillion (USD165.8 million) and total losses of VND7.44 trillion (USD328 million), including bank loans of VND4.8 trillion (USD211.6 million), 70 percent of which were in foreign currency.
After taking over the management of DQS, PetroVietnam pumped VND5.1 trillion (USD224 million) into the company, including charter capital of nearly VND2 trillion (USD88 million) and VND3.1 trillion (USD136 million) for paying its debts.
Figures from the ministry showed that by the end of June last year, the shipbuilder's total debts were VND6.89 trillion (USD307.6 million), accumulated losses VND3.68 trillion (USD164.3 million), and negative equity VND1.18 trillion (USD52.7 million).
The shipbuilder's equipment was described as inappropriate and out of date, and had failed quality requirements for manufacturing and production processes, resulting in a large annual depreciation cost for the shipbuilder, according to ministry's assessment, the Vietnam Economic Times reported.
The firm was one among seven additional loss-making projects reported recently by the Ministry of Industry and Trade, raising the number of failing projects to 12.
The projects, five of which that were invested in by PetroVietnam, and four by the national chemicals corporation Vinachem, include Dinh Vu Polyester Plant, Phuong Nam Pulp Factory, Thai Nguyen Iron and Steel joint stock Corporation, Dung Quat Bioethanol Plant, Ninh Binh Fertilizer Plant, Ha Bac Fertilizer Plant, DAP 1 Lao Cai Fertilizer Plant, DAP Fertilizer 2 Hai Phong , Ethanol Binh Phuoc, Ethanol Phu Tho, Dung Quat Shipyard and the joint venture between Quy Sa and Lao Cai Steel Plant.
Dtinews