PetroVietnam sees increased profit after three-year decline
Last update: 12:59 | 17/07/2017
Increasing crude oil prices helped PetroVietnam exceed its revenue and profit targets by 15 per cent in the first half of 2017.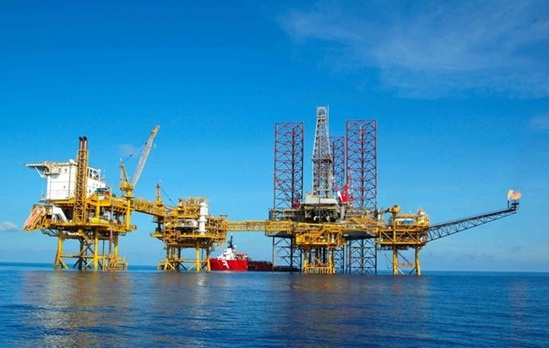 Exceeding performance targets
According to PetroVietnam's business report, the corporation received a revenue of VND247 trillion ($10.8 billion) in the first six months of 2016, up VND31.5 trillion ($1.3 billion) compared to the same period last year, including after tax profit of VND13.1 trillion ($572.8 million), up VND2.6 trillion ($113.6 million).
PetroVietnam's leader explained that the increase in revenue and profit was because the average price of crude oil during these six months was $54.4 per barrel, $4.4 (or 8 per cent) higher than the corporation's projection.
To reach the reported result, PetroVietnam has exploited 13.15 million tonnes of oil equivalents, including 7.9 million tonnes of crude oil, most of which was exploited from domestic oil fields, with only 0.97 million tonnes imported. The corporation has also produced 11.11 billion kWh of electricity, 2.29 million tonnes of petroleum, and 909,000 tonnes of fertilisers.
PetroVietnam has contributed VND44.2 trillion ($1.9 billion) to the national budget, accounting for 59 per cent of the 2017 plan. The corporation has also saved more than VND4.7 trillion ($205.5 million) from cutting costs at all subsidiaries.
Existing problems
While the increased revenue and profit show positive signs of recovery, there are still many challenges ahead for the second largest oil and gas distributor in Vietnam.
Despite the recent increase, crude oil price still fluctuates at a low level and is likely to drop again in the last six months of 2017, according to estimations by PetroVietnam.
Additionally, in the past year, PetroVietnam has also been plagued with scandals of mismanagement and huge losses incurred from a series of unprofitable projects.
Earlier this month, at a meeting with the Ministry of Industry and Trade (MoIT) to discuss measures to deal with 12 loss-making projects, five of which is developed by PetroVietnam, Deputy Prime Minister Vuong Dinh Hue openly criticised the corporation for its failure to effectively handle the matter.
PetroVietnam's deputy general director Nguyen Hung Dung has attributed the lack of progress in the handling process to financial hurdles, but the Deputy Prime Minister and MoIT affirmed that the state will not spend any more money on these projects.
PetroVietnam has formed a task force shortly after the meeting to focus on handling the five loss-making projects. MoIT has approved the bankruptcy proceedings for Phu Tho Ethanol Biofuel Plant and Dung Quat Ship Building Industry Company.
For the Binh Phuoc ethanol biofuel plant, due to its role in the implementation of E5 biofuel starting from 2018, MoIT has instructed PetroVietnam to work with foreign investors and resume operations soon. The remaining two projects, Dung Quat Ethanol Biofuel project and Dinh Vu Yarn Plant, are to be restarted before divestment. 
According to PetroTimes, PetroVietnam has held a conference to summarise business activities in the first six months and plans for the last six months of 2017. PetroVietnam's leader affirmed its commitment to achieve the target of exploiting 13.28 million tonnes of crude oil and 10.61 billion cubic metres of natural gas in accordance with the directions issued by the prime minister and MoIT.
Speaking at the conference, Deputy Minister of Industry and Trade Do Thang Hai noted the important contribution of PetroVietnam to the Vietnamese economy, and affirmed that "MoIT will work with PetroVietnam and strive to overcome this difficult, challenging period."
VIR