Making agriculture attractive to today's youth
Last update: 12:56 | 16/07/2017
Having experienced months of negative growth due to drought, climate change, floods and saltwater intrusion, the local agriculture segment is demonstrating its inability to serve as a cornerstone of the country's economy.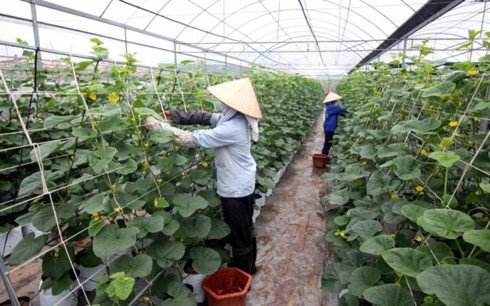 The segment can be largely characterized as farmers and processors who lack a good education, technical expertise and money to invest in the high technology that would allow them to compete profitably in the modern day global marketplace.
To be certain, the future of agriculture relies on its ability to attract the educated youth of today and create appropriate opportunities for them to participate and shape the agriculture of tomorrow.
While policy makers and industry leaders have long recognized this potential, its translation into significant benefits for previously marginalized groups, like the youth, has been far too slow.
Successfully giving effect to activities that will encourage and support more youth entering agriculture hinges on the ability of the young to fully understand the challenges that the country faces and let them shape the solutions on how best to respond.
To this end, there have been a series of seminars, workshops and surveys throughout the country during the first six months of the year directed at obtaining an understanding of the perceptions and attitudes of the youth regarding agriculture.
The insights provided by these events play a critical role in allowing policy makers and industry leaders to customize programs to best support young people's involvement in the segment.
Key findings
Interestingly, some of the observations and data collected suggest that far too many young lack information and exposure to the industry. Many of the more highly educated youth said they did not know what agriculture was or what it entailed.
While others associated agriculture only with subsistence farming, demanding work, and being poor.
Almost all the highly educated youth said they had little knowledge of opportunities in the segment, nor an adequate understanding of the variety of career choices across the agricultural value chain.
Most of youth preferred a career in one of the tertiary segments, over a career in agriculture.
The tertiary segment of the economy provides services to its consumers, which includes a wide range of businesses such as financial institutions, schools and restaurants.
It was also revealed that youth by and large were unfamiliar with the main challenges associated with agriculture, which are a shortage of arable land, a lack of access to capital, insufficient industry information, climate change, and an overall lack of interest by society in general in the industry.
There was a pervasive view among young people as well as older individuals that agriculture in Vietnam is largely an industry for uneducated individuals who do not require proper training.
Viable solutions
As a result, educated youth tend to view agriculture as not a first choice for a career but as their last option, and consequently focus their energy on finding employment in the corporate sphere.
These impressions support the proposition by many public officials and industry leaders that there is much work to be done in repositioning the agricultural segment to become more attractive to the nation's youth.
The agricultural value chain must transform to become far more integrated and accommodating to a diverse array of transferable skills, knowledge and expertise that these youths possess.
Technology has and will continue to revolutionize the segment, with many cutting-edge farmers already implementing precision farming methods to enhance their yields and better manage farming processes.
Farmers of the future will be using apps, drone technology and will require other innovative solutions to overcome age-old challenges.
With the youth already predisposed to technology through the high penetration of smartphones in this country and increasing access to the internet, they are truly best placed to take advantage of these exciting opportunities within the industry.
It rests with policy makers and industry leaders to show the youth of today how traditional farming methods are becoming integrated with our digitized lives throughout the agricultural value chain and convince them that agriculture is an attractive career choice.
VOV