Last update: 07:40 | 15/07/2017
Pork meets safety standards - ministry report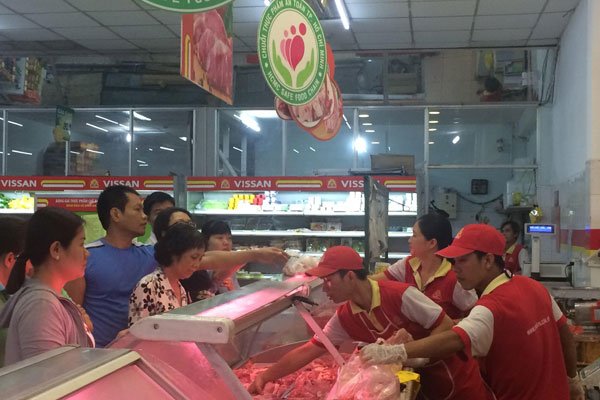 In the last six months, consumers have been supplied with pork and other food products which meet the safety and hygiene standards, according to a report of the Ministry of Agriculture and Rural Development.
The report says inspections in the first half of this year found no food containing Salbutamol, a substance used for stimulating weight gain and reducing fat in pigs. In nearly 4,200 pig urine samples taken from slaughterhouses, none of them contains Salbutamol while 0.44% of the collected samples did in 2016 and 1.07% in 2015.
In previous years, the high pork price along and the strong demand for lean pork prompted the widespread use of banned lean-meat substances by pig farmers, according to Dong Nai Province's pig farmers association.
Since the end of 2016, however, the oversupply has sent pig prices plunging, which might have led the use of banned substances in pig farming to decline.
Inspections in the first half of the year also show 97% of 4,500 facilities inspected meet food safety and hygiene requirements. The figure in 2016 was 91%.
VPBank increases its charter capital to VNĐ14 trillion
VPBank has successfully increased its charter capital to around VNĐ14 trillion (US$614 million).
The capital hike was implemented through the dividend payout in shares and share bonus.
After the rise, the governor of the State Bank of Việt Nam issued Decision 1426/QĐ-NHNN on July 7, revising VPBank's business licence with a change to its charter capital from VNĐ10.77 trillion to VNĐ14 trillion.
VPBank will make another charter capital hike this year, of roughly VNĐ2 trillion to raise its capital to VNĐ16 trillion through a 15 per cent private placement to local and international investors. The share price will be determined by mutual consent through negotiations between the bank and its investors, but it will be higher than the book value.
The bank said it is raising more capital to meet its operational demand, and to comply with the safety ratio regulated by the central bank.
This year, VPBank has been the second bank in the country to finalise a capital hike plan, after OCB.
On June 20, OCB completed its charter capital hike procedures and raised its capital from VNĐ4 trillion to VNĐ5 trillion through dividend payout in shares and private placement.
Cashew firms asked to make up output fall with product quality
The Vietnam Cashew Association (Vinacas) has asked its members to pay greater attention to improving the quality of cashew to raise its value amidst slumped production. 
Vietnam has suffered a sharp fall in both cashew productivity and output in 2017 crop due to abnormal weather conditions, Dang Hoang Giang, Vinacas Vice President and General Secretary said at a conference on July 12 in Ho Chi Minh City to review the sector's performance in the first half of this year.
He noted that cashew productivity of farms in high hills reached only 20 percent of that in 2016, while the yield of farms owned by experienced farmers was only 50 percent, with the quality of cashew seriously affected. 
Vinacas has asked for authorized agencies' support in seeking economic and technology measures to boost the growth of cashew trees for better crops in 2018, as well as ways to detect diseases and insect risks and the research for better cashew varieties that are more resilient to extreme weather conditions.
However, Giang said that cashew price this year hit a record at about 50,000 VND per kilo of dried cashew nut compared to 38,000 VND in 2016. The price is expected to continue rising in the rest of the year, he added.
According to Vinacas, this year, the cashew sector targets an export volume of 320,000 tonnes of cashew nuts, a drop of 9.14 percent year on year and a revenue of 3.3 billion USD.
The association also suggested that enterprises ensure cashew materials for export, while applying advanced technology, foster their connection in production and expand market for their products.
Rice export target set at 5.7 million tonnes
The Việt Nam Food Association (VFA) has set the target for rice export at 5.7 million tonnes this year, up 800,000 tonnes from 2016, amid rising global demand.
Huỳnh Thế Năng, president of VFA, said that since May, the demand for rice in the global market had seen a significant rise, and sellers now had the upper hand.
The current stockpiles of major rice exporting countries were not high, while rice import demands from countries such as the Philippines, Bangladesh and Indonesia were rising, Năng said, adding that the average export price had seen a rise of US$6-7 per tonne compared to the same period last year.
Năng said the Philippines planned to purchase 250,000 tonnes of rice in July and there was a high possibility that Việt Nam would be chosen. The Philippines was also considering importing another 544,000 tones by the beginning of September.
Recently, Bangladesh and Việt Nam also signed a memorandum of understanding on rice trade, in which Việt Nam can sell up to one million tonnes of rice to Bangladesh every year.
A survey by the Ministry of Agriculture and Rural Development (MARD) revealed that local rice prices were increasing this year, by VNĐ300-600 per kg.
Data from the MARD shows that in the first six months of 2017, rice export reached 2.8 million tonnes worth $1.2 billion, up 6.3 per cent in quantity and 4.9 per cent in value over the same period last year. The increase is considered impressive, given that it declined by 26.5 per cent in volume and 22.4 per cent in value in 2016.
Quảng Ngãi attracts projects worth $2.81b in H1
Dung Quất Economic Zone and industrial zones in Quảng Ngãi Province attracted eight projects worth US$2.81 billion in the first half of this year, according to the provincial People's Committee.
To date, there are 140 valid projects in the Dung Quất Economic Zone with total registered capital of $10.31 billion, 90 of which are already put into operation.
Quảng Ngãi is expected to draw $13.5billion into the Dung Quất Economic Zone by 2020, which would create some 35,000 jobs for the central province.
A report of the People's Committee at the People's Council's three-day meeting, which opened on Tuesday, also showed improvements in the province's economy.
The province's Gross Regional Domestic Product (GRDP) rose by 1.25 per cent over the same period last year. The agriculture, forestry and fishery sector jumped by 4.47 per cent and services rose by 7.39 per cent. However, the industry and construction sector saw a decline of 3.43 per cent.
The province saw the foundation of 321 new firms in the first five months of this year with total registered capital of nearly VNĐ11.8 trillion ($517 million), representing a whopping 18-fold increase.
Bùi Thị Quỳnh Vân, chairwoman of the provincial People's Council, said the province during this meeting would discuss policies to improve the business and investment climate, boost entrepreneurship, encourage the development of the private economic sector and develop hi-tech agricultural production.
In 2016, the central province attracted 43 projects, eight of which were foreign-invested.
Nearly US$3 bln poured in Quang Ngai in first half
The Dung Quat Economic Zone and other industrial parks in the central province of Quang Ngai have granted investment certificates for eights projects, worth US$2.81 billion in the first half of the year.
Of the figure, two Foreign Direct Investment (FDI) projects had a registered capital investment of US$100 million and six domestic ones, VND60,180.37 billion.
The information was released at a meeting on reviewing the city's socio-economic development performance in the first six months of the year.
The city's GRDP increased 1.25% against the same period last year, of which the agriculture-aquaculture-forestry sector grew 4.47%, the service sector, 7.39%. The industry and construction sector went down 3.43%.
As of May 30, 321 newly-established enterprises were recorded with a total registered capital of VND11,791 billion, witnessing year-on-year increases of 13.02% in the number of enterprises and 18.56 times in the capital.  
The total State budget revenues were estimated at VND7,985 billion.
Pepper sector advised to boost clean production
Chairman of the Vietnam Pepper Association (VPA) Do Ha Nam has advised pepper farmers to make investment in technology and clean production as the competition with foreign rivals will be fiercer.  
Vietnamese pepper is making up 60 percent of the global market, he cited, adding that the country's clean pepper products are popular in the US, Germany, Europe and Japan.
In the first six months of this year, Vietnam earned 750 million USD from selling 126,000 tonnes of pepper abroad, up 18 percent in volume but down 16 percent in value. 
Vietnam is likely to achieve its target of exporting 180,000 tonnes of pepper in 2017 due to the globe's surging demand, he said.
The Lam Sang Pepper Cooperative in the southern province of Dong Nai exported 300 tonnes of clean pepper to Germany and Europe in the first half of 2017, doubling the same period last year, Director Nguyen Ngoc Luan reported.
The demands from such choosy markets are huge and they are ready to order 5,000 tonnes of pepper each year, he said, noting that the most important thing is to ensure the high quality of products rather than expanding the pepper growing area.
According to the Ministry of Agriculture and Rural Development, Vietnam is home to 140,000 hectares of pepper, surpassing by 90,000 hectares as planned through 2020.
Currently, the area for growing pepper is increasing out of control. 
Luan advised both businesses and farmers to pay more attention to manufacturing techniques and studying the market's demands.
At present, Vietnamese pepper is ranked after Indian product in terms of quality and brand, but it could compete against that from Indonesia, Malaysia and Cambodia, he said.
He added that his cooperative has provided 5,000 tonnes of clean pepper to Europe over the past three year, and moves to supply for Japan in the time ahead.
Ben Tre calls for investment in 63 prioritised projects
The Mekong Delta province of Ben Tre is inviting investment in 63 priority projects in 2017-2020, said Truong Duy Hai, Vice Chairman of the provincial People's Committee at a press conference in Ho Chi Minh City on July 7.
The official said the projects are in the fields of construction of infrastructure for industrial zones, tourism, markets, shopping centres, urban and residential areas, agriculture and rural development, along with renewable energy, education, water supply system and solid waste treatment.
Ben Tre will organise an investment promotion conference and launch a start-up community on July 19-20 to introduce the province's strengths and investment policies.
Through the event, the province hopes to attract investment in its strong fields such as ecological and resort tourism, processing industry, hi-tech agriculture as well as promote start-up movement and business development.
Nguyen Minh Canh, Director of the province's Department of Planning and Investment said Ben Tre plans to grant investment certificates for 37 projects with total investment worth over 30 trillion VND (1.32 billion USD).
Ben Tre currently has two industrial zones of Giao Long and An Hiep, covering 240ha, which have been fully occupied. The province is home to 54 valid foreign-invested projects with registered capital worth more than 823 million USD and 137 domestic ones worth nearly 13.7 trillion VND (602.4 million USD).
In the first six months of 2017, the province lured over 10.4 trillion VND (457.6 million USD) and 192 million USD from new domestic and foreign-invested projects, respectively.
Mini Thailand Week kicks off in Can Tho city
The Mini Thailand Week 2017 was opened in Can Tho city on July 7, offering a chance to people in the southwestern region to try quality products and services of Thai businesses.
The week, one of cooperation activities to boost relations and trade between Vietnam and Thailand, is organised by the Thai Ministry of Commerce's Department of International Trade Promotion and the trade office of Thailand in Ho Chi Minh City.
Its key event is an exhibition featuring 120 booths of 83 Thai companies that display a wide range of products such as agricultural tools, food and beverages, health and beauty care products, household appliances, leather goods, and jewelry.
Thai firms also give visitors advice on studying and travel in Thailand and promote trade and investment to seek new markets in the southwestern region of Vietnam.
Speaking at the opening ceremony, Consul General of Thailand in HCM City Ureerat Ratanaprukse said as of July 2017, Thailand's investment in the Mekong Delta region approximated 400 million USD with 88 projects.
She expressed her hope that the Mini Thailand Week 2017 will help bolster the two countries' economic ties, provide visitors with various Thai products with high quality and reasonable prices, and create partnership opportunities for Thai and Vietnamese firms.
Director of the Can Tho municipal Department of Industry and Trade Nguyen Minh Toai said Can Tho is currently home to five Thai-invested projects with a total registered capital of nearly 42 million USD, mostly in aquatic and agricultural products processing and carton package production.
The Mini Thailand Week 2017 in Can Tho will last through July 9.
Vinalines' value plunges by VND4.5 trillion in two years
The corporate value of the Vietnam National Shipping Lines (Vinalines) slid by VND4.5 trillion (US$0.2 billion) in late 2016 against 2014.
In 2014, the company got approval from the Government to launch an initial public offering (IPO) with 64% of its shares to be offered to the public. Its value was put at VND21.2 trillion, equivalent to US$1 billion, with VND9 trillion of it owned by the State.
When the Government decided to hold 65% of the firm's chartered capital, the corporate value was revised down to VND16.7 trillion, including of Vinalines and its affiliated ports including Haiphong, Saigon and Danang.
The company plans to launch the IPO at the end of this year, with strategic investors to be offered 17.25% of the shares, and the public 17.25%.
Vinalines returned to profitability in 2015. Last year it posted profit of VND2.1 trillion including over VND4 trillion from other activities than seaport services. However, its short-term debt amounted to VND2.3 trillion by 2016.
Rice exports down in volume but up in value
Vietnam's rice exports will gradually decrease in the years to come, according to a rice export market development strategy in 2017-2020 with a vision towards 2030.
The strategy, just approved by the Prime Minister, puts rice exports at 4.5-5 million tons worth US$2.3 billion by 2020 and four million tons worth US$2.5 billion by 2030.
Vietnam will focus on Asian and African markets in which China, Bangladesh and ASEAN countries such as the Philippines, Malaysia and Indonesia will remain key importers of Vietnamese rice.
Meanwhile, the targets for choosy markets such as Japan and South Korea are modest. The sector will strive to raise the proportion of Vietnamese rice in total rice imports of these countries from 2% by 2015 to 3% by 2020 and 4-5% by 2030.
High-quality rice from Vietnam accounted for only 2% of rice imports of European countries in 2015. However, the ratio is projected to grow to 4% by 2020 and 6% by 2030.
The country also plans to ship high-quality rice to most markets from 2020. Therefore, rice export volume will be 0.5-1 million tons less than the current four million tons, but the sector can earn US$2.5 billion a year, up from US$2.2-2.3 billion in 2017-2020.
The Ministry of Industry and Trade has organized many conferences to collect input from rice exporting enterprises and gauge the demand for rice and trends in the future.
At a seminar on rice export market development held in HCMC last year, Huynh The Nang, chairman of the Vietnam Food Association (VFA), said Vietnam should offer high-quality rice to satisfy the demand of consumers.
Vietnam should export less rice, at 2-3 million tons per year.
In 2012, rice exports hit a record of 8.1 million tons worth US$3.7 billion and the number has since slipped to about six million a year. The VFA has forecast that 5.7 million tons of rice will be exported this year.
HCM City receives US$2.1 bln in remittances in first half
The overseas remittances sent to Ho Chi Minh City through official channels reached US$2.1 billion in the first half, a year-on-year increase of 1%.
Deputy Director of the State Bank of Viet Nam in Ho Chi Minh City Nguyen Hoang Minh stated that the remittances were mainly from the U.S. (accounting for 60%) and the Europe (around 19%).
*The Chairman of Ho Chi Minh City's People's Committee has approved Singapore's UOA Investments PTE company to invest around VND1,001 billion (equivalent to US$45.7 million) in developing an office tower in the city.
The project, located on the land area of nearly 3,000  square meters with the total construction area of 37,425 square meters, will be built in District 7.
In the first half of 2017, the real estate sector ranked second in attracting the Foreign Direct Investment in Viet Nam with US$461 million in 39 projects.
FDI capital flows in first half set new record
The Foreign Direct Investment (FDI) capital flows into Viet Nam set a new record of US$19.2 billion in the first half of the year, a year-on-year increase of 50%.
Over the recent six months of the year, as many as 1,183 investment projects were licensed with a total registered capital of US$11.83 billion.
A total number of 549 projects increased their capital of US$5.14 billion and 2,501 ones contributed and purchased shares of the foreign investors to US$2.24 billion, seeing a year-on-year increase of 97.6%.
The FDI realization was estimated at US$7.7 billion, up 6.5%.
Despite the U.S' withdrawal from the Trans-Pacific Partnership Agreement, Viet Nam's business and investment environment is still attractive to foreigners, experts said.
With 12 new free trade agreements and Viet Nam's participation in the ASEAN Economic Community, it creates an opportunity for Viet Nam to connect to the market of more than 600 million people, said Head of the Foreign Investment Agency under the Ministry of Planning and Investment Do Nhat Hoang.
The institution, laws and transparency of Viet Nam have been completed, facilitating foreign investors to launch long-term investment and helping businesses join the global value chain, he added.
The processing and manufacturing industry took the lead in attracting the FDI with 11,833 projects, worth more than US$175 billion, accounting for 51.6% of the number of projects and 58.9% of the registered capital.
Hòa Phát exports 90,000 tonnes of steel
Hòa Phát Group exported nearly 90,000 tonnes of construction steel in the first half of 2017, the group announced.
The products were mainly shipped to the United States, Australia, Malaysia, Singapore, Cambodia, Laos and the Philippines.
June was seen as the month with the highest export volume of 22,000 tonnes.
Hòa Phát in H1 produced more than one million tonnes of steel, increasing 33 per cent year-on-year and meeting more than half of its annual production plan. The group's local market share rose to more than 24 per cent by the end of June against 22.2 per cent in December last year.
IDICO to be audited before IPO
The State Audit Office of Việt Nam has issued a decision to audit financial reporting and State-asset management at the Việt Nam Urban and Industrial Zone Development Investment Corporation (IDICO).
The auditing, which will take place while the State-owned enterprise prepares for its shares sale, aims at evaluating compliance with established regulations in finance and accounting as well as the efficiency of using State assets.
Early in June, the Prime Minister approved the privatisation plan of IDICO, which valued Việt Nam's leading developer of industrial zones and urban areas at VNĐ3 trillion (US$131.5 million).
IDICO will put up for sale 300 million shares at face value of VNĐ10,000 each at the upcoming shares sale to be held either this year or next year.
Following the shares sale, State stake at IDICO would reduce to 36 per cent and the State would divest completely from the construction conglomerate by December 31, 2018.
Forty-five per cent will be sold to strategic investors, 18.44 per cent to the public and the remaining 0.56 per cent to its employees.
IDOCO, in which the Ministry of Construction now acts as representative of State ownership, has total assets worth more than VNĐ12.5 trillion as of December 31, 2016.
The company plans to earn before-tax profit of VNĐ401 billion this year. Last year, its before-tax profit reached VNĐ530 billion, up by 77 per cent over 2015. 
Farmers shifts to high-value perennial trees
Farmers are expanding the areas under high-value perennial trees suitable with the conditions in each region and adaptive to climate change.
According to the Ministry of Agriculture and Rural Development, the total area of perennial trees was estimated at close to 3.37 million hectares in the first six months of 2017, representing a year-on-year rise of 1.9 percent.
Strong growth was seen in the areas under best selling fruits such as orange (23.7 percent), dragon fruit (5.8 percent) and grapefruit.
The outputs of dragon fruits and oranges reached 488,000 tonnes and 304,600 tonnes in January-June, showing a respective year-on-year increase of 16.4 percent and 24.8 percent.
The cultivation of mango and banana also witnessed increases in both area and output. Farmers harvested 448,300 tonnes of mangoes, up 2.2 percent and over 1.1 million tonnes of bananas, up 0.6 percent.
Deputy Minister of Agriculture and Rural Development Le Quoc Doanh said the cultivation sector is restructuring in the right direction.
The export value of key farm produce topped 9.1 billion USD - the highest level so far, he cited.
Particularly, the export turnover of vegetables and fruits in January-June reached 1.7 billion USD, a yearly rise of 44 percent, he said.
The output of perennial industrial plants such as tea and rubber also rose, estimated at 455,600 tonnes for fresh tea buds, up 0.2 percent, and 334,500 tonnes for rubber latex, up 4.4 percent.
The pepper sector witnessed a strong growth in both area (up 22.6 percent) and output (up 18.2 percent) with 207,700 tonnes of pepper corns.
Fishery output hits 1.6 million tones in H1
Vietnam's fishery output in the first half of this year reached 1.6 million tonnes, up 4.8 percent against the same period last year and fulfilling 54.8 percent of the yearly target. 
The Ministry of Agriculture and Rural Development attributed the high output to favourable weather conditions during the January-June period. 
Of the figure, offshore catch exceeded 1.55 million tonnes, a year-on-year rise of 5 percent while the output caught in inland rivers and lakes was 85,000 tonnes, up 1.2 percent over the corresponding time last year. 
The good weather also made it easier for tuna fishing in the central provinces of Binh Dinh, Phu Yen and Khanh Hoa, which brought ashore an estimated 13,026 tonnes, an increase of 21.8 percent year-on-year. Tuna prices at ports ranged between 60,000 VND and 96,000 VND per kilo.
Meanwhile, farm fish output reached 1.69 million tonnes in the reviewed time, rising 6.7 percent year on year, and accounting for 43.3 percent of the annual plan, the ministry said.
Tra fish output hit 583,503 tonnes, equivalent to the number recorded in the same period last year and 50.7 percent of the target set for the whole year although tra fish farming area in the Mekong Delta decreased 16 percent to an estimated 3,076 ha.
During the reviewed period, brackish shrimp farms also produced 216,811 tonnes, up 14.7 percent year-on-year and completing 32.9 percent of the yearly target, on an area of 639,761 ha, an increase of 5.5 percent. 
White-leg shrimp farming area expanded by 32.6 percent to 57,680 ha which produced 107,662 tonnes, up 30.8 percent. Meanwhile, with an area of 582,080 ha, up 3.4 percent year-on-year, the output of tiger prawn was 109,149 tonnes, a rise of 2.2 percent.
In the first six months of this year, aquatic products worth 3.5 billion USD have been shipped abroad since the beginning of this year, predominantly to the US, Japan, China and the RoK, marking a 14.1 percent rise.
Vietnam Airlines serves 10.3 million passengers in H1
The national flag carrier Vietnam Airlines has announced that it conducted over 70,400 safe flights transporting 10.3 million passengers in the first half of 2017, up 6 percent year-on-year.
The on-time performance (OTP) rate of departing flights reached 91.3 percent, higher than the set target.
In the period, about 155,000 tonnes of goods were transported on VNA flights, an increase of 24 percent compared with the same period last year.
Its total revenues were estimated at nearly 43 trillion VND (1.89 billion USD), while pre-tax profits estimated at 830 billion VND (36.52 million USD).
To increase its competitiveness, the carrier has continually improved its services. The carrier's customer satisfaction index reaches 3.83 points out of 5 points, higher than the set target.
In early July, it partnered with IT infrastructure provider Sabre Vietnam to launch a brand-new customer service centre offering 24/7 service, including on holidays, in Hanoi. 
The carrier has also carried out an online programme surveying its services quality in order to support and answer queries of passengers.
In the second half of this year, it will focus its resources on ensuring flight safety and security, especially during the summer holiday.
At its annual shareholders' meeting on June 20, the national flag carrier reported that it operated nearly 140,000 safe flights in 2016, carrying more than 20.6 million passengers, respectively increasing by 13 percent and 21 percent.
The firm earned over 2.6 trillion VND (114.4 million USD) in pre-tax profit, up 1.5 times from the previous year.
In 2017, the company aims to serve more than 22.5 million passengers and gain 87.9 trillion VND (nearly 3.87 billion USD) in consolidated revenue.-
Industrial manufacturing index up in six months
Vietnam's industrial manufacturing index increased by about 8.6 percent in June, the General Statistics Office (GSO) has announced. 
In the first six months, the index rose 6.2 percent, lower than 7.2 percent in the same period last year but above the 5.8 percent growth in the first five months. 
Ha Quang Tuyen, head of the GSO's National Account Department, said 17 out of 21 sectors recorded higher growth quarter-on-quarter, including manufacturing and processing, up 10.5 percent, contributing 7.4 percentage points to overall growth, electricity manufacturing and distribution (up 8 percent) and water supply and waste treatment (7.8 percent). 
Only mining fell by 8.2 percent due to a 11.6 percent decrease in exploitation of crude oil and natural gas. 
In the six months, metal production rose 33.8 percent, electronics, optical equipment and computers 15.3 percent and paper and paper products 10.2 percent. 
Several industrial products registered higher growth in the first half, including television (39.1 percent), rolled steel (26.1 percent), steel and iron (25.6 percent), urea fertiliser (19.4 percent), natural fiber fabric (17.5 percent) and powder milk (10.4 percent). 
As of June 1, the inventory index in manufacturing and processing sector soared 10.2 percent, including beverages (up 88.8 percent), metal production (52.4 percent) and electrical equipment (33.1 percent). 
Tuyen said that several large-scale steel plants, which will become operational this year, will fuel the growth of the manufacturing and processing sector.
TH Group targets 137,000 dairy cows by 2020
Vietnamese dairy producer TH Group aims to have 137,000 dairy cows by 2020 thanks to a 1.2 billion USD project to develop its cow herd and milk processing.
In the project's initial stage, 45,000 cows were raised on an area of 8,100 hectares and created jobs for thousands of local labourers, said TH Group Chairwoman Thai Huong.
The group is planning to breed additional 30,000 cows in the central province of Thanh Hoa and 30,000 others in the Central Highlands province of Lam Dong.
Afitag pedometers, which serve two purposes- cow identification and activity measuring, are put on the cows. Milk extraction is automated in self-contained process to ensure high-quality milk. 
Along with strict disease prevention, TH Group's farms also apply standout nutrition and health care for their cow herds.
According to Thai Huong, high technology is key to robust agriculture and application of cutting edged technology to cow farming has helped the group produce top quality milk.
The group's cows are producing 8,000-9,000 litres of milk per period per year, highest in the Southeast Asia.
VFF leader pays respect on War Invalids' and Martyrs' Day
President of the Vietnam Fatherland Front (VFF) Central Committee Tran Thanh Man and a VFF delegation on July 13 laid wreaths and offered incense at the Truong Son National Martyrs' Cemetery in central Quang Tri province on the occasion of the 70th War Invalids' and Martyrs' Day.
The VFF leader also paid tribute to fallen soldiers at the Quang Tri Ancient Citadel relic where fierce fighting took place through 81 days and nights in 1972. 
The same day, during his working visit to the central province of Quang Binh, VFF President Man paid floral tribute and offered incense to General Giap at his tomb. 
The delegations also handed over houses of gratitude and gifts to two families of revolutionary contributors and visited Vietnamese heroic mothers in Quang Binh.
The VFF head affirmed the Party and State always pay attention to caring for those who made contributions to the country, especially Vietnamese heroic mothers, and families  of wounded soldiers and war martyrs.
As scheduled, the VFF President will chair a conference on building Vietnam-Laos borderline of peace, friendship, comprehensive cooperation for mutual development in 2017 in Dong Hoi city, Quang Binh province, on July 14.
PetroVietnam targets 13.28 million tonnes of crude oil in 2017
The Vietnam National Oil and Gas Group (PetroVietnam or PVN) is striving to fulfil the target of exploiting 13.28 million tonnes of crude oil and 10.61 billion cu. m of gas in 2017, PVN Deputy Director Do Chi Thanh said at a conference in Hanoi on July 13.
He noted that in the first six months of 2017, the world oil prices stayed at a low level, affecting the group's operation.
The PVN also encountered falling production at oil and gas fields as well as obstacles in financial and price mechanisms and tax policies, he added.
Oil and gas processing companies such as the Oil and Gas Fertilizer and Chemicals Corporation and the Ca Mau Oil and Gas Fertilizer Joint Stock Company faced fierce competition from imported products, while oil and gas services companies suffered from decreased exploration and exploitation activities, he said.
Despite the difficulties, the PVN has managed to surpass all business production targets set by the Government by 2-19 percent, he said.
Deputy Minister of Industry and Trade Do Thang Hai said PVN plays a crucial role in the economy and contributes over 10 percent to the country's gross domestic product (GDP).
He asked the PVN to focus all resources on oil and gas projects in the remaining months of 2017.
The ministry will coordinate with the PVN to propose adjustments to financial mechanisms and measures to remove bottlenecks for the group.
Smart production sought for sustainable textile development
A workshop discussing smart production towards sustainable development for the textile and garment industry was held by the Vietnam Textile and Apparel Association (VITAS) in Hanoi on July 13. 
The event is part of a cooperation programme between the Republic of Korea (RoK) and Vietnam, which was agreed in a memorandum of understanding signed at the RoK-Vietnam Joint Economic Committee's 15th meeting in the RoK on February 7, 2016. 
The seminar sought to improve the capacity of Vietnamese textile enterprises in the context of digital era and the 4th industrial revolution, thus sharpening their competitive edge. 
It offered a good chance for Vietnamese firms to meet with leading RoK experts, and get consultations of dyeing and smart fabric management systems, digital technology transformation and 3D design in the fashion industry, sustainable development trends in the textile and garment industry.
VITAS President Vu Duc Giang said the RoK is now the fourth largest importer of Vietnamese apparel, spending 2.28 billion USD in 2016. 
Meanwhile, Vietnam imported a great volume of fabric and materials from the RoK to serve its textile industry in the year.
Truong Van Cam, Vice President of the VITAS said the association is working hard to encourage its members to renovate production, towards smart production in line with the on-going 4th industrial revolution. 
The smart factory solution in the industry is hoped to help increase productivity, and quantitative production, reduce production cost, effectively manage personnel and better working conditions, he said. 
The 4th industrial revolution is predicted to reach a sudden development speed in the time ahead. Therefore, industries using intensive labor are advised to fully tap opportunities and overcome challenges brought by the revolution.
Consumer outstanding balance reaches 640 trillion VND
By the end of 2016, Vietnam's outstanding consumption loans reached 640 trillion VND, making up 11.7 percent of the country's total outstanding loans.
The information was released at a workshop on retail finance development held by Investment Newspaper on July 12 in Hanoi. 
In financial companies, the ratio of non-collateral consumption credits only makes 12.4 percent but serves more than 60 percent of people at working age, equivalent to more than 30 million customers, with loans below 100 million VND.
To develop the consumption finance market, the State Bank of Vietnam should complete the legal framework, said financial experts at the workshop, adding that financial companies should improve the appraisal process and solvency assessment to ensure the safety of customers.
Japanese prefecture promotes tourism in Vietnam
Tourism attractions of Japan's Kanagawa Prefecture were introduced at a workshop in Hanoi on July 13 with the aim of increasing the number of Vietnamese tourists to Japan.
Addressing the event, Deputy Director General of the Vietnam National Administration of Tourism (VNAT) Ha Van Sieu said Vietnam considers Japan a key market for both outbound and inbound tourism.
In 2016, Vietnam welcomed 740,000 Japanese visitors, up 10.3 percent from the previous year, reflecting an active cooperation in tourism promotion between the two countries at all levels.
The number of Vietnamese visitors to Japan has also increased, turning Vietnam into an important source market of Japan.
Sieu expressed his hope that the Japanese Government will further ease visa requirements towards exempting visa for Vietnamese tourists, so that more people can travel to Japan.
Takahashi Ayumi, head of the Vietnam office of the Japan National Tourism Organisation (JNTO), highlighted the popular attractions in Kanagawa prefecture, which is the third most populated localities in Japan, following Osaka and the capital city of Tokyo. 
Located in Kanto region, the prefecture has many beautiful landscapes, such as the port city of Yokohama, many hot spring resorts in Hakone, and the old city of Kamakura which has many Buddhist Zen temples and Shinto shrines.
German localities encouraged to invest in Vietnam
Vietnam's Ambassador to Germany Doan Xuan Hung has made a trip to Rostock city in Mecklenburg-Vorpommern state to promote German investment in Vietnam. 
The Vietnamese Government is committed to providing the best possible support to German investors and is ready to talk to address outstanding problems encountered by foreign investors in Vietnam, the Ambassador said during his working sessions with the city's officials on July 11. 
Meeting with Rostock Mayor Roland Methling, President of the Rostock Council Wolfgang Nitzsche and Senator Peter Stein, Ambassador Hung said Vietnam has many seaports and port cities like Rostock, which holds potential for bilateral cooperation. 
According to him, there are about 176,000 Vietnamese in Germany and around 100,000 German-speaking Vietnamese in Vietnam, who serve as an important foundation for the two countries to enhance their relationship. 
The Rostock officials appreciated the integration and contributions of the Vietnamese community to the city and expressed their wish to partner with Vietnamese localities, particularly in areas of Rostock's strength like industry, seaport and education. 
The same day, Ambassador Hung and his entourage visited Liebheer Group, which specializes in providing cranes for container handling. The group has operated in Vietnam since 1995. 
He suggested the group select Vietnam as a production base to supply products and services to other countries, especially ASEAN nations.  
The ambassador also visited the Dien Hong association which gathers Vietnamese in Germany. 
Rostock is the largest and most important city of Mecklenburg-Vorpommern in terms of culture and economy and the second largest port city in Baltic, following Lubeck.
VNA/VNS/VOV/SGT/SGGP/TT/TN/Dantri/VNEVET