VN has huge potential in swift-nest production
Last update: 13:54 | 11/07/2017
Viet Nam has good potential in farming swifts for their edible nests, but authorities should make zoning plans and regulations for the industry like they do for the husbandry industry to ensure its sustainable development, according to experts.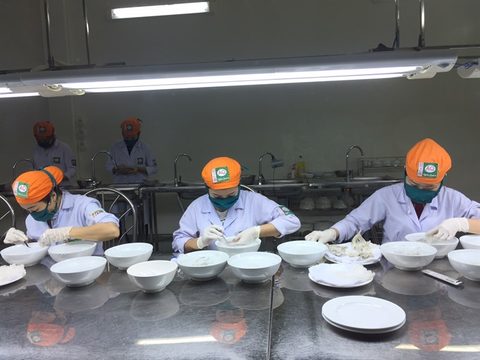 Preliminary processing of swift nests at a bird nest production company in HCM City's Can Gio District.
The swift nest industry appeared in Viet Nam a long time ago, starting with exploiting nests in deep caves on islands and on steep cliffs.
The coast, especially islands from the central province of Quang Binh to Phu Quoc (Kien Giang) in the south, are natural habitats for swifts.
But the three largest concentrations of bird nests are in Cham Island in Quang Nam Province, Phuong Mai Peninsula in Binh Dinh and the swift islands in Khanh Hoa Province.
But output is reducing in Cham Island and Phuong Mai and plateauing in Khanh Hoa.
Experts blamed this on the development of hospitality projects and even industrial parks along the coast, which reduce the populations of insects on which the birds feed.
Therefore, swifts must fly deep into the mainland to find food, and 50-60 per cent of young birds do not return to the islands.
The swift-breeding industry has developed quickly in Viet Nam, mainly in southern provinces and cities.
Around 5,800 houses had been built for breeding the birds in 41 provinces and cities by the end of last year, with a total of around 6.1 million birds producing nearly 50 tonnes of nest a year.
HCM City has the highest number of swift farms -- more than 540 houses supplying six tonnes of nest a year -- followed by Rach Gia, Tien Giang, Bac Lieu and some central provinces.
According to the Viet Nam Swiftlet Farmers Association, building houses for swift breeding is growing at 23-25 per cent a year.
Currently raw swift nest is priced at VND20-30 million per kilogramme, and refined nest at VND40-45 million, and even VND100-200 million for some special types.
Indonesia and Malaysia are the two biggest suppliers on the global market. Indonesia has more than 200,000 houses for swift farming and produces over 2,100 tonnes a year, while Malaysia has over 60,000 houses with annual output of 800 tonnes.
With its long coast and mangrove and protective forests that are extremely rich natural habitats for many types of insects, Viet Nam has huge potential for breeding swifts.
But to facilitate the industry's development, authorities should allow the construction of houses for farming nests.
Now only 15-20 houses in HCM City's Can Gio District, Rach Gia, Long An, and Bac Lieu have got construction permits.
Authorities should frame regulations for management of sanitation at swift houses and make zoning plans to create favourable conditions for investors.
Measures to minimise the impacts on the birds' natural prey items are also needed.
According to ornithologists, Viet Nam's swift population is increasing by 13.4 per cent a year.
Their number is expected to reach 13.2 million by 2020 and nest production, 250 tonnes. 
VNS