Vietinbank appoints new deputy general director
Last update: 16:31 | 19/05/2017
Viet Nam Joint Stock Commercial Bank for Industry and Trade's (VietinBank) board of directors has appointed Hiroshi Yamaguchi as the new deputy general director of the bank from May 15.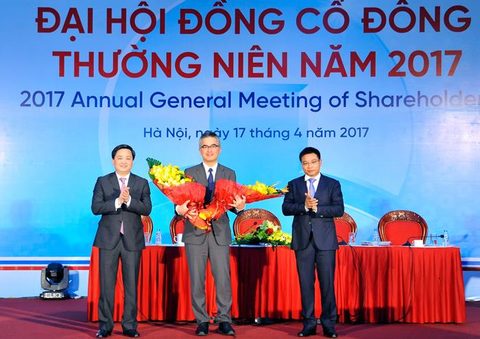 Hiroshi Yamaguchi (centre) at the VietinBank's shareholder meeting. 
Hiroshi Yamaguchi was born in 1966 in Japan. He was previously working for the Bank of Tokyo-Mitsubishi UFJ (BTMU), which owns 19.73 per cent of Vietinbank.
He had many years of experience in the banking industry since 1990 by holding key positions at BTMU, such as head of industry research, head of corporate banking and head of the Asian corporate banking division in New York.
Hiroshi Yamaguchi has replaced Hiroyuki Nagata, who was dismissed as a member of the board of director's during Vietinbank's annual shareholders meeting in April 17. 
VNS