Prime Minister vows to create level playing field for firms
Last update: 14:03 | 18/05/2017
The Government has pledged to take stronger measures to create a level playing field for businesses and to improve the competitiveness of local enterprises.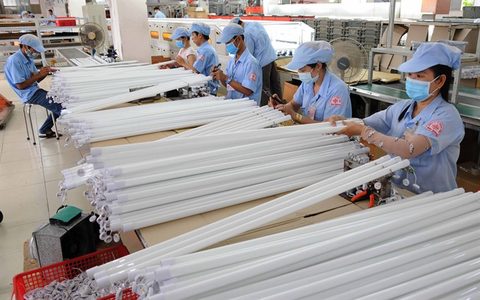 Led flashlights being manufactured with advanced Japanese technology at Dien Quang Lamp Joint Stock Company, HCM City. 
Prime Minister Nguyen Xuan Phuc made the commitment after hearing recommendations from entrepreneurs and associations at a conference in Ha Noi yesterday.
The conference themed "Siding with Business", the second of its kind since Phuc took office as Prime Minister, aimed to build breakthrough policies to better serve business development.
Over the past year since Resolution 35 on supporting and developing businesses was issued, Viet Nam has gained some achievements, such as a record 110,000 new enterprises being established and many foreign businesses planning to expand operations in the country.
However, the Government still received many complaints about complicated administration procedures, high taxes and fees, "unofficial costs" and difficulties in accessing credit.
According to a Viet Nam Chamber of Commerce and Industry report, "unofficial costs" is still the most cumbersome problem for enterprises. For example, they still have to pay "underground costs" to be awarded production licences or pay bribes to pass inspections.
After receiving feedback from businesses about overlapping inspections conducted by different State agencies, the PM requested State agencies perform one inspection per year.
He said the Government promises to work to ease costs that firms are suffering such as administrative fees, logistic charges, and other payments to State agencies.
Phuc said the Government would submit a draft law to the National Assembly on supporting small and medium-sized enterprises (SMEs), and speed up the revision of tax and customs regulations, ensuring consistency among ministries and agencies to help businesses save time and costs.
The Government leader agreed with the business community's request to build fair institutions to ensure equal treatment between the State and private sector, complying with international rules.
He stressed that all privileges given to State-owned enterprises will eventually be abolished, while State resources which are being used inefficiently will be redistributed to stakeholders based on their competitive capacity and ability to improve productivity.
Minister of Planning and Investment Nguyen Chi Dung said the Government will push ahead with administrative reform to enable businesses to develop, encourage business households and individuals to form companies, and support enterprises to promote innovation, industrial modernisation, and human resources development.
He urged ministries and departments to simplify business and investment regulations in accordance with the Law on Investment and Law on Enterprises.
PM Phuc also urged enterprises to take advantage of new technology in production and to train high-quality human resources capable of using new technology.
He called on enterprises to improve Vietnamese products' image to increase their market shares abroad and to win over Vietnamese consumers. "If we ignore our local market, we fail," Phuc said.
The Government leader also said that he hopes enterprises will pay more attention to their social responsibilities such as environmental, integrity and accountability.
Some opinions
On cost saving, Chairman of Amcham Vietnam Jonathan Moreno pointed out Decree 181/2013/ND-CP guiding implementation of the Law on Advertisement and the draft decree on automobile transport businesses are causing difficulties for companies, especially SMEs.
He said the decree requires a Vietnamese entity to use locally licensed advertisement agencies, which hampers from SMEs promoting their products and services domestically and internationally when they advertise on cross border platforms like Google or Facebook.
"With limited budgets for advertising and marketing, Vietnamese SMEs find these platforms the easiest, most economic and effective way to promote their products and services," he said.
He added "Unlike large enterprises, these SMEs do not need and cannot afford the engagement of advertising agencies for their advertisement and marketing activities."
Under a draft decree on automobile transport businesses, transport firms are required to report to the Ministry of Transport the information of every single trip they make. This onerous requirement will create new and unnecessary burdens that inconsistent with Resolution 35, Moreno said.
Hiroshi Karashima, chairman of the Japan Business Association in Viet Nam, said that according to a survey conducted by the Japan Bank for International Cooperation, Viet Nam was the fourth most popular destination for Japanese firms to do medium-term investment.
The survey also showed that the top concern of Japanese investors is transparency and the application of legal regulations in Viet Nam. He called on the Vietnamese Government to take into account these problems to create an attractive investment environment.
Thai Huong, Chairwoman of TH Group
"I am grateful to the Government for issuing a set of standards for school milk. However, we are still lacking a School Milk Steering Committee. Milk consumed in schools today has still not met the standards of school milk as set by the Government.
I also suggest that the Government promulgate standards for milk in general, as it not only involves children's health but also the health of all people. To date, a set of standards for fluid milk is still absent, despite the fact that the Ministry of Health have garnered opinions from enterprises and the public in this matter.
For Viet Nam to become 'the world's kitchen', we have to do things right in the domestic market. A set of standards for milk is essential to ensure fair competition among enterprises, business ethics and social responsibility."
Nguyen Van De, Chairman of Hop Luc JSC, Chairman of Viet Nam's Private Hospital Association
"From a private investor's point of view, I think the Government should not allow building private hospitals inside the precinct of public hospitals because foreseen consequences are corruption, illicit benefit sharing, and losses of State resources. Building a private hospital inside a public one in each province will 'choke to death' dozens of other private hospitals. We propose the Government make policy adjustments in this issue and have more policies to encourage entrepreneurs to invest in the health sector to lessen the overloading of public hospitals.
Private hospitals diagnose and treat impoverished patients well. However, since the Government issued a policy to subsidise poor patients with travel and food allowance, there has been a new policy to assign the task to public hospitals only, citing the reason that it is a political task. It is irrational. Legal policies should treat private and public sector fairly."
Tran Hung Viet, CEO of Saigon Tourist
"Regional tourism planning and development planning of each locality lack 'a common voice'. Local planning is incomplete; it is out of sync, and that leads to unsubstantial development. As a result, enterprises face many difficulties.
There has been a surge in infrastructure development to serve tourism, whereas human resource training has not been on par. It is essential that ministries and industries pay attention to human resource planning.
We also propose to increase the fund to support tourism development. The Vietnamese tourism ministry is granted a budget of US$2 million a year, while that of Thailand and Malaysia is $80 million and $61 million, respectively. Tourism promotion activities are still limited due to the tight budget. So we suggest that enterprises contribute more to the fund, alongside the State. It is also necessary to have a policy to encourage private sector to invest in developing tourism at rural and remote areas."
Dinh Thi My Loan, Chairwoman of Viet Nam Retailers Association
"Our association proposes the Government add retail industry, including all kinds of retailers, to the list of 'preferential investment sectors and industries' as an independent industry, not inside the infrastructure sector like what is now. We also think there are some kinds of retail services--including convenience stores, grocery stores, specialised stores--that should be added to the list of services that receive preferential investment policy, besides those already being included like supermarkets or shopping malls.
We propose the Government allow us to compile and submit to the Government a trade promotional programme to find markets for our products. In the meantime, we suggest that retailing enterprises, retailing households, retail-related organisations and association are also subject to on-going industrial and agricultural promotional programmes taking effect until 2020. Efforts should be spent to improve the competence and competitiveness of the industry." 
VNS