Tourism growth boosts development of VN resort property market
Last update: 16:59 | 17/05/2017
The impressive growth of Viet Nam's tourism sector has given a boost to tourism and resort property market, according to experts.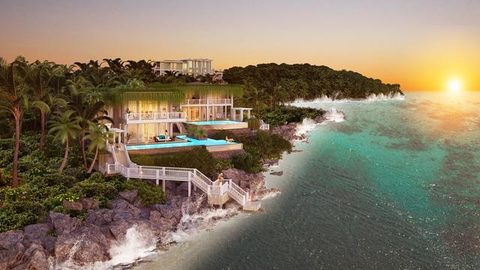 During 2010-16, the number of international tourist arriving in Viet Nam doubled from 5 million to 10 million. The number of domestic visitors surged considerably, from 28 million to 62 million.
This period is considered a "golden" time for the resort property market, especially the "condotel" model, particularly in Nha Trang, Da Nang and Phu Quoc in 2016.
Nha Trang welcomed nearly 1.2 million foreign tourists in 2016, up about 23 per cent year-on-year, while the central city of Da Nang served around 1.7 million vacationers, marking a 33 per cent increase.
Director of Savills Asia Pacific's Hotel Consulting Department Rudolf Hever attributed the growth to improving infrastructure and easier visa policies for foreigners, noting that Việt Nam currently records nine international airports, which are being upgraded with more terminals and runways.
Thanks to visa waiver for foreigners, the number of foreign tourists to Phu Quoc, the southern province of Kien Giang, soared 25 per cent in 2014 compared to the previous year.
The department predicted that hotel and resort supply from midscale to luxury segments will grow 29 per cent on average per year in the next three years. Similarly, Da Nang and Phu Quoc will see growth of 30 per cent and 27 per cent, respectively.
However, experts warned that occupancy and hotel room prices will be put under pressure if demand does not keep pace with supply, so investors should strongly consider expected occupancy and budget for their projects in the coming years.
Hever said another segment that is holding market attention is second homes, or holiday homes. Segment products include branded or non-branded villas, second condominiums and condotels (a blend of hotel and condominium: resort hotel levels of service with the independence of a condo).
There are approximately 36 second home properties operated in Viet Nam, with over 7,000 affordable to luxury units. Khanh Hoa, Da Nang, Phu Quoc, Ho Tram, Ha Long and Quang Nam are set gain second home supplies of more than 17,000 units in the next three years. Condotels will account for 65 per cent of second home supply in main coastal areas by 2019.
He said when choosing second home to investment in, buyers should choose products having quality of reputable investors. Meanwhile, investors should have suitable development scale of second home projects to meet market conditions and the financial ability of buyers, and have good operation of resorts in the future. 
VNS