FDI's link to Vietnam's growth disparity
Last update: 14:08 | 17/05/2017
In Vietnam, the localities attracting greater foreign direct investment have generally reached higher development levels than their counterparts, a situation which has led to uneven development among regions. 
If countermeasures are not introduced now, the development gap could grow, which will have repercussions on national development overall. Senior economist Nguyen Mai delves into the problem.
Various factors, including geographical and legislative differences, have contributed to developmental inequalities
A developmental discrepancy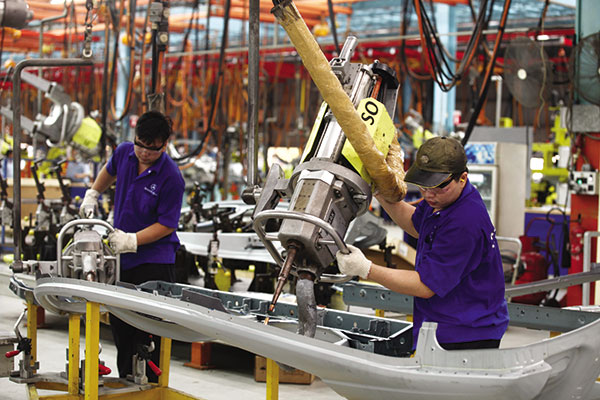 Binh Duong and Binh Phuoc are two southern provinces which were formed after the splitting of Song Be province two decades ago. 
Binh Duong has been one of the most successful localities nationwide in attracting foreign direct investment (FDI), resulting in robust socio-economic development. Meanwhile, Binh Phuoc's development has mainly been leveraged on domestic investment sources.
In 1997, Binh Duong was home to only six industrial parks (IPs), covering 800 hectares. It now hosts 29 IPs and eight industrial clusters, spanning over 10,000ha. Binh Duong's Vietnam-Singapore Industrial Park is now regarded as one of the most successful IPs for the entire country.
Along with modernising industrial production, Binh Duong has focused on urban development and skilled human resources training to improve the local investment climate. 
By then end of 2016, the province attracted $25 billion in committed FDI and nearly VND200 trillion ($9.09 billion) in domestic investment. 
Binh Duong has continually been listed among the top performers in luring FDI, reporting an annual average economic growth rate surpassing 14.5 per cent. 
The production value of its diverse economic sectors has increased quickly, parallel to a positive transformation of the local economic structure.
Binh Duong is deploying a smart city model, coupled with modern architectural planning, to satisfy local residents and visitors' ever-growing expectations.
Binh Phuoc's progress has lagged behind its sister province. Mostly because it doesn't enjoy the favourable geographic conditions of Binh Duong, so it is less enticing for foreign investors. As of 2016, the province garnered only $1.25 billion in total committed FDI.
From 2010 through to the present, Binh Phuoc has applied a raft of measures to better the investment environment, which resulted in an average economic growth rate of 10.8 per cent during the 2011-2015 period. 
Its per-capita gross regional domestic product (GRDP) rose from VND24 million ($1,090) to VND42.8 million ($1,945) during the same period.
Binh Phuoc's GRDP was about 6 per cent of Binh Duong's, and its budget contribution was 8 per cent of Binh Duong's. 
Binh Duong is considered to be among the top localities in terms of contributions to the central budget, while Binh Phuoc still receives state subsidies.
A similar situation is observed in Phu Tho and Vinh Phuc, two provinces which were formed from the splitting of Vinh Phu province two decades ago.
Since its re-establishment, Vinh Phuc has effectively made use of its advantages – most importantly, its proximity to Hanoi and to Noi Bai International Airport – to attract FDI into large-scale projects.
From 1997 to 2016, the province posted an average annual growth rate of 15.3 per cent. In 2016, its GRDP stood at VND77.2 trillion ($3.5 billion). 
Its industrial production value rose tremendously from VND1.65 trillion ($75 million) in 1997 to VND125.2 trillion ($5.7 billion) in 2016.
Meanwhile, Phu Tho managed an average annual growth rate of 8.69 per cent. In 2016, the province contributed VND4.4 trillion to state coffers, 14 times as much as in 1997. Per capita average incomes rose 14.5 times against 1997 to VND33.2 million ($1,510) in 2016.
The development level of Phu Tho, however, pales in comparison to Vinh Phuc. Vinh Phuc's per capita GRDP was 2.17 times higher, and its budget contribution was 6.47 times greater than Phu Tho's. 
Uneven contributions
In the 2016 state budget estimate, only 13 out of the 63 eligible cities and provinces made contributions to the central budget. The contributors were Hanoi, Haiphong, Quang Ninh, Vinh Phuc, Bac Ninh, Danang, Quang Ngai, Khanh Hoa, Ho Chi Minh City, Dong Nai, Binh Duong, Ba Ria-Vung Tau, and Can Tho.
These localities take the lead nationwide in attracting FDI. Localities such as Thai Nguyen, Thanh Hoa, Quang Nam, and Ha Tinh might join these ranks soon by virtue of large-scale FDI projects being underway.
Of the total 2016 state budget revenue of more than VND998 trillion ($45.4 billion), 14 northern highland localities contributed 3.6 per cent; 13 cities and provinces and in the Mekong Delta provided over 4.5 per cent; 14 localities in the north-central and central coastal regions nearly 11 per cent; and five provinces in the Central Highlands provided nearly 1.4 per cent.
The figures are evidence of the uneven development across the country's different regions. The places luring vast volumes of FDI and domestic investment capital have grown vigorously, boasting modern industries and accelerated urbanisation.
Meanwhile, other localities remain less developed, mainly capitalising on agricultural production and the exploitation of natural resources.
To address this uneven development, there needs to be an adequate approach in tax collection from localities, as well as a contribution to the central budget of cities and provinces. 
In the national development strategy, gradually raising the number of localities making contributions to state coffers must be taken as an important target of each locality and the whole country.
Ensuring even development among the regions
Investment and development has a causal effect: for underdeveloped regions to achieve more robust growth, they must attract more investment capital into major investment projects.
FDI comes from private sources, and despite the presence of high investment incentives, it is not easy to encourage foreign investors to carry out projects in areas with unfavourable development prospects. 
These underprivileged areas must first focus on attracting domestic investment, when they reach a higher development level with better social and technical infrastructure, they will then be able to lure greater FDI.
The growth strategy of less-developed localities must leverage the synergy of the four following factors:
First, these localities must realise their distinct advantages and potential, and present specific investment incentive regimes within a cohesive regulatory system to attract major investment groups to implement projects in their areas. 
They should work on building transport infrastructure, power, water, communications networks, industrial zones, resorts, and urban areas. 
These projects will help improve their image and attract FDI.
Second, it is important to increase co-operation among the cities and provinces in each region, to make use of their distinct advantages bolstering development.
Third, major state groups and organisations in the fields of power, telecommunications, transport, education, training, and healthcare must proportionally distribute public investment capital. 
They should also encourage diverse investment sources to build important technical and social infrastructure in these underdeveloped localities. Regions with higher levels of development such as Hanoi and Ho Chi Minh City need to expand co-operation with less-developed localities to help advance their growth.
Fourth, the government should consider narrowing the gap in development among regions as an important target for sustainable development, setting targets and reviewing implementation results for each stage. 
Following this, distributing public funds and offering incentives for projects in these underprivileged areas will be important to these less developed regions' growth.
VIR