Sabeco reports gains, urges additional divestment
Last update: 11:08 | 20/04/2017
The Saigon Alcohol Beer and Beverages Corporation (Sabeco) reported good profit for 2016 and requested the Ministry of Industry and Trade (MoIT) to hasten its equitisation this year, said Sabeco's chairman Vo Thanh Ha at the company's 2017 annual general meeting held on Tuesday.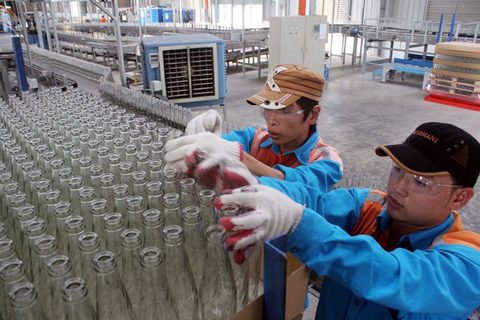 A worker inspects glass bottles inside Sabeco's glass manufacturing factory in Ba Ria-Vung Tau Province.
Sabeco's total accumulated profit in 2016 was VND31.75 trillion (US$1.42 billion), exceeding its set goal by 11 per cent, while pre-tax earning was VND5.7 trillion ($255.3 million), surpassing the company's 2016 goal by 28 per cent.
This marks 2016 as one of Sabeco's most profitable years, with record earnings since its establishment, as stated in its 2016 financial report published at the meeting.
As such, the company now resorts to a dividend policy of paying 30 per cent income to shareholders, while using the rest as a means of investment and sustainable development.
In December 2016, Sabeco became officially listed on the Ho Chi Minh Stock Exchange with 641.28 million shares under the stock code SAB and an initial referential price of VND110,000 ($4.92) per share.
At present, the company's shares are among the most valued, increasing significantly to VND207,000 ($9.27) as of yesterday. The MoIT currently holds 547.5 million Sabeco shares, equal to 89.59 per cent of the company's total charter capital.
In August 2016, the MoIT announced a two-stage, two-year divestment plan for Sabeco, but due to lack of time, the first phase in 2016 did not take place.
According to its current market price, total divestiture value will equal VND113.3 trillion ($5.07 billion), much higher than the MoIT's initial estimation.
The company's strategy to continue listing its publicly traded shares while divesting from State ownership is considered an important drive for change and development.
The report also mentioned Sabeco's business plans for 2017, with 1,703 litre of beer expected to be sold, up 3.4 per cent compared to last year; while total accumulated profit is forecast at VND34.47 trillion (S1.54 billion) with post-tax income of VND4.7 trillion ($210.5 million), and an expected dividend share of 35 per cent.
According to Le Hong Xanh, a Sabeco board member, the 2017 business plan is suitable for a market edging toward high-end products, while the company is under pressure from a special consumption tax increase of five per cent and a zero per cent tariff level for imported products with many free trade agreements coming into effect.
Currently, the Philippines' San Miguel Corp is reportedly evaluating and considering a purchase of Sabeco's shares, together with other international beer companies over the world including Dutch Heineken, Anheuser-Busch, US SABMiller, Japanese Asahi and Kirin and Thai Singha. 
VNS