Nearly VND165 billion for fisheries restructuring in 2017-2020
Last update: 00:06 | 18/03/2017
As many as 164.8 billion VND (7.16 million USD) will be earmarked for technology transfer serving the restructuring of the fisheries sector during 2017-2020 under a scheme recently approved by the Ministry of Agriculture and Rural Development (MARD).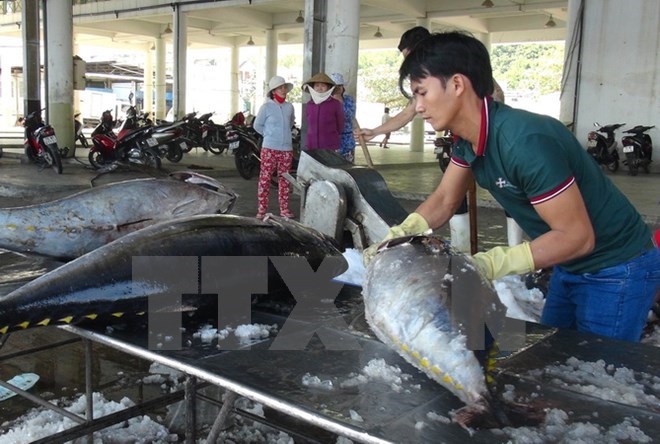 Purchasing ocean tuna
Of the figure, 81.3 billion VND (3.53 million USD) will be sourced by the State budget and the remaining will come from other sources. 
The plan targets promoting technological transfer and application in aquaculture as well as in fishing and fish preservation on vessels in order to improve their output and quality. 
Specifically, it will rally resources from individuals and organisations to develop a science-technology market serving the transfer of scientific and technological advances. At least 12 technological advances will be applied widely in the fisheries sector, with the aim of raising fishing efficiency by over 25 percent and reduce post-harvest loss by more than 20 percent; and improving output and the quality of farmed tra fish, shrimp in brackish water, mollusc, tilapia and lobster. 
At least 40 demonstration models of technological application will be built in cooperatives while up to 1,500 individuals and organisations will receive technical training to adopt technology in catching and aquaculture. 
Towards those goals, resources will be mobilized through scientific research programmes and schemes on fisheries encouragement and new rural development under the watch of the MARD. 
Localities are asked to devise their own technological transfer and application plans. 
The ministry will sign contracts with research establishments on developing desired technological products while reviewing effective production models and rearranging production in the fisheries sector.
VNA