With 6 more listings, UPCoM crosses 500
Last update: 11:38 | 17/03/2017
Six companies debuted their shares on the Unlisted Public Company Market (UPCoM) on Thursday, with a total of 495.6 million shares listed on the exchange worth nearly VND5 trillion (US$219.3 million).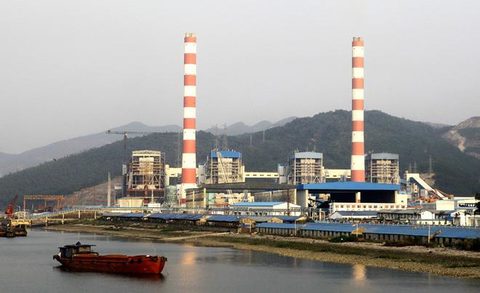 Quang Ninh Thermal Power JSC debuted 450 million shares on the Unlisted Public Company Market on Thursday. 
Quang Ninh Thermal Power Joint Stock Company (sticker QTP) is the largest listing with 450 million shares, equivalent to charter capital of VND4.5 trillion ($197.4 million).
QTP shares hit the maximum rise of 40 per cent for the first trading day on the UPCoM at VND15,900 ($0.70) per share.
Founded in 2002 in the northern province of Quang Ninh, which has the largest coal reserve in Viet Nam, the company is the investor of the Quang Ninh Power Station, one of the largest thermal power stations in the country.
The project consists of Quang Ninh 1 and Quang Ninh 2 with total capacity of 1,200MW, producing 7.2 billion kWh per year.
The company posted VND366 billion in profits last year, reducing its accumulated loss to nearly VND1.5 trillion. Due to heavy investment in the power station, its financial loans reached VND11.2 trillion by end-2016.
The other five companies that made their debut are Power Investment-Trade-Service JSC (EIN) with listing of 30.4 million shares, Ha Tinh Pharmaceutical JSC (HDP) with 5.9 million shares, metal manufacturer Truc Than JSC (TRT) with 5.5 million shares, Hai Phong Cua Cam Port JSC (CCP) with 2.4 million shares and Ha Ninh Railway JSC (RHN) with 1.5 million shares.
Share price of each company ranges between VND10,000 and VND20,000 per share.
EIN and CCP dropped 2.9 per cent and 5.6 per cent, respectively, while the others closed unchanged.
500 listings milestone
UPCoM is the official market for unlisted companies under the management of the Ha Noi Stock Exchange. The market has witnessed significant development in the last two years with over 330 companies trading on it since 2015.
With these six listings on Thursday, the number of companies traded on UPCoM has reached 500, a 50-fold increase over the initial number of just 10 enterprises when the market went live on June 24, 2009.
Market capitalisation reached VND423 trillion ($18.5 billion), with daily trading value averaging VND204 billion in the first two months of this year.
According to the Ha Noi Stock Exchange, the rapid development can be attributed to the government's policy which has tied equitisation of State-owned enterprises with compulsory trading on the UPCoM.
In addition, the northern bourse has also implemented many solutions to raise the attractiveness of the market, including expanding the trading band from +/-10 per cent to +/-15 per cent, building the UPCoM Premium list and creating a warning stock list to improve transparency and protect investor rights and interests. 
VNS