Young designer promotes traditional craft
Last update: 11:23 | 04/07/2018
From the mountainous northern province of Son La, Vi Thi Thu Trang won the first prize at Craft and Design Challenge launched by British Council. Trang is a member of the Thai ethnic group who earned a degree in architecture at Ha Noi Open College in 2014. She has researched Thai brocades and the Mong people's beeswax patterns using indigo blue die since 2015.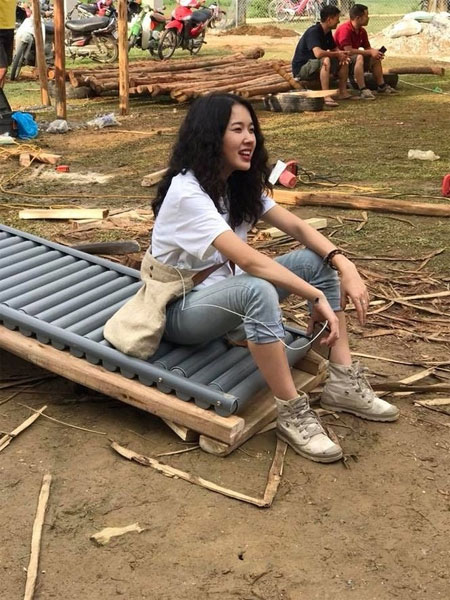 Vi Thi Thu Trang
The Craft and Design Challenge 2017 was the first such event held for Vietnam's design students, young designers and entrepreneurs who show an interest and ability in craft-based design or have experience running craft and design projects and business. 
Nguyen Thuy Binh interviews Trang about her project Indie Hand, which earned her the cash prize of VND60million (US$2,600).
Could you tell more about your project?
The collection titled Giao Thoa (Cross-over) is not all that I brought to the contest. The contest aims to set up a project that uses innovative and sustainable methods to preserve and develop Vietnam's craft sector; connect designers and ethnic artisans and ensure consistent output. 
My project is to restore the traditional flax cloth weaving and beeswax of Mong ethnic people in the northwestern region of Vietnam. I worked with artisans from Ta Phin Brocade Textile Co-operative in Sa Pa in the northern province of Lao Cai to make the collection Giao Thoa, which was displayed at an exhibition to showcase selected works in Hanoi. My collection includes accessories and decorative homewares with simple and practical designs. 
What difficulties did you encounter when you made the collection?
Traditional patterns are meaningful but I don't use them. I want to design patterns inspired by Hang Trong folk painting. We face many difficulties when we change drawing techniques because the artisans are used to traditional techniques. It takes a long time for them to work with new patterns. My creativities are limited because of this. 
Hang Trong folk painting is a quintessential art of old Hanoi. I fell in love with this kind of painting at first sight. It uses fine materials and technique. Do (poonah) paper is very thin but tough. The wood carving technique is sophisticated and the line of quill is flexible. The combination between bright and dark colours is beautiful. 
The idea for the collection came to me naturally. It combines the refinement of Hang Trong folk painting and the plainness of flax cloth. That is why I named the collection Giao Thoa. 
Using traditional materials is not new because veteran designer Minh Hanh is one of the leading Vietnamese designers, known internationally for her brocade material. What makes your designs distinct and unique?
I think it is not new or old. Traditional materials have existed for thousands of years. People have many ideas but how to turn the ideas into reality is more important. I think at the beginning creativity comes from copying. I call it inheritance and development. 
My products are always made from traditional materials and my own ideas. I think that makes them distinct.
Why don't you use traditional material from your ethnic group, the Thai, in your collection?
My ethnic group the Thai also has the custom of cloth weaving like the Mong people. However, the Thai material is cotton, which is softer, smoother and spongier than flax cloth. Clothes made from cotton are more airy. Mong people weave plain cloth and draw pattern with beeswax and embroidering. Thai people make patterns while they are weaving cloth on loom. The fibre treatment process is also different. I was born in Son La Province which has both Thai and Mong ethnic groups. 
I'm using materials of Thai and Mong ethnic groups for my designs. 
The contest organisers pledge to support the winners to carry out their project. How will you develop your project?
I have a special love for traditional cloth weaving and the brocade cloth of ethnic groups in the northern mountainous provinces in particular. I have a desire to preserve and develop the traditional craft, which is fading out, aiming to create jobs and ensure a stable income for people in my homeland. With support from the British Council and other relevant bodies I will continue my work to turn my dream into reality. 
I will inaugurate my own brand and open my shop next month in Hanoi. Currently, I am carrying out a project with Thai people to grow cotton plants in Van Ho Commune in Son La Province. And I'm making handicraft products. I wish to have cooperative relationships to create my products.
Is this the first time you participated in a contest?
Yes, it is the first time I competed in a craft and design contest. I'm proud of being a part of the "Craft and Design" programme telling the future story of Vietnamese traditional craft. It is very meaningful to young designers like me. 
Source: VNS