Photo exhibition to unveil French, Vietnamese linguistic connection
Last update: 15:25 | 13/04/2018
VietNamNet Bridge – To many it may just be you're everyday life, but to others, it's art.

An exhibition, featuring 60 photos inspired by daily life in Vietnam is on a display in HCM City.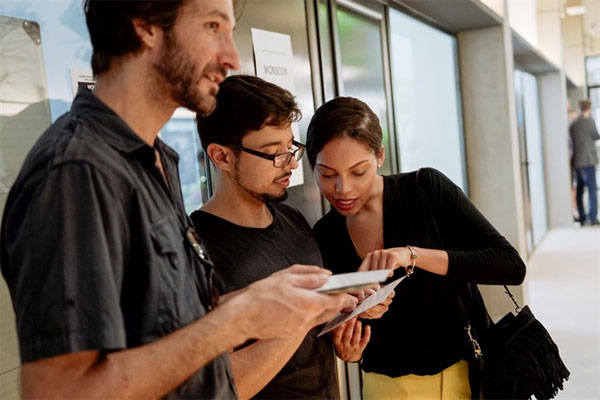 Guessing game: French visitors are guessing which Vietnamese words with its French roots highlighted in each photograph. Photos by Julien Brun
Entitled Pot-Au-Pho, the exhibition is a project by co-authors —French man Julien Brun, and Nguyen Da Quyen. It is part of a wide range of activities being held to celebrate the 45th anniversary of the establishment of a diplomatic relationship between Vietnam and France. 
The French language is at the source of more than 500 common Vietnamese words such as pâte (pa tê), poupee (bup be), sandale (xang dan), balcon (ban cong), cirque (xiec), etc. This exclusive photo exhibition gives visitors a glimpse into the daily life of Vietnamese people, unveiling the secrets of this unique linguistic connection.
The exhibition title combines French word pot au feu and Vietnamese word pho, according to the organisers. 
Although a lot of Vietnamese words originated from French including nouns, verbs, and adjectives but the photos in the exhibition just focus on nouns.
"There are verbs and adjectives like amateur (a ma to) and rodai (roda) which are rarely taken by camera," said Quyen. "We take black and white photos focusing on colour of the object in the photo. We also don't name the photos and we want the exhibition-goers guest the word."
A photo featuring three men wearing shorts (sooc) and vests (may o) was taken on December 31 in 2011 in Nha Trang coastal area in Tran Phu Street, central province of Khanh Hoa and is a big surprise for one woman in Nha Trang.
Linh Dan was feeding her child while television presenter introduces about the exhibition. Dan knows French and the curiosity makes her watch the television. Quickly she catches the photo of three men and believes 70 per cent that her father is included. She watches the programme again online and knows that is her father.
She contacts Quyen asking for the photo copy because her father passed away in 2012.
Many French visitors like this photo because the scene in Nha Trang coastal area looks like Nice in France. The men's style reminds the exhibition-goers of American actor Al Pacino.
Quyen and Brun are currently working at CEL Consulting. Quyen has won two awards: the works for IMG SRC exhibition and the most favourite works voted by the media when she took part in the Asian Creative Awards organised by Asian Creative Networks (ACN) in order to promote creativity in Asia in 2014. 
From an early age, Quyen was full of ideas and desired to portray them through different colours and materials. However, in the 1980s, arts were considered unrealistic, and she did not have many opportunities to pursue her passion. In 2010, she decided to embark on a journey of self-discovery and awaken her forgotten artistic past.
Quyen has several solo and group exhibitions whilst Pot-Au-Pho exhibition is the first Brun's.
Brun was former deputy-chairman of French Chamber of Commerce and Industry in Vietnam. He has been living and working in Vietnam for 13 years. He has been interested in music composition and performed playing jazz with French band entitled Banh My Phap (French Baguette).
The exhibition will open at 10am on Saturday, with an artist meet at TOONG co-working space, 126 Nguyen Thi Minh Khai, District 3. The exhibition will go on until April 30.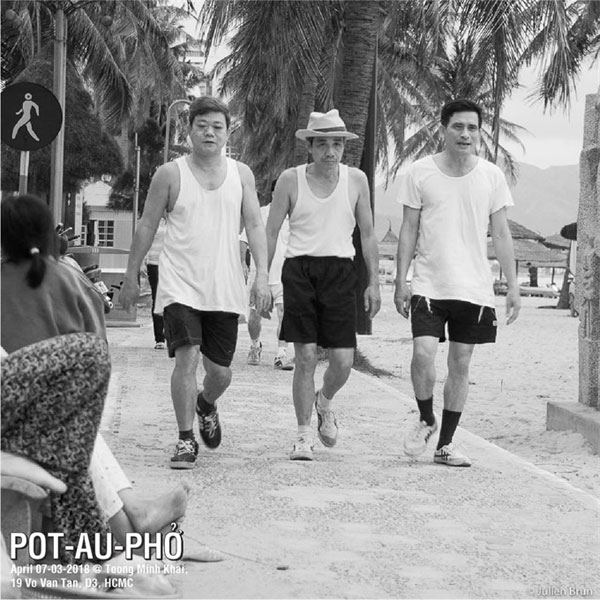 Coastal walk: Three men wearing shorts and vests were taken in Nha Trang coastal in 2011.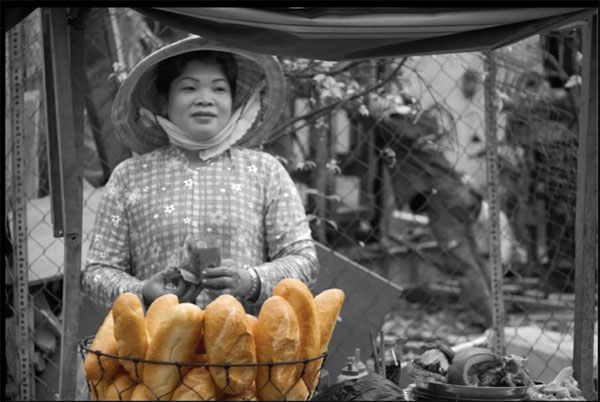 Colourful: One of the photos at Pot-Au-Pho exhibition in HCM City. The black & white photo focuses on banh my colour.
Source: VNS