Next generation: Young actresses make it big
Last update: 07:00 | 15/04/2018
VietNamNet Bridge – After years of working hard, three young film actresses of HCM City are making their mark and leading a new generation that is inspiring audiences.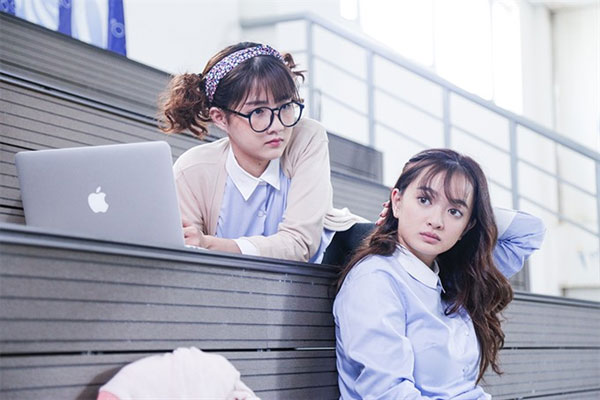 New idol: Young actress Kaity Nguyen (right) performs in a scene in Em Chua 18 (Jailbait), a hit film directed by Le Thanh Son. Photo courtesy of the producer
Hoang Yen began her career with a 100-episode sitcom on Viet Nam Television when she was 14 years old.
She is now a new idol in both film and music after nearly 10 years working in the industry.
Her latest film, Thang Nam Ruc Ro (Splendid Years), a remake of a South Korean hit called Sunny, was released last month and was a hit in Vietnam.
The film on urban women earned more than VND65 billion (US$2.85 million) in ticket sales 10 days after release.
Yen performed a leading role besides stars Hong Anh and My Duyen, winners of the Golden Kite for Best Actress, presented by the Việt Nam Cinematography Association.
Last year, Yen played a supporting role in Co Gai Den Tu Hom Qua (The Girl from Yesterday), a production by CJ Entertainment of South Korea, in co-operation with its Vietnamese partner, Yeah1 CMG.  
The film features a group of boys and girls, their problems and conflicts in life and love.      
It was sent for competition in World Fantastic Blue, a category for international fantasy, science fiction, comedy and drama, at the Busan International Fantastic Film Festival (BIFAN) in South Korea last year.   
"After working with Yen, I knew that her career would be film," said the film's director Phan Gia Nhat Linh.     
Co Gai Den Tu Hom Qua helped Yen have a big chance in Thang Nam Ruc Ro, a production by veteran director Nguyen Quang Dung.
Dung directed a series of quality films, including Nu Hon Than Chet (A Kiss of Death), Nhung Nu Hon Ruc Ro (Vivid Kisses) and My Nhan Ke (Beauty Trap), favourites among young audiences that broke records in ticket sales at that time.   
Yen later was invited to perform in two comedies, Ke Hoach Doi Chong (Plan of Marriages) and A Xe Om va Ga Dung Duong (Female Motorbike Taxi Driver and Homeless Man), both of which will be released this summer.
"I'm young so I wanted to develop my career in both films and music," said 23-year-old Yen, who has released 20 MVs and albums in pop and dance.  
Younger than Yen, Kaity Nguyen studied in the US before returning to HCM City for her career.  
Kaity performed in Em Chua 18 (Jailbait), a drama-comedy hit by director Le Thanh Son last year. 
She played Linh Dan, a 17-year-old student from a bilingual school who discovers herself through her relationship with a handsome yoga instructor.
Kaity won the Best Film Actress at Viet Nam Film Festival 2017 presented by the Ministry of Culture, Sports and Tourism. 
The film earned VND170 billion (US$7.5 million) with 2.5 million tickets sold in the first three weeks of its release, becoming the highest-grossing film in the country of all time, overcoming Hollywood blockbusters Kong: Skull Island and Fast and Furious 8.   
With the film's success, Kaity was added to the list of young stars together with talented actresses Ninh Duong Lan Ngoc and Phuong Trinh.   
"Passion for work is not enough for young women to overcome difficulties in this industry. You should be dynamic and energetic, and be prepared for failure at any time," said 18-year-old Kaity, who has nearly 500,000 fans on her Facebook fanpage.
 "I wanted to develop my career in a professional way," she added.
Kaity's new project is a comedy film that will be released in December.
Another new face, Nha Phuong, began her career three years ago making TV series and short films. Her works have won acclaim from young audiences.
Her latest films, Yeu Di Dung So (Don't Be Affair, Just Love) and Loi Bao ((In the Storm), were big hits last year. 
In a recent interview with local media, Phuong said: "I love featuring the aspirations and difficulties in young women's lives. I hope my art provides both entertainment and valuable lessons to young people, especially female teenagers," said the 27 year-old, a graduate of the HCM City University of Theatre & Cinematography.
Her latest film, Hoan Doi (Changes), a science fiction work by director Vo Thanh Hoa, will be released this year.
by Thu Anh
Source: VNS