Celebrations for Vietnam Book Day
Last update: 09:08 | 13/04/2018
VietNamNet Bridge – Book lovers of all ages will flock to Thong Nhat Park, Hanoi, to celebrate Viet Nam Book Day 2018 on April 21.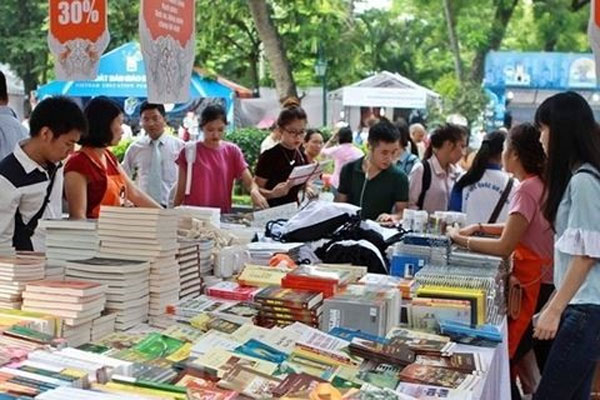 Book lovers of all ages will flock to Thong Nhat Park, Hanoi, to celebrate Viet Nam Book Day 2018 on April 21.— Photo anninhthudo.vn
The event will be held from April 18-22, gathering hundreds of booths from different publishing houses and printing companies nationwide. According to the Ministry of Information and Communications there will be more than 50,000 titles to choose from, with plenty of discounts to make sure buyers won't break the bank.
This year's theme for Viet Nam Book Day is 'books and family'. The event aims to foster connectivity between authors and readers, while encouraging and developing reading culture among the community, and helping to build a society of constant learners.
The fifth incarnation of the event will celebrate the people's love for the written text. It will honour reading culture, and also the people who are involved in book publishing and distribution, such as authors, editors, publishers, retailers and librarians.
New and impressive titles will be introduced and discussed, and readers will have the chance to exchange with authors. A number of seminars on literature will also be held.
The Ministry of Information and Communications has asked that the people's committees help plan events in localities outside of the city as well, especially in more mountainous and remote areas.
The annual Viet Nam Book Day has become a much loved festival of the community and an important cultural event in its own right. Events honouring reading culture will take place in various regions nationwide.
Alongside the festivities in Thong Nhat Park, the National Library will host its own book fair on April 19.
At the event, the national book award organised by the Viet Nam Publishing Association will be given. The award is split into two categories 'good books' and 'beautiful designs'. The awards will be given to books in a range of different genres such as literature, culture and arts, and natural sciences and technology; as well as social sciences and humanities, children's books, and education and training.
Workshops will be held at the event, with visitors able to participate in painting scenes from books, and story telling sessions read in both Vietnamese and English.
Source: VNS