Vietnam's Huong Giang crowned in international transgender pageant
Last update: 13:41 | 10/03/2018
Vietnamese representative Nguyen Huong Giang won Miss International Queen 2018, one of the world's top beauty pageant for transgender women, held in Thailand on March 9.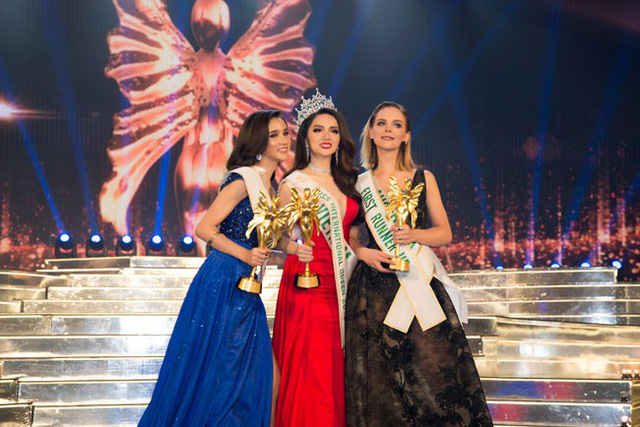 Top three contestants from Vietnam, Thailand and Australia
The best national costume and evening gown awards were given to Indonesian and Venezuelan contestants. The Brazilian contestant won the Miss Photogenic title.
In the final night, Giang wore a 5-kilo traditional costume and a red dress for the evening gown competition. She reached the top 12 including contestants from Italy, Mexico, Brazil, Honduras, Laos, Sri Lanka, US, Mongolia, Venezuela, Australia, Vietnam and Thailand. 
For questions and answers session, she was asked what her best quality was and decided to answer in Vietnamese. She said, "I was born not as lucky as many other people but I never stop working to make myself better to be a representative of Vietnam today."
She also won the Best Talent 2018 and finished among the top three contestants from Thailand and Australia to participate in another questions and answers session. In this final round, the three contestants were asked what would they do to make the world better. Giang said she would fight for equality for everyone.
"Everyone wants a better life and so are transgender people. I'll fight for transgender equality and we'll make the world better," she said.
Giang said she still couldn't believe it after winning the crown.
She said, "It's amazing. This is the effort of the whole crew and fans who really love me. I'll start activities that benefit society and LGBT community." 
Giang's parents also flew to Thailand to support their daughter on the final night. Her mother was proud, saying that Giang was already a fighter in Vietnam and very lucky to be as successful as today.
In an interview during the competition, Giang revealed that seven years ago, she hid from everyone and sneaked to Thailand to carry out transgender surgery alone because her parents didn't approve. 
"They then blamed themselves for not being there for me when I was in most difficult times," she said. " But now they have changed their mind to support me. I was born not as lucky as other people but I'm lucky to have my family, my parents."
She said her parents wanted to make it up for her and called for other parents to think for their children before anything regrettable happens. There are still a large number of families discriminate against their own children.
"Please open your heart and make a home where your children can return to and hide from the storms they may face outside," she said.
Dtinews/Tien Phong