Da Nang Fireworks Fest to celebrate bridges
Last update: 14:33 | 09/03/2018
Viet Nam and Poland will perform in the curtain-raiser of the 2018 Da Nang International Fireworks Festival on the central city's Han River on April 30.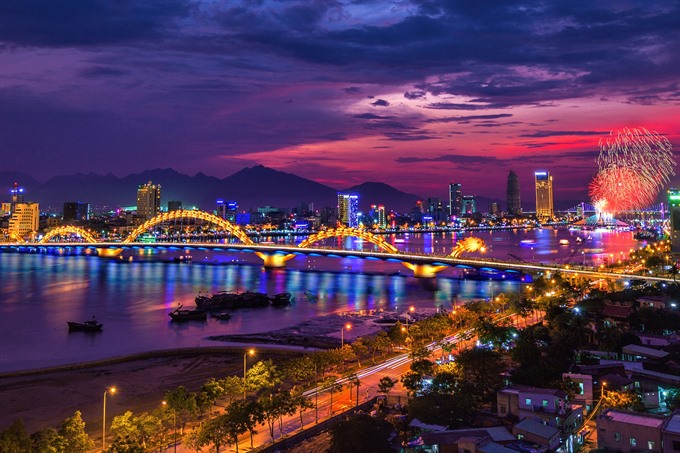 Rong (Dragon) Bridge lights up at night in Da Nang city. — Photo courtesy ASA Studio
Director of the city's Culture and Sports Department, Huynh Van Hung made the announcement at a press conference yesterday, stressing that the event has helped the city become a rendezvous for international friends and a 'must see' destination in central Viet Nam.
"The city has successfully built its brand as a 'fireworks festival city' since the first edition in 2008. The event, the country's biggest fireworks competition, was promoted as a festival in 2017 with double the number of teams – from four in 2008 to eight in 2017," Hung said.
"We hope the festival will promote Da Nang as a top destination and event site in Asia."  
France and the US will be the second performers on May 26.
Defending champions Italy and Hong Kong (China) will perform on June 2, while Sweden and Portugal will light up the night of June 9.
The two best teams will be selected for the final on June 30, where the winner of the festival will be chosen.
According to director of the festival, Do Thanh Hai, the festival, entitled 'the Legend of Bridges", will see teams showing off the beauty of bridges, featuring the culture of each country.
"The fireworks performances will be based on the image of bridges that participating teams bring to the event. It depicts culture, people, history and landscape from eight countries and territories," Hải said.
"The five performances of the festival will introduce topics of Love, Time, Happiness, Aspiration and Friendship. Meanwhile, cultural activities will take place during the two-month long festival including carnivals, flashmobs, music performances and cuisine," he said.
General director of Sun Group, the festival organiser, Dang Minh Truong said the festival will begin a series of cultural events of the year, and promote summer holidays in the beach city.
Truong hoped that the festival will soon join in the International Festival Forum-UNESCO, and Da Nangwould become a top global tourist destination.
Last year, Italy's Martarello team won the title after a spectacular night performance on the Han River.
It was the third time an Italian team won the contest, with the Parente team winning in 2011 and 2012.
In 2013, the US team Melrose Pyrotechnics took first spot. Canada's Davis Whysall took the top prize in 2008, while China's Liuyang Dancing won in 2009. France's Jacques Couturier Organisation won in 2010.
According to organiers, the event attracted more than 1.3 million tourists visiting the city during the fireworks festival between April and June last year.
Last year the city hosted 6.7 million tourists, with 2.3 million foreigners. — VNS