Publishers dedicate March to youths
Last update: 14:25 | 07/03/2018
Around 148 new books by Vietnamese and international authors have been released as part of Tháng 3 Sách Trẻ (Youth Books in March) programme.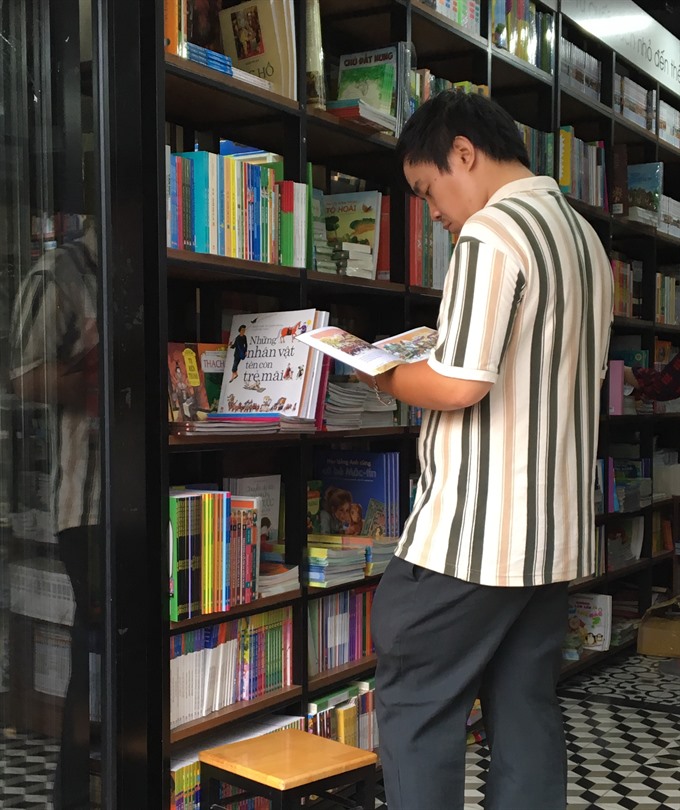 A Reader scours for books on HCM City's pedestrian-only Book Street. 
The programme has been launched by the Trẻ (Youth) Publishing House and 26 other major publishers and bookstores around Việt Nam.
The highlights include a book titled Hương Quê (Scent of Homeland) consisting of 40 short stories about southern people and their daily life by late Bình Nguyên Lộc (1914-1987), which were published in Hương Quê magazine in 1962.
Established authors Nguyễn Ngọc Thuần, Cao Huy Thuần and Lê Đạt have released their new novels, Vì Tình Yêu Phù Phiếm (Superficial Love), Người Khuân Đá (Man Carrying Stone), and Album Trắng (White Album).
There are also new works by young writers such as Chuyện Bên Rìa Thế Giới (Tales beyond the World) by Bùi Cẩm Linh and Lửa Thiên Sứ (Angel's Fire) by Võ Diệu Thanh.
The pictorial version of the third book in the Harry Potter series by British author J. K. Rowling will be released after the success of the two earlier ones in the last two years.
The Vietnamese version of Rowling's latest detective novel, Lethal White, will also be published this month.
The High Mountains of Portugal, the latest book by Canadian author Yann Martel, who won the UK's Man Booker Prize for Life of Pi, will also be published in Vietnamese.
Discussions with writers and book introductions will also be held on HCM City's pedestrian-only Book Street in District 1 during the one-month programme.
Nguyễn Minh Nhựt, director of the Trẻ Publishing House, said it has worked hard for a year to identify quality books by both Vietnamese and foreign authors, especially by young local writers.
The publisher has released 410 reprinted editions of famous local and foreign books on this occasion, he said.
Fore the duration of the programme, the publisher is offering a 20 per cent discount on all books at its stores nation-wide. — VNS