Vietnam Television registers the copyright of TV programme
Last update: 18:59 | 09/02/2018
VietNamNet Bridge – The copyright of the country's most-anticipated TV show at the end of the year, Gap Nhau Cuoi Nam – Tao Quan (Year-end Rendezvous – Kitchen Gods), has been registered by Vietnam Television (VTV) in Vietnam and in the US.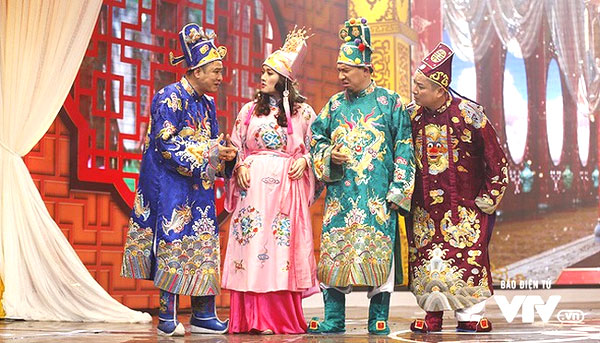 Get together: By registering the copyright of Gap Nhau Cuoi Nam – Tao Quan (Year-end Rendezvous – Kitchen Gods) show in both Vietnam and the US, Vietnam Television is taking its first action to protect their TV programmes worldwide. — Photo vtv.vn
According to the media representative of the programme, the registration aims to prevent it from being uploaded onto domestic websites or websites with Internet Protocol addresses located abroad. The action is also considered the first effort to protect the copyrights of the programmes produced by VTV worldwide.
Jointly produced by Vietnam Television Film Centre and VTV since 2003, Gap Nhau Cuoi Nam – Tao Quan is aired annually on all channels of VTV on every New Year's Eve, mentioning all highlighted social issues in the previous year with a humorous angle. The show features some of the biggest names in comedy in Vietnam such as Quoc Khanh, Van Dung, Quang Thang, Tu Long, Cong Ly and Xuan Bac.
Since its first broadcast, Gap Nhau Cuoi Nam – Tao Quan has been recorded and uploaded onto the internet, especially Youtube, by individuals without any agreement from its producers.
In one case, the programme was live streamed on Youtube at the same time that it was being screened on VTV in 2014. Also early that year, the DVDs of Tao Quan 2014 were sold abundantly on the market without legal permission. The audience can also watch or download the programme for free from Youtube.
Realising such copyright violations, CNC, the corporation who has signed contract with VTV on exclusive distribution of Tao Quan on the internet, has forced the copyright violators on Youtube to remove the videos of the programme, and at the same time, Youtube will lock the account of the users who still try to violate the copyright purposefully.
The audience can watch programme with high quality on http://vtv.vn, the official online channel of VTV or via VTVGo mobile application.
Gap Nhau Cuoi Nam – Tao Quan 2018 will be aired on all TV channels of VTV at 8pm on February 15. 
Source: VNS