Vietnamese language, culture course opens for Korean students
Last update: 17:26 | 12/10/2017
VietNamNet Bridge – Hanoi University of Culture on Wednesday organised a ceremony to welcome 96 Korean students who will attend a Vietnamese language and culture course at the university.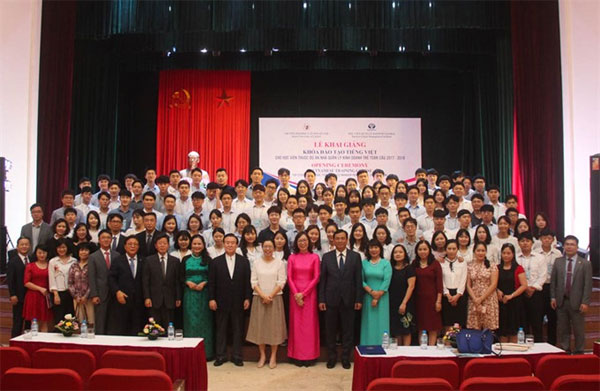 Korean students under the Global Young Business Manager Project and teachers of Hanoi University of Culture click a picture during the opening ceremony of the Vietnamese language and culture course organised at the university on Wednesday. — Photo courtesy of Hanoi University of Culture
The course, lasting for 10 months, is part of the Global Young Business Manager Project (GYBM), designed by Daewoo Global. Launched in Viet Nam in 2013, the course aims at providing students with fundamental knowledge of Vietnamese language, history and culture, especially for young Koreans wishing to launch startups in Viet Nam.
Hanoi University has co-operated with Daewoosky Institute to implement the project for the fourth year.
The ceremony witnessed the participation of Envoy of the Republic of Korea Embassy in Viet Nam Lee Miyon, former member of Daewoo Group in Viet Nam Kim Joo Sung, director of Ministry of Culture, Sports and Tourism's International Cooperation Department Nguyen Trung Khanh and deputy director of Daewoosky Institute and manager of GYBM Kim Joon Ki.
Addressing the opening ceremony, vice rector of Hanoi University of Culture Dr Pham Thu Huong confirmed that the university, with experience in organising training sessions, has  thoroughly prepared personnel and facilities to ensure the best conditions for a successful programme.
She also said the knowledge and experience the Korean students gained through this course would be the perfect launch pad for future success.
"We trust that the Korean students will enjoy the best training environment at Hanoi University of Culture," Khanh from the Ministry of Culture, Sports and Tourism said.
"Leaders of the ministries of culture, sports and tourism will also pay attention and provide favourable conditions for the university to successfully organise the project," the director added.
According to Lee Miyon, the educational cooperation project between the university and Daewoosky Institute has received satisfactory interest and support from the Korean government.
She also confirmed that such educational, economical and cultural exchanging activities will enhance long-term relations between the two nations, who are celebrating the 25th anniversary of the establishment of diplomatic relationship. 
VNS