National theatre stages new production
Last update: 15:41 | 28/09/2017
VietNamNet Bridge – Viet Nam National Drama Theatre will perform Dream of the Red Chamber for the first time with staging by Singaporean director Dr Chua Soo Pong.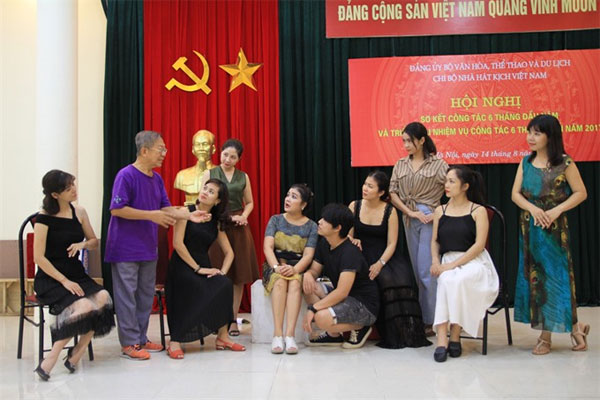 Director Dr Chua Soo Pong (second from left) are directing Vietnamese actresses. Photo courtesy of Việt Nam National Drama Theatre
Dream of the Red Chamber one of the greatest novels of China was penned by Cao Xuequin in the 18th century. It tells a love triangle between a boy and his two female cousins. The three characters form the central love story of the novel. 
"Dream of the Red Chamber novel has many chapters but I just want to depict on love between two main roles Jia Baoyu and Lin Daiyu," Chua said at the play launching ceremony on Monday.
"The drama theatre has performed many plays telling love of Westerners and this play will be a love story of Easterners. Spectators will have a chance making comparison and getting more understanding about culture distinction".
The script was written and staged by Chua for amateur actresses - school girls in Singapore about 30 years ago. The script has been popular and staged by many theatres in Asian countries. 
"Hundreds of seminars on this work are being held in the world each year. I hope that Vietnamese actors will get a chance to perform Dream of the Red Chamber at one of these seminars."
Director Chua will take advantage of his long time research on Vietnamese traditional art forms staging the play. "Actors will have to sing and dance sometimes in the play to express their passion for love. But it is a spoken drama not a musical drama so I don't put much singing and dancing in it".
Two actors To Tuan Dung and Diem Huong will star the main roles Jia Baoyu and Lin Daiyu. Lin Daiyu character is an enormously sympathetic character. Actress Huong is the only choice for Lin Daiyu while Jia Baoyu will be acted firstly by Dung and secondly by actor Ba Duy. 
Dream of the Red Chamber will be performed to mark the 65th anniversary of the theatre establishment, according to the theatre director Nguyen The Vinh. The theatre's repertoires include classical works of Viet Nam and the world as well with a view to popularising master works to spectators, Vinh said. 
Dr Chua has worked with the Viet Nam National Drama Theatre staging The Mouse Daughter's Marriage, which was performed at Malaysia's George Town Festival in August, 2015. He also led the theatre to perform in China, Japan, South Korea and Bangladesh.
The play will debut at the end of October. It is a co-operation between the theatre and Singapore International Foundation.
VNS