Literature on Hue royal architecture
Last update: 07:00 | 13/09/2017
Literature on Hue royal architecture was honored as a world documentary heritage, the third of the Nguyen dynasty which ruled Vietnam between 1802 and 1945. The poems highlight the authors' pride of Vietnam's traditions and beautiful scenery.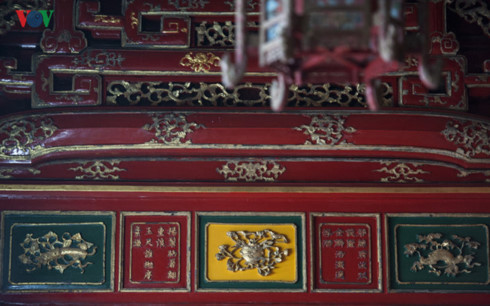 The beautiful verses in Chinese script were carved, enameled, or embossed on Hue Royal Court structures. They were the best written by Nguyen kings, their relatives, and mandarins about Vietnam's peace, independence, natural beauty, and agricultural promotion. 
Nguyen Phuoc Hai Trung, Vice Director of the Hue Relics Preservation Centre, said "Literature on Hue royal architecture of the Nguyen dynasty is unique. The poems are engraved on different positions of palaces. It's estimated that nearly 3,000 compartments have verses. It can either be one or several compartments to make up a complete poem". 
The intact beautiful art and intellectual works were used as ornaments of the buildings. The scripts made up a handicraft product that required artisans to master calligraphy and ancient techniques. 
Mr Trung elaborated "The scripts could be either placed in red lacquer trimmed with gold or enameled on bronze. They were carved in different calligraphic styles. 
The letters were written by the Nguyen Kings and mandarins who were good at calligraphy".
UNESCO recognized literature on Hue royal architecture as a documentary heritage of the Memory of the World Committee for Asia and the Pacific in June, last year, for its variable content depending on where it was placed and for its usage as decorative items. 
All literature of the Hue royal architecture has been digitalized by the Hue Relics Preservation Centre and will soon be available on the Internet.
VOV5