India Buddhism Cultural Days opens in Vinh Phuc
Last update: 10:35 | 17/03/2017
The 2017 India Buddhism Cultural Days, the second of its kind, opened in Thien An Pagoda in Tam Dao district, the northern province of Vinh Phuc on March 16.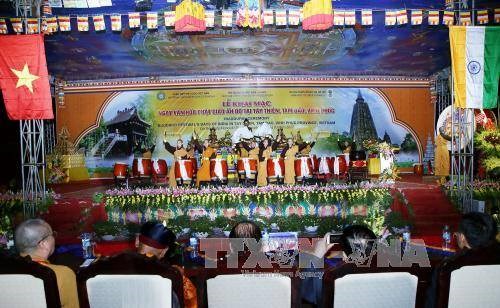 Secene at the opening ceremony of the 2017 India Buddhism Cultural Days
The event, jointly held by the Vietnam-India Friendship Association, the Vietnam Buddhist Sangha and the Indian Embassy in Vietnam, is one of activities marking the 45th anniversary of the full diplomatic relations and the 10th anniversary of the Vietnam-India Comprehensive Strategic Partnership.
Speaking at the ceremony, Minister of Information and Communications Truong Minh Tuan, who is also chairman of the Vietnam-India Friendship Association, recalled that Indian monks introduced Buddhism to Vietnam two thousand years ago.
Religious ties aside, Vietnam and India share a time-honoured friendship, and have always assisted each other in all aspects from domestic issues in each country to international events, the minister said.
Cultural activities like the India Buddhism Cultural Days contributed to the friendship between people of the two countries and the diplomatic relations between the two countries, Minister Tuan said, expressing his belief that the Vietnam-India traditional relationship would continue developing.
He noted that the event, which will take place from March 16-19, has many special Buddhist rituals carried out by Gyalwang Drukpa and nearly 100 Drukpa monks and nuns from India.
On behalf of the Vietnam Buddhist Sangha, Venerable Thich Thanh Nhieu, Vice President of the VBS Executive Council, said he hopes the activities would enhance faith and mutual understanding in practicing Buddhist teachings. 
The event is also an occasion for monks, nuns and followers to learn and exchange experience and methods of practicing India Buddhism.
India's Ambassador to Vietnam Parvathaneni Harish said the India Buddhism Culture Days would tighten the Vietnam-India relationship and provide a chance for Indian and Vietnamese Buddhist followers to exchange as well as promote Buddhist teachings for peace, prosperity and harmony across the world.
VNA