German, VN musicians and dancers present Italian songs
Last update: 17:54 | 16/03/2017
VietNamNet Bridge – Vietnamese and German artists will perform together in a show featuring Italian Songbook by Hugo Wolf in Ha Noi on March 17 &18.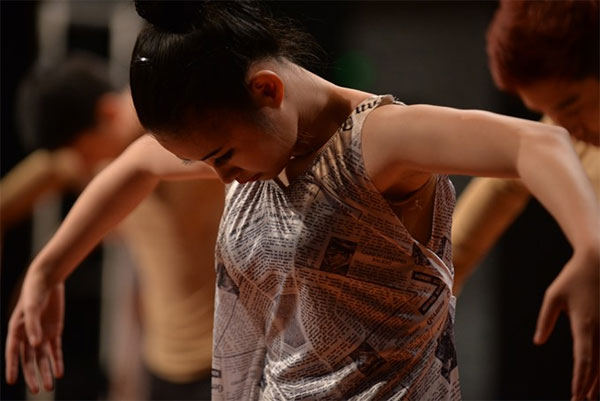 Poise: Dancer Nguyen Mai Trang will perform at the Italian Songbook concert organised by Ha Noi Goethe Institute today and tomorrow. — Photo: Le Anh Tien/VNS
The Italian Songbook comprises 46 songs for voice and piano based on traditional Italian love poems composed by Wolf from 1890 to 1896.
At the show in Ha Noi, the artists will perform 31 songs. 
"The songs tell the story of love between a poor man and a beautiful and arrogant woman," said Vietnamese choreographer Cao Duc Toan. "The characters go up and down, from love to mockery and from conflict to reconciliation."
Three German musicians – pianist Boris Schonleber, mezzo-soprano Katharina Padrok and tenor Sebastian Myrus – will perform the songs and two dancers, Nguyen Mai Trang and Nguyen Duc Hieu, will dance to the music.
Toan has used improvised dance movements and interaction between the artists – both singers and dancers – to choreograph this performance. He listened to the songs and read the lyrics in Vietnamese to understand them really well. 
Toan is a talented choreographer. He graduated from the Hong Kong Academy for Performing Arts and was a soloist with Viet Nam National Opera and Ballet for ten years. As a dancer and choreographer, Toan has taken part in several contemporary dance projects in Sweden.
Last year, he was invited to attend the Tanzplattform Dance Festival in Frankfurt by Hanoi Goethe Institute. He is currently teaching at Viet Nam Dance School. 
This is not first time Toan has choreographed improvisational dances, but it is a first for dancers Trang and Hieu.
Trang graduated from the Viet Nam Dance School and now works at the Ha Noi Dance Theatre. Hieu is a fourth-year student at the dance school. Both of them have won prizes in dance competitions held in Viet Nam. 
"I didn't know how to begin, because it was the first time I was performing improvisational dances," said Trang. "However, when I listened to the singers rehearse directly, I became emotional. And choreographer Toan explained and helped me understand the character better. As a character in the song, I feel free to dance.
"The best part of this is the interaction among us. I will not only dance with Hieu but also with the singers. They will dance with us sometimes."
Pianist Schonleber has been here before. He performed at Ha Noi Goethe Institute in 2014. His concert journeys have covered many European, Southeast Asian and Central Asian countries.
Mezzo-soprano Padrok is a vocal coach at the Frankfurt Music Academy. She has worked many times with pianist Schonleber. Together, they have taught master classes at the Viet Nam Academy of Music.
Baritone Myrus is also no stranger to Padrok - both sing in the vocal ensemble Athesinus Consort. His interest in music of all styles and eras has led him to many places in the world including Washington, Qatar and Hawaii. 
The concert takes place within the framework of the concert series Listen Differently organised by the Ha Noi Goethe Institute. The series aims at providing surprising and unusual sound experiences to listeners. It has been realised in collaboration with Viet Nam Dance School. 
The concert will begin at 7pm on March 17 at the Viet Nam Dance School and at 8pm at the Viet Nam Youth Theatre on March 18. 
VNS