Doyens nurture their ethnic traditions
Last update: 16:43 | 14/06/2015
VietNamNet Bridge – Well into the autumn of their lives, ethnic minority artists in Tuyen Quang Province are tireless when it comes to preserving and promoting the cultural and traditional values that are specific to their communities. Quang Dan reports.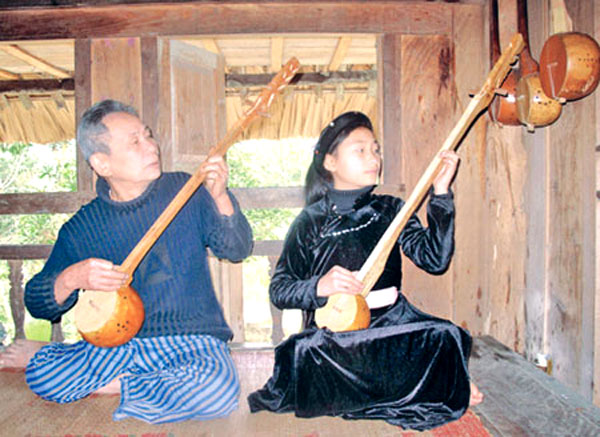 Their music: Ha Van Thuan (left) in Chiem Hoa District teaches a young girl how to play tinh guitar. — VNS Photos Vu Quang Dan
Ban Kim Son is 79 years old, but that never deters him from reaching out to anyone who needs him to perform rituals (such as seasonal offerings).
It was this zeal of Son, a Dao ethnic man from Son Phu Commune at Na Hang District in the northern mountainous province of Tuyen Quang , that inspired the Viet Nam Motherland Front Central Committee to present him with a Certificate of Merit for his outstanding contribution to ethnic cultural conservation.
Whenever Son has time, he arrives in each of Dao village to research and record the cultural traditions of the ethnic Dao.
Son was born into a family that followed traditional culture. Hence, from a young age, he began to research and preserve the cultural traditions of his family and different clans, especially the cap sac (coming of Age) ceremony of the Dao.
"Maturity recognition ceremony is one of the traditional cultural features of the Daos. According to their concept, this ceremony is indispensable for a Dao man, as only after this event will he be regarded as a grown man fully capable of participating in the activities of his community," Son says.
Not only that, to conserve and pass on the tradition to the younger generation, Son has established an art performance troupe of nearly 20 members.
After hours of labour (growing rice, maize, and collecting bee honey from forests), Son often devotes himself to helping young men and women practise folk songs.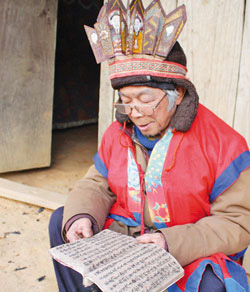 Coming of age: From a young age, Ban Kim Son began to research and preserve the cultural traditions of his family and different clans, especially the cap sac (maturity recognition) ceremony of the Dao.
He has composed songs as Crops, Marriage Ceremony, and Wedding of Rice Spirit after researching the Dao culture.
Son's art troupe participates in cultural festivals in Tuyen Quang as well as nearby provinces; they have won many awards too.
Like Son, 75-year-old Ha Van Thuan, a Tay ethnic man from Tan An Commune in Chiem Hoa District actively collects ancient Then folk songs and writes new lyrics for them to teach young people.
To understand and learn how to sing folk songs, Thuan had to devote a lot of time to learning Han Chinese scripts. Today he can translate Han into Tay and Tay into Vietnamese as occasions demand and for the cultural enjoyment of people.
Thuan teaches enthusiasts in and outside the province how to sing folk songs and play tinh (an ethnic three-string guitar with a sound box made of a gourd) and conducts classes for local youths and children.
Thuan has collected more than 60 folk songs and has taught more than 300 aficionados how to sing them and play the tinh.
"The Tay members in Tuyen Quang hope that UNESCO will soon recognise Then folk singing as an intangible heritage of mankind," he remarks.
Along with Son and Thuan, there have been many other people who are dedicated to the conservation of the cultural values of different ethnic groups in the province.
Sam Van Dun, a Cao Lan ethnic man from Man Hoa Village in Son Duong District, not only studies and performs the rituals, customs, and traditions of his people but also keeps more than 200 classical books, eight on old folk songs, and has musical instruments, including a terracotta drum, of his ethnic group.
Dun has imparted singing and dancing lessons to nearly 80 people and helped 10 others with their graduation and post graduation theses on Cao Lan culture.
According to Director of the provincial Department of Culture, Sports and Tourism Nguyen Viet Thanh, the province has 22 ethnic groups that are long-standing residents with their own traditions that have given them unique cultural identities.
"But for many reasons, these ethnic groups are slowly losing their cultural identities. The fact that these artisans are old and are still collecting and preserving ethnic cultural identities to pass on to the future generation is a very admirable job," he remarks.
VNS